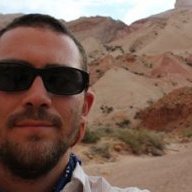 Desert Rat-Weekend Warrior
Joined

Jun 7, 2012
Messages

1,687
Growing up, there was a kid in the neighborhood. Friend isn't the right word, but someone I knew. This kid Brody was always pushing boundaries and going places I didn't dare. He was around a few times when a group of us were playing night games, or catching pollywogs at the pond. Every time it was time to go home, for dinner, or bed, or anything, he'd give me a look. A look that shot loudly. Coward. I'd defend myself in thought, but it always ate at me. How was he so unconcerned with getting in trouble? We could hear Brody's dad yelling for him almost every night. It wasn't a nice yelling.
One day 3 of us were riding our bikes around the neighborhood. Brody was sitting in his front yard under the shade of a big Sycamore tree. His face was drooping. His chin appeared as though it was weighted, driving it lower. His eyes looked up as if keeping himself balanced. He looked a little green. My friend Jordan stopped. Straddled his bike and walked over, we followed.
Jordan said, "Hey Brody."
"Hey", he answers shortly, as he grabbed a fallen piece of bark from the tree and slowly broke it into smaller and smaller chunks.
"What are you up to today?" Jordan said, prodding further.
Nothing. Again, as he threw a few broken sycamore pieces away from us. Brody suddenly jerked backward and threw-up.
"Woah, you ok?" Jordan again, he always had a sincere way of approaching social situations.
Yeah. Brody finally said, and started into what happened.
Ahh, well I stole a smoke from my mom's purse just to try it out. I went in the garage to light it up, and just as I did my old man walked in. He used to smoke, but doesn't anymore, it was like hell when he was quitting his temper was even shorter, man he would scream and shout at anything… anyway. So he walked in and I had only take like two puffs. I was coughing up a storm when I looked up and he was just staring, staring, staring. He looked worried, he looked like, kinda crazy started pacing back and forth then just stopped and looked at me. One eyebrow was all raised up, and he grabbed me by the arm and took me inside. He yelled at my mom, to like, give him a pack of cigarettes. I didn't know what the hell he was up to. He grabbed the pack from my mom then took me back out to the garage.
We were mesmerized. The three of us stared blankly. Our jaws open in disbelief. Jordan broke the silence. "What did he do?"
He took me back into the garage. He threw me down in his chair, took a cig out of my mom's pack and held it out to me. I didn't know what to do. I looked up at him. He said, "You think you're a man? You think you can smoke cause you want to? Here you go." He lit the smoke, and I got what I wanted, well thought I wanted. I took a few puffs blew them out, and I was feeling pretty good. Watching that smoke come out was pretty cool. The whole time my old man was staring at me all weird though. About halfway through that smoke I didn't want anymore, and that's when he told me, "No. You have to keep smoking. You are a man after all right?" And just as soon as I was done with that one he had another lit, and in my mouth. I really didn't want to, but I didn't have a choice at this point, so I kept smoking. I wasn't even inhaling it by now, just watching it go in and out, mostly trying to just hold it, but every now and then he'd hold two fingers up to his mouth, telling me to keep smoking. Then. All the confusion was gone, and there was only sick. I ran out of the garage and puked like 10 times in the backyard, then puked more and more and more in the house. My Ma yelled at my Dad for a while, but he just thought it was funny. I'll never forgive him of that one.
Brody stared blankly through us.
Jordan came to the rescue again. Welp, hopefully you start feeling better soon! With that we were off, leaving Brody and his green demeanor behind, but stamped heavily in the back part of our brains.
***
​
I started this trip on a whim. After our terribly dry winter, Spring came along to make up for what we were missing. Two weeks earlier I had changed plans of walking in one of our fine tight sandstone canyons, to be up on a mesa instead. I've often longed for these storms. Watching dramatic weather in this geography makes sense of it's dramatic features. So I found myself again looking at routes that would keep me out of tight canyons, while taking advantage of the water provided.
My friend
@Nick
was going to be out on his Pontoon boat, the Barke Diem. He was to be on the water Thursday through Monday. I wouldn't be out until Friday. I've long had an infatuation with the Waterpocket Fold, named for the many pockets capable, but not guaranteed, of holding water. I've hiked most of that district which lies in Capitol Reef. I remember a few very vague routes, and ways up and down canyons that could perhaps lead me over the fold, and into that big pool now depressingly named after John Wesley.
After a never ending meeting, I was finally on the road. A quick stop to pick up my adventure companion (
Canis domesticus
) and we were on our way. Cruising down south from our Salt Lake Valley has become routine, but even this jaded hiker still appreciates the beauty of the close peaks as I fly by. Off of the 15 and onto the 6. Off the 6 and onto the 70. The San Rafael Reef comes into distance. Magnificent chunk of rock. As I get closer I think of my evening. I'll get started on the hike, but will be limited to just a few hours of sunlight. I decide to grab a few oat sodas at the last gas station before my stop. The sixteen year old working the counter in tiny Ticaboo asks politely for my ID, and raises one eyebrow and she hands it back to me. The American flags plastered all over the can of this only beer for sale tell me that this Belgian owned Budweiser still has its German heart in the right place. I throw the brews into the backseat and in no time, I'm at my destination.

Waterpocket Walking 1-Subbie Start
by
slc_dan
, on Flickr
Drawn on a map, this walk appears to have only a few difficulties. It will traverse over a mostly flat area into a tricky way down the quarter pipe Grand Gulch. From there it looks like an easy walk up the Waterpocket Fold, and a known drop into Long Canyon. It turned out much different.
My hike starts through an abandoned developed campsite. When the reservoir was full, it must have been popular, because I came across a common ruin:
Utanacis boyscouticus
- one can tell from the many cans of generic soda scattered, not in a pile There is an oversized fire ring as well. Could be
Utanicis tourista
, one can never be sure. The largest still is left over from the many years the reservoir made high water. In its' wake; dead moss, rocks stained with the bathtub ring, and a slew of half alive Tamarisk.
I walk down a small side canyon and notice liquid dripping from my pack. A quick sniff informs me of the culprit. I throw the pack down and gulp down what is left in a single can of fine American brew. bleh. I remember why I don't buy this shit. What's in here? Rice? I crush the can, throw it in my pack and continue. The terrain goes by rather quickly, and I'm glad. So. Much. Cowshit. I call my dog Mya to come close, she thinks the stuff smells great, and likes to roll in it. Crisis averted, for now. I pick threw a few short cattle trails. They end as quickly as they begin. The first major landmark is a high plateau on the map. I skirt to the south of this mesa only marked with a high point of 4325 ft. I see a small break in the short cliff band and walk up. It takes me up a plateau. I trudge up the top only to realize I'm going back down a steep cliff again.

Waterpocket Walking 3- Mya in the "lake" bed
by
slc_dan
, on Flickr

Waterpocket Walking 4-
by
slc_dan
, on Flickr
Dark clouds rise above.

Waterpocket Walking 2-Ominous Sky
by
slc_dan
, on Flickr

Waterpocket Walking 6-Up to the Gulch
by
slc_dan
, on Flickr
The diminished light sets quick. I continue up an arroyo. Small spatters of rain start appear. I give in to the elements. Mya comes close, and I toss her lightly to a break of this shallow canyon, and scramble to the top. We get to high ground as rain begins to come down hard. I stake the corners of my pyramid tent and get in as it comes down hard. We gather inside. I snack on a snack of peanuts and American flag lager. A healthy meal. I see something move in the corner of the tent. Mya jumps up and takes notice. A large frog (
Spea hammondii
) has joined us. I lift up the side of the tent and let him jump out into the rain. The storm shakes the tent violently, but it stays put. As thunder and rain come crashing down, I sit dry in my tent. My hopes of looking over the Waterpocket Fold from the cliffs of Grand Gulch tonight were not realized. When in search of dramatic weather, sometimes it finds you first. I take note of the small amount of water left. I know of nothing reliable until I get into Hall's Creek tomorrow. Should be fine. A long day is gone and I fall asleep to the intermittent strong gusts shaking the tent.
I awake at dawn to a beautiful day. The smell of water evaporating permeates the air. I quickly roll and stuff items into my pack. Before I throw it on, I scout for a quick way down the canyon I am perched on. Only way down I can find is the way I came up. No sign of water-holding depressions in sandstone. We descend and are on our way. Black skeletons of tamarisk leave their mark as I thrash through. I ascend a canyon, only to find my way back into another. I follow this canyon west, and north as it curves around. I go up a canyon wall only to go back down. A pattern. A short, but sweet canyon narrows to about 5 feet. I didn't expect this here. Shortly after, I find a small pool. I stop to filter some water. Relieved, Mya finds another small pool and lays in it, cooling herself down, tongue out, she takes a drink too. We're quickly on our way again. I can see Hall's Mesa as it rises before crashing down Grand Gulch. I follow its' height till there is a break in the cliffs. At this point, I've researched a way down into Hall's Creek. It's known only as the Lizard Route. There is a Capitol Reef National Park sign. Now only bits of a sign, torn apart by gunshots. Must be fun to shoot signs, I say aloud as I trace my fingers over the holes. I spot the first cairns of the trip. Cairn. I say it outloud. Recently I looked up the pronunciation. I've been saying it wrong all along. I'll keep saying it wrong. The route shoots back and forth across the steep cliff band, until it finally reaches near the bottom. One final layer of sandstone blocks me from the bottom. My mind wanders to being low on water. I'm close to Hall's Creek, and it's always a reliable source. Usually a reliable source. I climb down a very short slot canyon, reach up for Mya, and pass her down to the ground. I can hear the stream. I turn a corner, and the creek has flashed from last night's storm. The normally clear creek is now chocolate milk. I opt to move on before filling up water reserves. I try to find a dry way across this small rushing desert river. There isn't one. I step into a narrow section and fall up to my waist. Mya shuffles nervously before jumping the entire gap. Good dog. We bushwhack up between Miller and a canyon directly to the south. We find a trail, very nice. After a hundred yards of walking or so, we come to a serene desert oasis.
Clear cool water is flowing, ever so slightly down a sandstone channel. Large happy Junipers tower over grasses, moss, and cacti. Five Star lunch spot. I dip some water to filter. As gravity pulls it through I relax and have a hot lunch. Green Tea, ramen, and a few handfuls of peanuts fill me up. Mya drinks from the creek, and gets a biscuit. The clouds rush over quickly, spots of blue peek out from the grey sky. Everything is thrown into the pack and we are off again.

Waterpocket Walking 7- In Halls Creek
by
slc_dan
, on Flickr

Waterpocket Walking 8- Trail for a bit
by
slc_dan
, on Flickr

Waterpocket Walking 9- Sexy Selfie
by
slc_dan
, on Flickr

Waterpocket Walking 10-Storm into the Fold
by
slc_dan
, on Flickr

Waterpocket Walking 11- Juniper in Hall's
by
slc_dan
, on Flickr
This trail is on a mesa situated above the creek, skirting the mighty Waterpocket Fold. As canyons have formed on the fold, they create small breaks in the mesa. This creates an up and down motion as the trail moves south. The first few small breaks are no problem, an enjoyable toil towards Glen Canyon. As I continue though, each micro canyon is thicker with vegetation. The trail peters out, and I find myself stuck. There is a poison ivy laden tramp in front of me, and a long walk around to the creek as the only other option. I tramp through the ivy. I've never had a reaction before, why now? Stupid. Sick of this thrashing, I decide to head up the fold.
It looks like there is a large cairn, and I'm excited for it, until I realize it's just a way that surveyors held up their marker. It appears from this angle that the route will go, and I begin my ascent. This sandstone is full of character. Besides the waves you see from afar, there are little bits of swirls, lines and waves of colors everywhere you look. The recent rains provide ample water for Mya. She will not be thirsty, and I will not have to carry any extra. I spot a route that looks doable and begin to ascend. As I ascend there are several small indentations in the fold that keep me going up and down as I work my way up southwest. To the south is a deep canyon, with no way down. I turn hard west.

Waterpocket Walking 12-Where I Started up the Fold
by
slc_dan
, on Flickr

Fold Walking Pinyon
by
slc_dan
, on Flickr

Battle Toads reflection tinaja
by
slc_dan
, on Flickr

Fold Walking up
by
slc_dan
, on Flickr

Out across grand gulch
by
slc_dan
, on Flickr

Steep Sandstone
by
slc_dan
, on Flickr
There are several false summits, false hope, and discouragement. Just as I reach what I've perceived to be the top, a steep canyon I must find a way down, and back up. I stammer to myself about possible routes down, all the while trying to convince myself I can make it. I need to make it down, before trying to make it up again. What if there isn't a way? What if I can't? I'll have to turn around, and dammit I've already been that way. I scout north, end up on a precarious ledge, and traverse along an edge. As I move back east, a large plate of sandstone comes off the wall and goes crashing below. Too close. I concentrate on my breathing and make it to safety. Mya is overjoyed at me returning to her up on the ledge, and shows it with several kisses. I pat her on the head and look for another way. Of course. There it is. There is a slickrock ramp heading slightly south east that is just the right angle to safely walk up right. We descend without any problems, and are faced with the problem of getting back up.

Another Slot to bypass
by
slc_dan
, on Flickr

South Down the Fold, Storm Rolling in
by
slc_dan
, on Flickr

Slickrock Shimmer
by
slc_dan
, on Flickr

Storm Rolling in 2
by
slc_dan
, on Flickr
Luckily I was able to scope a decent line from our original across the way. It required some decent fourth class moves, and creativity. I was able to lift Mya in a few places, and utilize all four of my appendages to get up to a small ledge. I look back at where I've come from and take a deep breath. My eyes open wider. I've made it up. I head due west again, only to see another gully. Damn. I am able to get down, and up again without as much drama. The high angle travel, both up and down is exhausting. Finally, the slickrock gives away to a mesa covered in sand, dotted with junipers. I've made it up.

Wander up the Fold Henrys up North
by
slc_dan
, on Flickr

Top of the Fold
by
slc_dan
, on Flickr
I reach the upper portion of the fold. I stare across my view to the Kaiparowits, following the cliff down south to Navajo Mountain. I see several jackrabbits dart across the way. So does Mya. She chases several in short spurts before I call her back and stuck close. I see several piles of chert, until I stop to see something more significant. Others long ago must have also know about the rabbits up here.

Top of the Fold Arrow Head
by
slc_dan
, on Flickr
We continue south along the top. I've had dreams of this part of the walk, looking down the Waterpocket fold to my left, and Stevens Canyon to my right. The terrain is too varied for what I hoped. It's no Jasper Ridge, but expansive only on one side at a time. To my left, the fold rolls into Hall's Creek, disappearing under the reservoir. Further the canyons dip and roll like old fractured bones split accross sand. I turn around to see the southern peaks of the Henries surrounded in mist. I dream of the violent force a giant magma bubble would have to create this laccolith range.
I crest another hill, and the view to the east slips away. My view to west is dominated by an electric blue storm. Rain begins, and I welcome it. The spritz cools me down after a lot of hard work. It starts coming down harder. A spark stretches across the sky in several directions, and is heard seconds later. Too close. The rain turns into small hail, and I decide to hunker down. I pick the biggest juniper in sight, and call Mya close. The tree provides only meager cover. I lay down a pad, tear open my pack, and throw the tarp up over a few of the lower hanging branches. I call Mya to lie close, and the hail turns from small to big. Seconds earlier these chunks of ice were only a few millimeters big, now are the size of nickels. A few sneak through spaces of the tree. Ouch. Mya is rolled up in a ball, and I throw my jacket on her. The storm intensifies. The sound of a machine gun thunders above as the hail rumbles on the tarp. More lightning at a more comfortable distance. Water is flowing anywhere there is a decline. A chill flies through me. I pat Mya on the head and say aloud; this blows.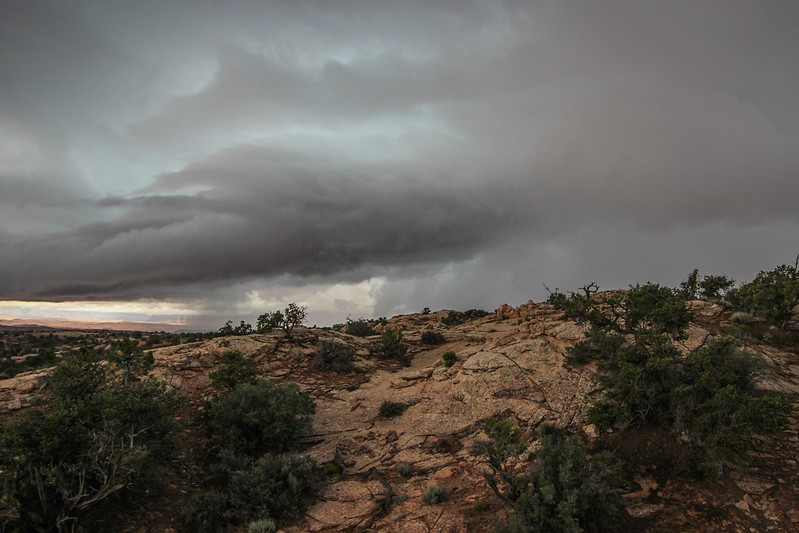 Storm along the Straight Cliffs
by
slc_dan
, on Flickr
The storm ends as quickly as it began. The hail stops, then the rain, and the clouds break. The blue sky peeks through, and there is sun. I shake off the tarp, stuff tarp and jacket back in the pack, and we're off. I've been scared off this route before. Reliable water is a serious concern, but after such a storm it is not. Every impression in the rock is chock full. We continue south along this roller-coaster landscape. I have a clear view of Navajo mountain. No hikers allowed to summit, but cell towers are just fine.
The sun is sitting low on the Straight Cliffs. I walk a line towards Navajo. I reach an overlook of steep canyons. This looks familiar. I'd recall those steep Wingate cliffs underneath that sexy banded Navajo anywhere. Stevens Canyon. My feet ache, and my legs are tired. I had a goal of reaching the southern edge of this canyon tonight. I can see in my sights where I want to get to, but am frustrated by the route to get there. I've gone far too west, and will have to traverse across the canyon system and the ever standard up and down slickrock. I drop down and filter some water, enough for the night, and continue traversing. More up and down. I must go backward to go forward. Frustration. Dusk slips into twilight. I pick a spot high up with a good view and settle in for the night.

Looking into Stevens Canyon
by
slc_dan
, on Flickr
I heat up some water for tea. I drape my tarp over a juniper to dry from today's earlier storm. I find a stow away and laugh at how far I've dragged it along today. One last can of beer. I chug it as a an appetizer. While my meal is cooking I strip the tarp off the tree, and set up the tent. I sit and stare off on this incredible 360 degree view. Blissfully exhausted I am ancient, immersed by land sculpted through layers of time and ripped apart by elements. I sit properly insignificant. I finish my meal with a few sips of a nice bourbon, call Mya into the tent and surrender to the night.
I awake excited. The sun lightens my tent. I sit up quickly and unzip to find a beautiful view.

Good Morning Top of the Fold Circus Tent
by
slc_dan
, on Flickr

Good Morning Top of the Fold
by
slc_dan
, on Flickr
I heat some water, make coffee and chow down a quick breakfast. I call Mya back from wandering so that she can also partake in some calories. I pack up, and we're moving quickly. I was able to scout a good easy line while eating breakfast, so the walking is quick. I see my first cairns in about 20 miles. They lead west towards the bottom of the fold. This must be the Baker route. I really should have taken that instead of stubbornly making my own way. I disregard it, and keep going south. My predetermined line pays off and I'm eating up land. I get to the other side of Stevens Canyon.

Waterpocket Juniper
by
slc_dan
, on Flickr

Navajo Mountain and Cow Canyon Mesa
by
slc_dan
, on Flickr
I consult my map to make sense of landmarks, so they may guide me to my next objective: Long Canyon. I see an arrowhead looking mesa on my map, and look out to locate it. There it is, I make out a canyon in front of it as well. I'll call it Cow Canyon Mesa. That means that Long Canyon will be to the south, and east a ways from that mark. I study the map and quickly decide to take a high route to avoid the amusement ride I suffered yesterday. It pays off, and in no time I'm at the edge of Long Canyon. I'm doing amazing on time today. Thoughts of jumping into the lake by 5 keep me excited, and I continue. There is a deep gully in front of Long, and I must head down, and back up it to get to the eastern edge of the canyon. I peer into the main part of the canyon. Beautiful.

Juniper Bonsai Long Canyon
by
slc_dan
, on Flickr

Long Canyon
by
slc_dan
, on Flickr

Long Canyon
by
slc_dan
, on Flickr
I spy across the way a route that I had originally looked at via satellite images. From this angle, it is much steeper. I can't commit, and instead decide to scope the route Steve Allen outlined. White sandstone domes dot the rims of the canyon. Fingers of the canyon stretch out towards the east. I must swing wide to avoid both. I still can't believe how much ground I'm covering. I pass what I see as one finger of the canyon, and continue wide.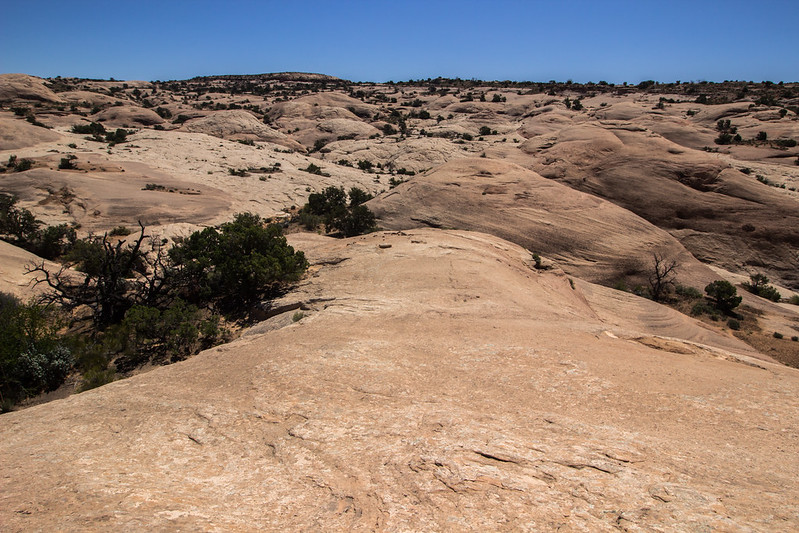 Keep Walking
by
slc_dan
, on Flickr
I keep my eye on a monolith across the canyon to navigate me towards my entrance, but it dips out of view. I keep walking south, where a beautiful striped sandstone canyon dips 400 feet. There are only a couple of routes down, and they are all steep. My toes are strained from the constant forward pressure. There is a clear looking pool of water. I decide to stop, filter some water, and eat a little lunch. I'm feeling less optimistic about making good time. I'm tired. The drop in to the canyon has got to be getting near.
I wrap it up and climb up and out of the canyon opposite of the side I walked in. In order to do so, I edge with my feet, lift Mya above my head to a small ledge, and traverse before it's barely steep enough to exit. Too scary, I need to be more careful out here. I think that this must be the way down I'm looking for. I skirt the edge of the canyon and come to its edge. There is no way down. This isn't the way. I pace back and forth for a time. I take my hat off, run my fingers part way through my hair. I rip open my pack and pull out all of the maps I have printed off. There is a very large drop off, a very round opening, not very high. I look up at the canyon and then back at my map. I'm able to locate where I'm at. I've gone too far. Swung too wide. Damn.
I turn around and hike back the way I've come. When I reach the canyon with a precarious climb, I find a much safer route. Back up the sandstone ramp, and I'm out again. I take a good look at my map and look for a landmark to guide me. I decide on one and hike quickly. A few miles pass, and I'm at the edge of another canyon. I look to the west, looking for my route down. Again, it's not there. I'm feeling hopeless. I drop my pack off my pack. Out come the maps again. Both hands grab a handful of hair, and I crouch down. Where am I? If I could
just know where I am on this map
. I know I could figure out how to get down. I yell some curse words out loud, loudly. I leave my pack where it is, and walk the rim of this portion of the canyon. I again, look down at the map, again across the canyon. My hands fall to my side, I bite the fingernails off my left hand. I find what I think is an accurate pattern. I shot back too far. I'm going to have to retrace my route backwards again.
I pick up my pack, call Mya, and we're off. A song enters my head and I sing it out loud.
I want to tell you a story,
the only way that I can.
I'm just replacing a man,
that came before me.
One day the world is going to see,
Another man replacing me.
That's just the way it's got to be,
It's always been that way.
On the Dark Side of the Moon.
Am I realizing my own fragility? The shortness of my own existence? This same thought came just the night before in an intoxicating manner, but this isn't empowering, it's frightening. The context is so similar, yet completely opposite.
Now I don't stray from the edge of the canyon. This does not make for quick travel. The edge of the canyon is not one flat surface, but a series of domes intersected by small inlets. Still I won't make the mistake of trying to swing wide and miss it a third time. As I round the corner, I see it. My way down. Overwhelmed, and relieved, I cruise around the final edge of the canyon and begin my descent into Long Canyon.

The Way Down
by
slc_dan
, on Flickr
I haven't seen footprints for two days. I wondered if I would see cairns marking this route, but there are none. Prints of the mighty Bighorn (
Ovis canadensis
) are the only evidence that it goes. Mya and I walk down to a ledge, across a scree pile, down a 4th class ramp, and down.

Final Moves Down
by
slc_dan
, on Flickr
I take a deep breath. I did it. only 5 or so miles, and I'll be at the head of the canyon. I'm exhausted, my feet ache, I have cramping in my lower back. I look up and to the west. I throw a fist up towards the setting sun. By my rough estimate I've got about an hour, two max left of sunlight. No time to rest. I need to press on.

Long Canyon 1
by
slc_dan
, on Flickr
I walk on a dark sandstone shelf. This layer of Wingate has worn slower as water flows down canyon. I hop a few boulders, down climb a small section, leading Mya, and we are in the final bottom of the canyon. Water is not just present, but running. Long is a beautiful canyon. I snap a few pics as I stumble along. I decide the camera's too much and put it away for good.

Long Canyon 2
by
slc_dan
, on Flickr

Long Canyon 3 Bouldering down
by
slc_dan
, on Flickr

Long Canyon 4
by
slc_dan
, on Flickr

Long Canyon 5
by
slc_dan
, on Flickr
The bottom of the canyon is fast travel, but I don't enjoy it as a could. I'm just too exhausted. Hard fought time passes, and I'm at the giant waterfall of Long Canyon. I spot cairns for a bypass. It leads up a series of ledges. A few moves that I have to lift Mya up, then down a large scree field. There is one more move. I have to take my pack off and hold it above my head, skirt down a short waterfall, I set it down, walk back across, grab Mya by her backpack and toss her in the water. She swims the 15 feet while I'm up to my chest in water. There are a lot of foot prints, mostly very small in size. I round the corner, and there's the lake. I see a family camped on a small sandbar.
I walk up quietly, tell them I'm sorry to intrude, but I've been walking for a couple days to get here. They say quickly, Are you Dan? Yes, I answer. You're friends were here earlier, said you'd be coming. You can make your way around there to wait for them. I do so. Drop my pack, and wait. I've made it. I take out my bourbon, take a few sips and reflect on the past 72 hours. That was intense.
About 20 minutes pass, and I see the pontoon boat arrive. I jump to my feet rise both hands in the air. Cheers sound from everyone on the boat. They pull up to a small sand bank, I throw my pack and Mya on board and push off. Jen (
@colefeet
) hands me a proper brew, local IPA, and I'm extremely grateful. Turns out they had
quite an adventure of their own
, facing a freak hail storm that created a flash-flood, and remaining icebergs in
Iceberg Canyon,
Lake Powell.
As we exited Long Canyon and cruised into the main channel,
@Nick
threw down the throttle of the Barke Diem. Do you feel like a legit desert rat now? he asked. I guess so. That was quite a trip to do on a whim, in such short time, and solo.
The evening was perfect. Mya's usually hyper self didn't move. I was cooked a beautiful meal by both
@audraiam
, and
@colefeet
. Cold drinks and other luxuries were given enthusiastically. After eating, Nick and I sat at the back of his boat, sharing stories, and drinks. His insane flash flood, and my walking, made for an eventful few days.
How you feeling man? That was pretty crazy you knocked that out in just two days! Nick said. You know that story of a kid getting caught with a cigarette, and his dad making him smoke the whole pack? That's what I'm feeling. Nick answered with a chuckle, and another sip of bourbon.
***​
Two weeks after we saw Brody sick in front of his house, we ran into him again near the pollywog pond. He called us near, we followed him down a trail of cat-tails and long grasses. In a hidden spot under a cottonwood he pulled out a cigarette and lit it. You guys want to one?
***​
Drawn maps after the hike, not (close to) exact, as I don't own a GPS.
Featured image for home page: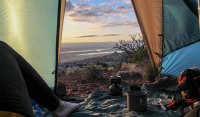 Last edited: