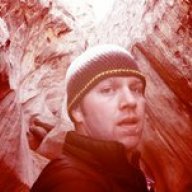 ^^^^^^^^^^^^^^^^^^^^^^^^^^^^^^^^^^^^
Joined

Jan 18, 2012
Messages

464
This is a fun little hike just above Red Butte Gardens. Alene and I did this on Sunday afternoon. We were really itching to get out and do something and it seemed perfect.
We started off up a little canyon just south of Red butte Garden. As you make your way up the low scrub forested path, the canyon loops around to the North. Eventually the trail comes to a "T" junction we ended up taking the wrong trail (we went right), which took us to the top of a ridge above our destination (the living room). It was still nice though because we were able to see what was on the other side of the mountain (Red Butte reservoir) and a nice view of the valley.
Once we realized we went the wrong way, we hiked back down and took the correct route over to the Living Room.
The Living Room is basically a bunch of rock slabs that someone brought together and made a bunch of seats out of. As you sit there, you have an amazing scenic view of the valley. It would be a great place to watch the sun set.
Here are some pictures from our hike:
Alene and her beautiful pregnant belly, hiking up the canyon
Salt lake valley from the ridge above the Living Room
Same place, but looking south
View from the Living Room
Relaxing in my cave man lazy boy
The Living Room is a nice little hike and a quick/easy way to get out and see something unique.