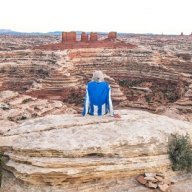 Joined

May 18, 2012
Messages

294
The first time I ever saw a photo of "brain rocks" I was amazed. To me it looked as surreal as The Wave.
While they may not carry the colour variation of other slickrock, being predominantly white, after visiting Coyote Buttes I still wanted to go exploring further on the Sand Hills of the Vermillion Cliffs National Monument.
Not owning a good 4WD and being a bit wary of getting stuck in sand in a remote area, once my friend Des agreed to the trip we decided to go with the Paria Outpost outfitters who also know the area better than any others.
After leaving House Rock Valley road we stopped a couple of times to take in a few weird features.
Then mid afternoon we hit Joe's Ranch - a mass of white brain rocks.
We clambered up higher for a better view.
I guess for most people our half hour look would be enough as I'd pretty much seen it and got nice photos, but with camera in hand I could easily have run around it for another 30 minutes taking pictures from different angles. But we had to head to camp where I was told greater stuff awaited for the golden hour before sunset.
It was true. Multi coloured slickrock with all sorts of interesting micro features kept us entertained for several hours that evening.
and then found more to see from dawn. (Incidentally, if anyone uses Paria Outpost this was interspersed by fantastic hearty dinner and breeakfast)
We hiked out to the edge of the plateau for views down over the Colorado, Marble Canyon and Lees Ferry.
On the return we stopped for lunch at Middle Reservoir - another pretty photogenic spot.
I could see within a mile or two in almost every direction more areas of orange pink and white sandstone "cauliflower" rocks and "logs" and teepees that whetted my appetite for another trip one day to explore these and Lower Reservoir (if anyone is ever interested do let me know!) even if perhaps none was in the same league as what we'd seen or Coyote Buttes, where we were to go the next day (separate trip report to follow).