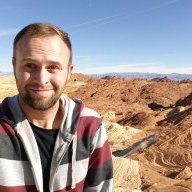 Joined

Jan 19, 2012
Messages

739
Took a quick trip to Valley of Fire State Park (VOF), NV over the MLK weekend. If anyone has never been to VOF it is similar to the Red Cliffs Recreation area near St. George, but the big difference is VOF is Red Cliffs but on steriods. The windows, holes, arches, tunnels, petroglyphs, etc are all x10 Red Cliffs.
Kids LOVE VOF and that was a big reason I went. I am trying to train my two year old into loving the outdoors and if I ever pick a destination hike we either butt heads because I want to make it to the destination or we make it about 10 yards and she finds sand, dirt, a stick, bugs, etc to distract her. VOF is good because most of the destinations arent too far, and there are tons of tunnels, caves, arches, windows and holes for kids to climb into when they need a break from the trail.
We arrived early in the afternoon and quickly began looking for a formation called crazy hill (I bought an ebook with some cool off the trail things, I can look up the name if anyone wants it) unfortantely I forgot to write the GPS coords down and couldnt find the bugger! But we did a pretty arch, holes, tunnels (ok you get the point!)
For Sunset I wanted to hike to a place commonly called the Firewave. We missed the sun hitting the actual formation (stupid time change) but it was still pretty neat. Now the pictures do this place too much justice. If the firewave were in Coyote Buttes North/South, White Pocket and many other places the fire wave would be a side note but it was worth the short hike.
At this point it was dark and rather than camp we decided to hit up one of the old hotels we passed in Overton. There is one new hotel, it was formerly a best western, but prices for the old best western were high ($90) so instead we found an old pretty GHETTO place for $50 w/tax. I love old motels for some reason they built the showers for midgets I swear. The shower head was maybe 4 1/2 feet. I almost had to get on my knees to wash my hair!
The second day I wanted to get some sunrise shots of Elephant Arch but once again the time change or something threw off us arriving. We still hiked to and around Elephant Arch and my daughter enjoyed getting an elephant ride (sometimes its a pig ride, others a horse ride, this day it was an elephant ride) to the arch.
Our last stop was a little known and hard to find arch. The unique thing about this arch was it is inside of a little, I guess you would call it a cave. WIthout GPS this place would be difficult, if not impossible to find even though it is barely 200 yards off the road. I think this was my favorite formation on the trip and once again my daughter loved being able to climb in and around places I could not fit!