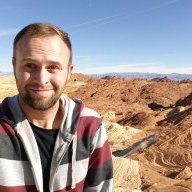 Joined

Jan 19, 2012
Messages

739
For my birthday this year we ditched the kids and the wife and I went hiking all day! First time we have done that together in years. Initially I was thinking of trying walk in permits for Coyote Buttes South but with changing weather and wanting to see some sunshine we headed to Nevada and the Valley of Fire.
Having done the touristy more published stuff I wanted to get off the beaten path and actually, surprisingly hardly saw another soul (well other than at atlatl rock and at all of the parking lots which were packed by the time we left.) I guess that is kind of a cool thing about VOF most of the hikers and visitors stick around the published trails and dont venture into the slickrock playground that is VOF. I was pleasantly surprised!
This trip was one of those trips that every where I looked I wanted to stop, and take pictures. Between colors, arches, windows, etc I took more at VOF in one day than multi day backpacking trips! This wasnt what I had planned on and only had my Note 4 rather than my Canon but ended up pretty happy with the pictures.
The one place we did see a handful of people is what is commonly called the fire wave. Initially I hadnt planned on stopping here as the lighting wasnt great and I had already been here but we were exploring a little slot area and after we left the slot realized we were super close to the fire wave.
FIRE WAVE AND PINK CANYON AREA
Atlatl Rock