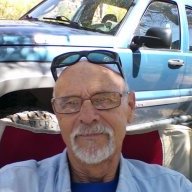 Joined

Sep 17, 2012
Messages

94
My first post here.
This was actually an unplanned side trip on my to CA. For over 25 years I've pasted by the I-15 "Valley Of Fire" off-ramp. We left early from the motel in Mesquite so we had some extra time to check it out. The road there is kinda interesting. Mini roller coaster. Our VW Jetta (TDI) was a blast to drive on this road! We got to the State Park entrance station before it opened, so we deposited our $10 entrance fee in the slot and headed in.
Started out kinda benign but still interesting.
The early morning sun and cloud cover wasn't the greatest for certain pictures but still not bad.
Not long down the road,we were into some pretty amazing formations.

This guy was unconcerned we were in his domain.
Kinda got that scary Halloween look.

And speaking of Halloween......
Thought this was an interesting "door handle" arch
Some interesting rock art
We only stayed for only about an hour but managed to get a feel for a future visit, which was my intent in the first place. Definitely worth more time to see all that's there. I did talk to a young Park Ranger who volunteered information to locations of more rock art that are off the beaten path. Score!
Featured image for home page: