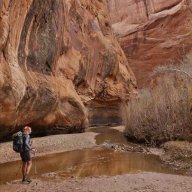 Joined

Jan 4, 2015
Messages

1,838
Any sense of what pct of the trail will be snow-covered in 3 weeks? Seems to be melting pretty quickly according to the snotels, but they are a bit lower than the passes.

Is it worth bringing snowshoes?
When you say "the trail" what do you mean - the Uinta Highline? If so, don't worry about how much of the trail will be snow-covered- your limiting factors are Red Knob and Dead Horse passes. Dead Horse in particular is steep, north-facing, and may not melt out entirely this year. Far steeper than Alpine Lakes Col. Read back a few pages in this thread for various people's perspectives on Dead Horse. Short story - it certainly isnt for the faint of heart, will certainly be snow-covered, and you'll likely need to kick steps straight up the thing.