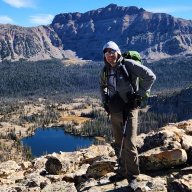 Joined

Aug 6, 2019
Messages

84
Back in Wyoming, and giving Red Castle Lakes another shot tomorrow. Still pretty windy, but the ranger I talked to said not much snow stuck(along Mirror Lake Highway, anyhow). Looking like 18-20F low, 36 hi, possibly with some windblown snow, but little to no additional accumulation.
Hoping I won't be slogging yhrough a bunch of snow, but will try to report back with current conditions ASAP.

This has turned into a big road trip. Drove all the way to Arches for Double Arch then Delicate Arch just before sundown.
Decided to leave, rather than hike at Canyonlands the next day, due to the amount of people. Over to Goblin Valley, then Capitol Reef for Hickman Bridge at sunrise, plus Cohab Canyon and Cassidy Arch via Frying Pan. LOVE Capitol Reef, but really wanted to get to Red Castle if at all possible, so here I be!

Edit: a series of unfortunate occurrences jacked this last part up. Shoot this whole trip's been jacked up. Still had a lot of fun, but no update on Red Castle Lakes, I'm afraid...
Last edited: