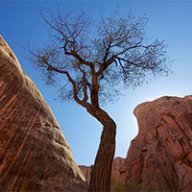 Joined

Aug 9, 2007
Messages

12,918
July 2011
My first backpacking trip to the Uintas was a 3-day trip into Amethyst Basin way back in 2003. I was SO hooked. On that trip we camped at Toomset Lake and day hiked up through Ostler Lake and BR-24. We had planned on day hiking up to Amethyst Lake as well but we spent so much time wandering around and fishing that we had run out of time and had to get back to Toomset before dark.
A couple years later I went out on a solo trip to Amethyst Basin. Once again I camped at Toomset Lake and once again, I ended up not making it to Amethyst Lake. Frustrating. I felt like I couldn't check this place off my list until I actually made it to Amethyst Lake so this year I decided it was time for a third trip into Amethyst Basin.
My good friend Nate recently moved to Park City so it made for an easy escape to the mountains for this trip. We were both able to leave work in Park City a little after noon and be to the trailhead by 2pm. It was nice to drive over Bald Mountain Pass again. The last time I was here in late June, the highway was still closed and the snow was widespread.
The trail to Amethyst starts at the Christmas Meadows Trailhead on the north slope of the Uintas, a few miles off of the Mirror Lake Highway. It's one of the more popular trails with three spectacular basins to be explored. Most only see Amethyst and for those, the majority seem to day hike straight to Amethyst Lake and back. The mileage directly to Amethyst Lake is about 6.5 miles one way. Here is a map of the area along with the route logged by my GPS on this trip. Note that there are no trails to Ostler or Toomset Lakes and that a good map and route finding skills are required to get to them.
[parsehtml]
<iframe width="640" height="800" frameborder="0" scrolling="no" marginheight="0" marginwidth="0" src="http://www.mappingsupport.com/p/gmap4.php?q=mymap,214533597045798101523.0004a902665c72874255c&t=t2"></iframe><br /><small>View <a href="http://www.mappingsupport.com/p/gmap4.php?q=mymap,214533597045798101523.0004a902665c72874255c&t=t2" style="text-align:left" target="_blank">larger map in new window.</a></small>
</br></br>
[/parsehtml]The trail follows along the side of Christmas Meadows for about 2.5 miles before splitting east towards Amethyst Basin. It's not the most obvious junction, the sign is a little high in the tree. Last year I ran into a group 2 miles past this that had no idea they had blown right past their turn. Two easy ways to make sure you don't miss it. First, the High Uintas Wilderness sign is very obvious and is a few hundred feet before the junction. Second, the trail crosses Ostler Fork a few hundred feet beyond the junction. Sometimes there is a makeshift bridge there, sometimes there isn't. In the five separate years I've been to the crossing, there has only been a trustworthy bridge one time, in 2010. Fortunately it usually isn't too difficult to find a reasonable place to cross.
We hurried through those first 2.5 miles before stopping near the junction for a quick break before ascending the steep trail into the basin. From the junction, the trail gets very steep as it climbs into Amethyst Basin.
The Ostler Fork is quite the sight as it cascades down the slope alongside the trail. For those that only day hike Christmas Meadows, it would be well worth it to hike a few hundred feet up the trail to Amethyst just to see the waterfalls.
The trees thin out a bit as the trail hits its steepest section, offering a view into West Basin which holds Kermsuh Lake.
Once past the steep section the trail mellows out a bit and winds in and out of meadows and dense forest as it continues deeper into Amethyst Basin. We planned on hiking to Ostler Lake to setup a base camp where Tim, Erin and Jake would be meeting us the next day. They were getting a later start and camping down in Christmas Meadows. Nikita and Sonny evaluate the route as we find our way overland to Ostler Lake.
10 minutes earlier and we could have done this in direct sunlight. That was some mighty cold water. On the way out we found a much better way to cross if we had stayed on the main trail until it hit the river.
It took us a while to finally get to camp. Travel around the east side of Ostler was more rugged than the west side that I had hiked previously.

Nate purifies water as the alpenglow goes off.
Nate and I
It was sad to not have any clouds around for sunset but I was happy once the stars started coming out.
We were up late into the night, the views were spectacular with the Milky Way and all of the stars. The moon started to light up the ridge behind camp around 1:30.

And by 2:30 or 3 the entire basin was glowing.
After the late night taking pictures, Saturday morning came early. It felt good to lay out on the grass and not even think about having to be anywhere or do anything. The light was nice the water was smooth and the fish were rising.
Nikita giving Nate a wake-up call. This is a ritual in our camp. Sonny visits me, Nikita visits Nate, tails are wagged vigorously.
Right at noon Tim and the rest of the crew arrived in camp. We had been planning on day hiking up to Amethyst Lake together but the consensus shifted towards a more relaxing day around Ostler and then day hiking Amethyst on the way out the next day. The fishing wasn't going very well so a few of us took a dip in Ostler Lake. That's me doing the back float. Tim took the picture.
After the swim the fishing turned around and I caught two good sized Cutthroats almost back to back on a Beadhead Hare's Ear.
Tim learning to gut the fish later in the evening.
A few nice, fluffy clouds popped up in the afternoon.
I was really hoping the clouds might stick around for sunset but it was not to be. Fortunately the alpenglow didn't dissapoint. That's Tim and Erin taking photos down by the shore.
After dark Tim and Jake started taking star photos and I stayed in camp and worked on the last Steel Reserve. Well into the evening I decided to setup for one more star trail.
The next morning came with some bad news. Tim's knee, which he had injured while stretching Saturday morning, had gotten much worse. The swelling was looking really bad and his range of motion was decreasing. So Tim and Erin decided to hike straight back to the trailhead rather than tack on another few miles to see Amethyst Lake. So we said goodbye and headed off towards Amethyst. Jake came along even though he was riding with Tim & Erin. His plan was to hike with us to Amethyst and then race down the trail to catch up with them.
The terrain on the west side of Ostler is very picturesque and easy to walk through. Quite different than the east side.
Looking back at Ostler Lake
Jake and the dogs descending towards lake BR-24 where we will reconnect with the trail. This has to be one of the most beautiful lakes without a proper name.
Looking up towards Amethyst Lake and the top of the basin.
Approaching Amethyst Lake
And there it was. Amethyst Lake. I was so very happy to finally make it here on this my third trip into the basin. The lake was almost completely free of ice except for one section below some of the chutes on the east side of the lake. A week earlier, Dan Ransom was here and the lake was 70-80% ice. Check out his photos and trip report
on his website.
We had left our packs down at BR-24 and I was thirsty. Talk about drinking from the source.
Hiking back to the packs at Lake BR-24.
The huge meadow below BR-24 and Ostler. Great place to fly fish the deep channels.
Uh oh! Nikita had some trouble with this log crossing.

I was heading back to pull her out but she did it on her own.
The last good look at Ostler Peak and the Amethyst Cirque before heading into the trees and back to Christmas Meadows.
Tired dogs as the trail heads back into Christmas Meadows.
Not much else to say about this trip. It was good. Really good. Amethyst is typically a busier than average place so don't expect solitude except maybe at Toomset Lake or in the meadows. We shared Ostler lake with one other group the first night and two the second. They were both plenty far away so it was fine but sharing none the less. During the day several groups day hiked in and fished Ostler. If I were doing it again I think I might camp near the big meadows below BR-24 and Ostler. You'd have more solitude and if you're a fly fisherman, those winding channels are a blast.