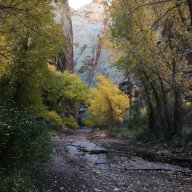 Joined

Mar 27, 2015
Messages

120
Trip Reports

8
Likes

273
The first destination on our trip last summer was Crater Lake National Park. The trip started the first day by leaving Utah and making the 12 hour drive to Lakeview, Oregon. It was a long drive, but it shortened our driving time drastically the second day. We did make a brief stop at the salt flats to walk around for a minute.
After the salt flats it was a long drive with very little stops. After our first day of driving we stayed at a privately owned campground on a ranch. The campground was mostly filled with RV's, but they did have two grassy spots for tents. It was a really nice campground and it made a great overnight spot.
The best part of the drive in my opinion was from Lakeview, Oregon to Crater Lake. It was very scenic and green. It was only two more hours of driving to reach Crater Lake. The first thing that we did was get our campsite set up before taking off to see the lake. I felt like the drive from the campground to the lake was filled with suspense. After each bend in the road I kept hoping we would see the lake. Finally the lake came into view and it did not disappoint. We lucked out and were able to find a parking spot fairly quickly.
For the rest of the first day we meandered along the rim. We did have the same problem here as we did in Lassen Volcanic National Park. There were still parts of the park that were closed because of snow. The picture above was from last July with snow still on the ground.
We ended the first day by going to a ranger program and relaxing around the fire. The next day our goal was to take the Cleetwood Cove Trail down to the lake. We talked about it in the morning and everyone decided that the water was going to be too cold to swim in. By the time we got down to the bottom of the lake a couple people in a group decided it was worth jumping in. The water was very clear.
We probably spent two or so hours down at the lake before heading back up to the car. After we made it back to the car, we made our way as far around the rim as we could. Weren't able to go very far before the roads were closed.
We decided to go back to camp and hang out and wait for sunset to go back up to the lake. If I was a better photographer I am sure the sunset pictures would have turned out better. All these pictures were taken on my phone. Crater Lake was the highlight of the entire trip. I am hoping to go back again one day. If you ever get the chance to go to Cater Lake I would highly recommend it.