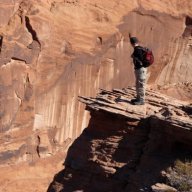 Joined

Jun 16, 2012
Messages

1,485
I've learned something about myself when it comes to trip planning, and I would like to see if other people do the same thing.

First, I love planning a long backpacking trip. I read lots and lots of trip reports and guide books, and I pore over lots of maps. I then painstakingly plot out a trip that I expect to be great.

And then I get on the trail and my plan rarely survives much past the first day.

I end up adjusting the plan for things like views I decide I want to see, climbs I decide I don't want to make, weather exposure I decide I want to avoid, or a host of other things. I almost spend as much time over the map while on the trail as I do back at home planning the trip. In fact, I recently noticed that many pictures of me out on a long trip are of me hunched over the map...adjusting the plan.

So, I'm wondering, is this normal? Do you pretty much stick to your plan except for extenuating circumstances? Do you adjust your plan regularly? Or do you even make a detailed plan for a long trip?

I'm starting to wonder if I should even bother with making detailed plans...it just seems like I never stick to the plan, so maybe I should just pick my trailhead and basic destination and head out on long trips.

But I might be a little too OCD for that.