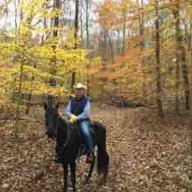 Joined

Apr 7, 2018
Messages

45
A few pictures from a fall trail ride in southern Illinois. We live in far western KY, about an hour south of the Forest. We grew up in flatland country, central IL, not knowing the diversity of the landscape in the southern part of the state. Since 1990, we've lived in KY and for the past 20 years we've enjoyed southern Illinois hiking, and most generally, horse riding. Here's a few pictures from a fall ride.
This little tunnel is known as the "tin whistle," due to the sound of the train whistle! The sides are sloped, so keep your horse in the dead center to reduce the chance of slipping. Also, it's best to time your approach so as to avoid a passing train.
One of many water crossings.
My wife on her MFT gelding, Charming Legacy, aka "Legs". Great trail horse.
This area is popular with rock climbers, including many students from Southern Illinois University and on this day, a climbing family!
Can't start 'em too young!
This isn't exactly in the Jackson Falls area, but it will give you a little taste of trail riding in the Shawnee.