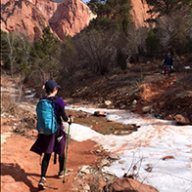 Joined

Mar 21, 2014
Messages

13
Looking for a short getaway down south next weekend. Intrigued by Toroweap but a couple questions came up in my research. Insight from anyone who has been would be great (and sorry if these seem like dumb questions)!

Are reservations required for camping during the winter? It seems like it's seldom visited and it looks like the reservation system requires mailing in a form (which I doubt would get back in time before next weekend). But I want to make sure we play by the rules in that regard.

Is the road south of St. George closed during the winter? I saw something that said the conditions keep it closed from October-May, which seems odd. But I know it's a remote area and again, don't want to get in a tricky situation. We have a lifted Jeep Wrangler so not concerned from the offroading standpoint.

What's the approximate elevation of the campground? The weather in Tuweep sounds good but I didn't know if Toroweap was much higher up. Looking for some warmer conditions than in SLC, so if it will be chilly and snow-covered we might wait until later in the year.

Thanks for your help!