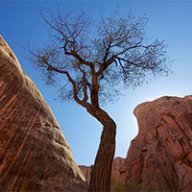 Joined

Aug 9, 2007
Messages

12,939
What's that old saying? If you fail to plan, you plan to sit on your butt at home all year? What you guys got cookin' for 2017? Don't forget to go back to the
2016 thread
and report back on how you did.
I am super excited about what I have on the radar this year. Here's what I'm planning so far.
Mexico next week! First time we've done a non-camping vacation in years!
Ski-in camping at the Colton Guard Station in the Uintas in February
More mountain biking around St. George
More mountain biking around Moab
Mountain biking the Goblin Valley trail system
Lots of mountain biking around the Wasatch once the snow melts off
Desert backpacking penciled in for early March but not sure where yet. Or I might end up on one last Glen Canyon trip if the boat isn't sold by then.
Picking up the NEW (to me) boat in Illinois in March. Can I count it as a bag night if I sleep in the truck on the side of the freeway?
Float the Snake River through Alpine Canyon
Float the Moab Daily
Float the San Juan
Float Desolation
Float the Green ABC again

Get Audra out on a mellow river trip like Labyrinth or Ruby Horsethief to warm her up to the idea
Backpack Steven's Canyon. Ideally a point-to-point over the reef.
Maybe a Yellowstone Lake trip
Boat camping on the Great Salt Lake
And now a whole seperate list for my Glen Canyon plans. I recently purchased a unique motorized cataraft that is going to replace my tritoon and change the game completely out there as far as where I can hike and camp. Visiting these Glen Canyon places this year would make me very happy:
Hike the naturally dammed fork of Iceberg Canyon
Return to Great Bend and hike Bend Canyon and hopefully some of the others
Spend some time up around Good Hope Bay and hike Fourmile Canyon and Ticaboo
Walk the slickrock route to the Reflection Canyon overlook near the mouth of the San Juan
A trip to the Escalante with walks in Explorer Canyon and Bishop Creek
Walk the main (west) fork of Bowns Canyon and it's seven caves
Some exploring around the backside mysteriousness of the Annie's canyon system
Not expected, but I'd be ecstatic if any of these things came true this year. With the new boat, the chances go way up for the first two:
Westwater Canyon
Cataract Canyon
Yampa River
Gates of Lodore
Smith River
Middle or Main Salmon
Here's a pic of the new boat that will dominate my summer. 20 feet long with 30 inch tubes. I can't wait to start customizing her for Glen Canyon.
Running Lava: