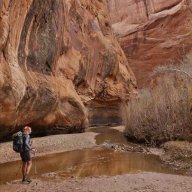 Joined

Jan 4, 2015
Messages

2,745
Major (week-long) trips
Hayduke Trail Sections 5&6 (Hanksville-Hole-in-the-Rock Road)
Beartooths Traverse (east-west)

Minor (weekend) trips
Ruby Crest Trail
Little Death Hollow
Hayduke Trail Section 1 (Arches-Moab)


Other Random Goals
Take an avalanche safety course
Jackson Hole ski trip
Assist skiers with disabilities through NAC
Sleep in a snow cave at least once
Get above 10,000 feet at least 9 months out of the year
Get in 40 sleeping bag nights and 500 trail miles
Finally see a bear
Lead at least one trip for first-time backpackers


The back burner (stuff I'm contemplating but am not ready to commit to)
Collegiate Loop (CT-CDT)
Hayduke Trail sections 7-8 (Hole-in-the-Rock Road - Willis Creek)
Delano Peak Loop
Middle Grand Gulch (Bullet Canyon-Collins Spring Canyon)
Slickhorn/Lookout Canyon loop



My time will be a lot more limited this year, probably not hitting the 50-day mark for bag nights. If I complete my two major trips and three minor trips, as well as my random goals, I'll be happy. I anticipate doing some, but not all of the back burner stuff, and I'm sure that more things will pop up as they hit my radar during the year. We seriously need to come up with a comprehensive list of winter-friendly backpacking destinations in Utah.