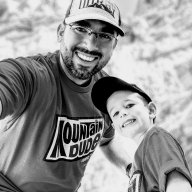 Life Elevated - Rising Higher
Joined

Feb 25, 2013
Messages

600
​
For the beauty of the earth,
for the glory of the skies,
for the love which from our birth
over and around us lies;

For the beauty of each hour
of the day and of the night,
hill and vale, and tree and flower,
sun and moon, and stars of light;

For the joy of ear and eye,
for the heart and mind's delight,
for the mystic harmony,
linking sense to sound and sight;

For the joy of human love,
brother, sister, parent, child,
friends on earth and friends above,
for all gentle thoughts and mild;

Lord of all, to thee we raise
this our hymn of grateful praise.

- For the Beauty of the Earth by Folliott S. Pierpoint, 1835-1917
​
This backpacking trip was years in the making! On August 18th the dream became a reality. Adam and I embarked with our packs into the heart of the Wind River Mountain Range.
Preparation for this trip began months in advance. Last winter I began measuring and documenting th weights for all of my gear. And a few months ago I began tweaking my food menu. All that planning payed off! At the beginning of this trip I had a fully loaded pack that only weighed 36lbs! For 6 days, lived off of 10 lbs of food and I was happy to say that I ate well and never felt hungry after my meals.
I few notes about the trip
We had to change plans because my friend got shin splints on the first day. He was carrying a ~60lb pack and after 15 miles of hiking, he was hurting pretty bad. I was amazed at his positive attitude and his ability to push through the pain. I could hardly tell that he was even hurting, even though he said he was experiencing great pain.
Because of my friends shin, we opted to stick to trails we knew and were not able to complete our planned loop through Alpine Lakes and Cook Lakes. Instead we spent more time exploring Island Lake and camped at Hobbs Lake for our last night.
I spent $70 for wyoming fishing license, and this is all I was able to catch! haha
​
Featured image for home page: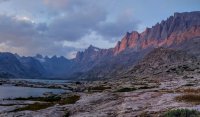 ​
Last edited: