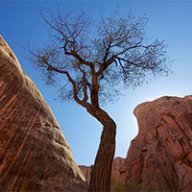 Joined

Aug 9, 2007
Messages

12,939
It's clear that my appetite for backpacking is heavily outweighing my ability to round up people to come with. So I'm planning on doing some big trips this summer solo. Wind Rivers, Uintas, Sawtooths, etc. I've gone solo about 8 or 10 times, the longest of which was a 35 mile trip from West Fork Black's Fork to the Highline Trailhead in the Uintas. I tend to get a little nervous on my own. Mostly just at night when I'm sitting out in the dark, shooting star trails, etc. And perhaps some of it was thanks to my overly protective dog who always seems to be much more stressed when it's just the two of us. Something about her acting like something out there makes me more nervous.

So my question is, does anyone have any tips for mastering the art of solo backpacking? I really love the idea of being on my own and not having to coordinate plans with anyone. Especially not having to bank my entire trip on whether or not someone comes along. So I guess I just need to man up and quit thinking I'm going to get dragged out of my tent by a sasquatch?

P.S. If anyone wants to schedule some big backpacking this summer. Let's do it!