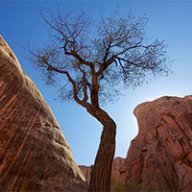 Joined

Aug 9, 2007
Messages

12,934
Seems like there's been more about this in the last year than in the last 20. Now it's the former head of the Bureau of Reclamation calling for it to come down. Sounds a little crazy, but I wonder if it's something that might even happen in our lifetimes. I mean, who would've thought 20 years ago that recreational weed would be legal in a handful of states? A lot can happen when the tide of public opinion shifts.
http://www.sltrib.com/home/2336694-155/former-federal-water-manager-proposes-tearing
http://kuer.org/post/its-time-change-water-policy-past-dam-agency-leader-says
http://www.theecologist.org/blogs_a...ake_powell_is_dead_long_live_glen_canyon.html
http://www.usatoday.com/story/news/nation/2013/10/14/glen-canyon-dam-50-years/2981273/
Thoughts?