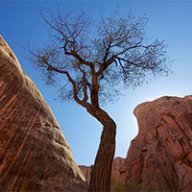 Joined

Aug 9, 2007
Messages

12,927
Wow. The last couple of weeks have been mayhem for me. Literally 12 out of 14 days spent away from home. I had been tasked with travelling to the St. George area and the Boise, ID area to photograph clinics and do portraits for my employer so I decided I ought to take advantage and have some fun so long as I was in the areas.
The first trip, to the Southern Utah clinics, I decided to tack on a trip into Zion. I had picked up a permit for The Subway as a backup to the permit I scored in May for the Zion Backcountry-Fest in the event water levels were too high. They weren't but I decided I'd still use the second permit so I snagged a reservation to backpack The Zion Narrows the two days before. Quite the 3-day beating by most accounts but it sounded like fun. I had already backpacked The Narrows once before back in 2005 but I that had been plenty long and I was eager to get in there again and refresh my memory.
We booked down to Zion the night before the hike and camped in the Watchman Campground. I was stoked to have what I thought might be my last campfire of the season but when we got there... NO campfires! I get that they're banned all over the state but WTF!? It's a paid campground with totally legit firepits. Not much of a fire danger in there, me thinks. But whatever.. no biggie.
The next morning I made my way over to the Zion backcountry desk to pickup our permits and poop bags (yes, you poop in a bag when you backpack The Narrows). From there we went over to Zion Adventure Company (ZAC) to meet up with
ststephen
and load into the shuttle up to Chamberlain Ranch where we would start our hike.
After the long 1.5 hour drive to Chamberlain, we were dropped off and on our way. From here it's 16 miles and about 1,400 vertical feet to the end of the hike at the Temple of Sinewava in Zion Canyon.
The first couple of miles follow a road through The Chamberlain's Ranch. This is all technically private property. It's kind of mind blowing to me that one person could essentially close down the Narrows top-down route for everyone if they decided to stop allowing access through here.
An old cabin along the road in Chamberlain's Ranch
After a couple miles the road ends and the canyon starts to develop. The first couple of miles are pretty gentle with the trail meandering in and out of the river.
A cool spider web along the way
It was mighty hot out. I believe the forecast for Springdale was right around 100. That's
neiloro
taking a dip.
whitwilli
and Ethan, aka Whithan, smiling for the camera in the upper section
Cody
walking through one of the earliest narrow sections
A bend with a nice pool. It was man made with a little rock dam but it still made a great spot to soak. Hopefully
neiloro
will post some pics of that. I was too wet...
Crazy light in this upcoming section of narrows. It really was red and blue like that.
Photographers....
Cody
ststephen
Soon we reached the big waterfall of the upper narrows. It's amazing that this thing doesn't prevent non-technical passage. Amazingly, there is a nice, wide crack to the left (LDC) that bypasses this entire section.
Still fun to swim in though! After I got down there I dropped my gear and headed in. It was tough to get under the falls but once I did it was like the hardest massage I've ever had!
After leaving the falls, we went around a bend and immediately notices something strange. It appeared as if we had just barely missed a large rock fall. There was a massive amount of dust in the air, much of it moving upward. I'm guessing we would have heard it but we were all in the waterfall chamber when it probably happened.
The dust made for some cool shots
After another bend or two, the canyon starting narrowing more and more. If you go to do the Narrows, think of the upper waterfall as where the goods really begin.
I kept waiting for one of them to say something like "this is the last time I go hiking with a bunch of damn photographers!", but alas, they were patient and waited for us as we all walked around with our tripods, taking our time hiking down the canyon.
Whithan approaching one of the deepest, darkest sections of the upper narrows.
We all stopped at the Deep Creek confluence where we realized we still had a ways to go before reaching our campsite at camp #5. To add to the fun, Deep Creek triples the amount of water in The Narrows, making the travel much more difficult.
I put away my tripod at this point thinking we were short on time. In reality, we made it to camp quickly and I could have taken my time. Oh well...
Camp 5 in The Narrows
We had a nice evening at camp. We went for a post-hike swim, had some dinner, a bit of whiskey and went to bed. I didn't bother with any night shots as I could only see a small sliver of sky.
I slept awful that night. It was hot... maybe not by most standards, but I need sub-70 degrees to sleep comfortably. I ended up sleeping out on my pad, no tent, no sleeping bag for most of the night and I still couldn't cool down sufficiently. There were lots of mice and spiders about but I don't know that any of them bothered me. I did kill one unusually large and gooey creepy crawly under my pad that night though. When I was rolling up, there was a pretty big wet/gooey spot with about a half an inch of segmented carcass next to it. No clue what it was...
The next morning we were back on the
trail
, err, river. We knew that the photogs would probably move slow in the Wall Street section of The Narrows so we wanted an early start.
A big sucker fish, dead on a rock on the hike out. I'm not sure exactly what type but I'd love to know if anyone else knows.
Big Springs marks the end of the day-hikeable section of The Narrows for people hiking up from the bottom. This is approximately 4 miles from The Temple of Sinewava and just a couple hundred yards downstream from the last campsite, #12.
Ahh Whitney... she thought it was time to swim and went in with her whole pack on. BTW, not a great idea with that much weight in it. She was really struggling.
Whitney sees the easier, and dryer way through the boulder mess.
This section is one of my favorites.
This part right here is what most people regard as the mandatory swim in The Narrows. In reality, you can get all the way through (at these water levels), without having to get your pack wet. If you go to the right of the boulder, like most do and like I did last time, it's neck deep if you're lucky. This time it was a full swim. But if you go to the left of the boulder (LDC), you can slip into a chest-deep pool and walk across with your packs over your head.
I took advantage of this awesome pool and did some cannon balls off of the big boulders in the center. Really hoping someone will post some pics of video of that. I was a bit wet to take my own.
Shortly after passing by the boulder pools, we ran into the rest of our group that was joining us for The Subway the next day. A total surprise as we thought we were still pretty far up The Narrows. And with them, we ran into about 1,000 other people. In fact, other than some snapshots at the Imlay Boulder, I never took another photo for the rest of the canyon. It was just a constant stream of tourists. I stopped and swam a few times but mostly I just wanted to move past them. It was slightly chaotic and nothing like the last time I was there.
My late afternoon we were back in Springdale. A few of us decided it was hight time we became Zion Express Permit holders so we went to the VC and watched some silly videos. Well worth it though as I won't need to stop by to pickup permits for a few years. Stoked!
We camped in The Watchman Campground again that night. I got like zero sleep. It was too hot and then the wind gusts came through. Oh, and I'm pretty intolerant to gluten and I decided to eat pizza that night. I felt like hell all night. The next morning I just wanted to crawl into a hole and sleep but alas, The Subway called. We got an early start, leaving Springdale at 6:30am. It took me an hour or so of hiking to wake up but eventually I got with it. I'm not going to post a real TR on the Subway part of this trip as I've done it 5 times now in less than a year. But here's a few shots:
I tried to hike up Das Boot a bit but was immediately greeted with lots of deep, cold water.
Melissa enjoying herself
Heading into the Bowling Alley
A really steep hill on the way out...
The end.
Featured image for home page: