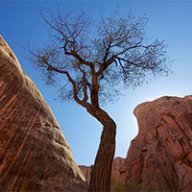 Joined

Aug 9, 2007
Messages

12,940
I wasn't sure what to call this trip report. We covered so much ground. Too much ground. It was a trip I'd been dreaming about for more than a decade. My dad is from Oregon. We used to take a lot of trips to the coast when I was younger, but it had been a long time since I'd been up that way. And my wife
@audraiam
had never been. Year after year it got pushed back, but this year we purchased a Four Wheel Camper and we decided it was the perfect excuse for an extended trip to the coast. The plan was pretty much to go campground hopping up the coast and live out of the FWC, doing the tourist thing with thousands of other people. Part of what's kept us away is not wanting to stay in hotels and not wanting to pitch a tent in a busy campground every night.
To help extend the trip and ease the drive out, I combo'd this with a work trip. My day job is running the marketing department for Mountain Land Physical Therapy. We have 37 physical therapy clinics throughout Utah, Idaho and Montana. As part of my job, I try to visit the clinics outside of the SLC area once a year just to check-in and see if there's anything that needs to be done. We have 8 clinics in the Boise area, about halfway to the coast, making it an ideal layup for the trip.
Disclaimer: Aside from working in Boise, I never got out my real camera on this trip. All of these are iPhone pics and it was a joy not to carry that other one around.
We left Bountiful late the first day of our trip. It was something like 9:30 PM when we finally hit the road. We debated just staying there but Collin was there to watch the house and getting a couple hours behind us sounded like a good plan, so we headed out in the dark. Finding a campsite wasn't the easiest thing, but we ended up crashing on a BLM land just outside of Malta, Idaho. This was our first night in the FWC (outside of the driveway). We got up early and I used the shower. I did have to work after all. By noon we were in Boise where Audra drove me around from clinic to clinic through the afternoon.
Late that afternoon we stopped at the Aire factory to pickup Collin's boat from being repaired and check out my new potential raft. Then a quick stop at
@Ben
's house who so generously let us store the raft there until we came back through at the end of the trip. We probably could have found a mediocre campsite closer to Boise that night, but we ended up driving way up past Crouch to this spot on the South Fork Payette River. We weren't going to have a lot of primitive camping options on this trip so I wanted something good. It was.
The next day was more work. We started in Emmett, then off to Kuna, two stops in Boise and finally Caldwell before I put away the laptop and the big camera and we headed west across Oregon. We timed it to arrive at Crater Lake just in time for sunset.
We had a campsite booked at Diamond Lake that third night. It was a good spot for a campground. The campsite was full but many of the spots nearby were still empty with their reserved tags up, so it felt like we had mostly to ourselves.
We even had a tiny bit of a view of the lake.
The next day we got up and started the drive toward the coast. The drive along the Umpqua River was something I was looking forward to after spending some time camping and fishing here back in 2004. We stopped along the way to check out a waterfall. The forest was getting much more dense and lush as we moved west down the Cascades.
As we walked back to the truck, my heart dropped. My camper was half popped open! I immediately assumed someone had tried to break into it. Only after closer inspection did I realize that I am an idiot and never fastened the buckles that hold down the roof! We'd drive for at least a half hour like this at speeds upwards of 65 mph! But other than a few bugs splattered on the vinyl, there was no damage. We buckled the latches and continued west. I never forget now.
We stopped in Roseberg for some lunch before eventually making it out to Coos Bay where we headed south toward Cape Arago. But we couldn't wait. We had to go see, hear, feel, smell, the ocean. Bastendorff Beach would do for a short walk.
On to Cape Arago... we decide to walk the botanical gardens before going to the various viewpoints of the rocky shoreline.
Such awesome rock formations here. And the crowds were pretty reasonable considering it was Saturday on Labor Day weekend.
That night would be the worst campsite of the trip, if you even want to call it that. None of the campgrounds in this area would accept a reservation unless we booked the entire weekend. We tried a few to see if there were any spots available the day of but they were all full. We settled in the 'boondocking lot' at the Mills Casino in Coos Bay, right next to the Pacific Coast Highway. Pros: we had casino buffet for dinner. Cons: it made the Golden Corral look high brow. But this was also the first night we decided to deviate from our usually strict diet, so mac and cheese, lasagna and fried foods hit the spot like never before. And so did I on the toilet...
The next day we start up the coast. We had a spot booked at Cape Perpetua and we wanted to spend plenty of time there, so we didn't mess around much on our way.
I did however feel the need to stop and do something about the bugs on the front of the camper.
We stopped at the Sea Lion cave along the coast highway. It turns out there really aren't any sea lions around there this time of year, but it was still a fun little walk. And there were hardly any people.
And then we stopped and hiked to Heceta Head Lighthouse. Got there just in time to still find a place to park. By the time we left there were cars lined up.
And one more stop to checkout some tide pools before getting to camp. The tide wasn't all that low, even at low tides, so there wasn't a ton to see. Enough though.
As we drove through the Cape Perpetua Campground, I was getting a little nervous about how bad our site would suck. Many of them are stacked in next to each other with nothing to separate them. Not ours though. We could hear the screaming kids next door at times, but it felt like our own little slice of the forest.
Audra heading in to take a nap. I fired up the cell phone booster and did a little work.
She's under there somewhere. It is so amazing to have a king size bed in the back of the truck.
Later on we went in to Yachats for dinner. We found a great restaurant with a table looking right at the ocean. I had the most amazing fish and chips with a nice pilsner. Audra had grilled cheese and soup. It's amazing how happy eating simple things like that can make you when you've abstained for most of the year. Afterwards we went out to the shoreline and took in the view.
The next day we did the quick hike to Thor's Well before heading north.
We got to the Oregon Coast Aquarium just as they opened. I really enjoyed watching the puffins.
But not quite as much as watching the sea otters get fed. This guy kept taking his crab and smashing them against the glass to get to the meat.
More driving. So much driving. Pretty driving, but still. It was Labor Day and we could definitely feel the effect on the roads. But soon we made it to Cape Lookout where our next campsite was. After setting up, we went for a walk on the beach.
And then I worked some more and Audra napped. The cell booster did wonders here. Went from 1 barely usable bar to full LTE with like 20 mbps down. That thing was key to being able to be gone this long during a pretty hellacious time at work.
This campsite looked the most crowded out of all that we went to, but it wasn't bad at all. A little berm kept us from seeing the ocean from camp, but we were less than 100 yards away and could hear the waves crashing.
Back to the beach for sunset.
The next day we kept driving, and driving, and driving. This was actually one of the longest days on the coast. Our main stop was in Cannon Beach. First stop, Pelican Brewing. I know it's a little weird to post all these food photos in a trip report, but they were seriously highlights for us.
And then another walk on the beach...
From Cannon Beach we had to go all the way up the coast through Seaside and Astoria before crossing over into Washington. Then up through Aberdeen before finally arriving at Olympic National Park. Our campsite that night was at Willaby Campground in the Quinalt Rainforest. It was awesome.
We had a lake view from the camper and this was just 20 feet down the hill.
The next day I had to wake up early and call in to a meeting for a couple hours before heading out. Even with the booster on I was barely able to get a bar or two of 1x, but it did the job. As soon as it was done, we were on our way north, not really sure where we would end up. We had no more campsite reservations from here on. We stopped along the way for a short hike to some big trees.
We stopped in Forks for some groceries before heading out toward Rialto Beach. That road looks like someone grooms every inch of it.
We got to the Mora Campground early enough to snag one of the most secluded spots. Everything here is first come, first served.
I had to do a little more work but the service here was amazing! Didn't even need the booster!
And then we were off to Rialto Beach, a couple miles further down the road.
There were a lot of people out there, but it wasn't too bad. Walking the beach is deceiving. You look down there and think, oh, it's right there. And then it's 3 miles without the scenery changing a lot. The beach was awesome though and we saw otters swimming around just off the shore.
We made it to Hole in the Wall but there were a bunch of people so we went and checked out the tide pools beyond there.
On our way back things had settled down a bit.
Back at camp in the rainforest.
We found a short trail next to our camp that led to this view of the river.
The next day I wanted to go to Sol Duc Falls but by the time we got to the turnoff it was too late and the drive along would have taken an hour. So we just kept pushing around the peninsula through Port Angeles and on down to Bremerton where we would take the ferry into Seattle. We had to wait for the next ferry, but hey, there's a brew pub!
We were right up front on the ferry once we finally loaded. That dude was totally checking out my rig.
Almost to Seattle. Audra just wants me to push unlock, but I just want to take a picture.
Getting out of Seattle was easier than I expected, until we tried to exit south toward Mount Rainier. There was some sort of ridiculous traffic incident. It was lined up for miles down the freeway and there was no other reasonable way south. We blew past the exit and had to stop further up to try to figure out what to do. It seemed like we wouldn't make it to Rainier. I even started driving east over Snoqualmie before getting too pissed off about it and turning around to get in line at the traffic jam. It probably added upwards of a couple hours, but we still made it to our campsite at White River Campground in time to see a little light on Mount Rainier.
Morning in camp.
A picture perfect pillow rests atop Rainier as we head to the Sunrise Lodge area.
Smoke in the air from wildfires.
I wanted to hike the Burroughs Mountain Trail but we didn't. Something about time, or energy. I don't know, I kind of regret not doing it, but I'll be back. The shorter trail we did do was pretty awesome though.
Back to the car and the long drive begins. There was a big fire burning near Rimrock Lake on the way out. The smoke and mid-day glassy reflections were surreal.
On and on and on we drive. Eventually we ironically settle at Farewell Bend Campground in eastern Oregon for our final night. It was okay, kind of buggy. But the sunset was nice. The Snake River was just behind the trees there.
We really had to hide in the camper that last night. The gnats were out of control. We had so many in the camper from opening the door that we had to take action. We turned off all of the lights and removed the screens over the roof fans. Then we set them on exhaust and held our flashlights next to them. It worked great, but we were still cleaning gnat guts off the walls after we got home. But even with the gnats, we still felt pretty happy in our tiny mobile home.
That night a big wind storm came in and absolutely killed my ability to get restful sleep. It was hitting us sideways and rocking the camper like crazy. It must have been upward of 50mph gusts. Soooooo crappy. I drove into Boise feeling still half asleep where we stopped by Ben's place to pickup the raft before the final leg of our journey back home to Bountiful. In the end, we put 2,637 miles on the truck over 11 days. I'm proud that I ran the tank down to 3 miles of range when we pulled into the driveway.
This trip was truly amazing, and I absolutely loved the experiences and all of the memories made. That said, it taught us a lot about how to live out of the camper. The living part was easy. We could do it all the time. We learned little things to make it easier, but overall it was awesome. The bad part was how much we tried to pack in. Way, way too many miles and way too few days. If I spent 3 weeks doing the same route, I still don't think it would be enough. We're already planning our next big 10+ day trip to the coast. This time we're looking to Northern California and maybe a bit of Southern Oregon. But wherever we go, we're going to take it way slower and soak it in. We're going to spend more time walking and less time driving. Until next time...
And thank you so much to all of you who gave suggestions in my
planning thread
for this trip. It helped so much.