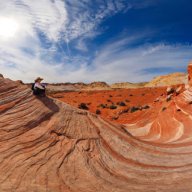 Joined

Aug 18, 2018
Messages

1,428
It's September....! A nice trip combination we have done many times in September is hiking in the coastal Redwood parks in Northern California followed by a few days along the scenic Oregon coast. We start the trip with the first two nights in Fortuna, California- why? Eel River brewery.... BBQ, beer and great outdoor seating.
The first day we hiked 10-12 miles in Humboldt Redwoods State Park- just south of Fortuna. We headed down to Matthole Rd and did a combination of trails like the Big trees trail, Homestead trail and Bull Creek Flats trail South. It's always much warmer in
Humboldt Redwoods SP
than Prairie Creek SP further north. Humboldt Redwoods park has lots of very big trees, but fewer ferns and it's much more open. The Grieg-French-Bell grove is very different from the rest of the park and on the way out we stopped in the afternoon to take pictures:
HUMBOLDT REDWOODS SP -"Grieg-French-Bell Grove"
- dense cover of redwood sorrel beautiful lit up in the afternoon (multi-shot panorama)
The Grieg-French-Bell grove
is a small area with lots of social trails. We always enjoy the thick lush groundcover of redwood sorrel.
Humboldt Redwoods SP - Bull Creek Flats Trail South
(multi-shot panorama)
After another night in Fortuna we drove 65 miles north to
PRAIRIE CREEK REDWOODS SP.
We hiked 11-12 miles on the
James Irvine trail
out and back to
Fern Canyon
(some people return via Miner's Ridge).
INCREDIBLE HIKE!
Easy meandering between the coastal redwoods out to Fern Canyon. Even if we first start at 8am we don't see anyone till we reach Fern Canyon.
The crowds drive out to Fern canyon, so you won't be alone out there. Regardless- it's a cool spot.
Here is a link to a
360 SPHERE PICTURE OF FERN CANYON
(spin the 360 sphere picture around):
https://kuula.co/post/7lQRw
Fern Canyon wall
Rick setting up for a multi shot panorama or a 360 sphere picture in
Fern Canyon
. I wait patiently..... for a very long time!
Second day in
Prairie Creek Redwoods SP
we hiked a combination of trails, like
Prairie Creek trail
to
South Fork trail
and out on
Brown Creek trail
to a hidden and fairly unknown memorial grove. There is no sign, just make a right over the bridge about 3/4 in on Brown Creek trail and follow the loop in the memorial redwood grove. We returned on
Brown Creek, to Foothill trail and Cathedral tree trai
l. A shorter, but nice loop hike is Prairie Creek via zig-zag1 to West Ridge.
2 years ago on Labor day I turned a corner and encountered
a black bear
standing right in front of me on
Prairie Creek trail
eating berries off a shrub. Single track, river and shrubs to the left and dense shrubbery to the right. Now what? I backtracked slowly facing the bear and found Rick taking pictures further back. We first continued 15 mins later after meeting a group of people who said, what? a bear? where? The bear had disappeared. It's unusual to see a bear so close in this park.
A small fallen redwood on
Foothill trail in Prairie Creek Redwoods SP
(multi-shot panorama).
Bridge on Brown Creek trail into hidden memorial grove (multi-shot panorama):
One of many bridges on the
James Irvine trai
l (multi-shot panorama):
We drove further north and just northeast of Crescent City is
JEDEDIAH SMITH REDWOODS STATE PARK
.
It has lots of giant coastal redwoods and it's hard not to be in awe when you drive in on Howland Hill Rd.....
We mainly go to the Jedediah Smith Redwoods SP to see the
GROVE OF TITANS
.
Spectacular giant coastal redwoods like Del Norte Titan, El Viejo del Norte, Lost Monarch, Chesty Puller and Screaming Titans.
Several years go we searched very hard to find their secrete location and when we finally did find them, wow, wow, wow....!
Just the 2 of us surrounded by giant costal redwoods for many hours.... it was just one of those days we will never forget. Now you can google it and every year we bump into more people, but no big crowds. What about the food in Crescent city? As Rick told someone who asked: "Let me know, if you find a great place!".
"Chesty Puller" in Jedediah Smith Redwoods SP
(fisheye lens view)
Here is a link to Rick's
360 SPHERE PICTURE OF "SCREAMING TITANS
" :
https://kuula.co/post/7l9HR
The Mill Creek Trail
- easy meandering
After several days of hiking in the redwoods and being surrounded by green, we head further north along the
southern Oregon coast
, usually to Bandon.
Cool ocean fragrance, waves crashing, large scenic rocks, tidal pools, long runs or walks on the beach, wind ripping. Just gorgeous....
Every sunset and evening is spend on the beach close to Face Rock Scenic viewpoint and when the fog stays away and the sun is gone this is our view:
The only challenge along the Oregon coast is the fog- it comes and goes. In 2017 we went end of September and we had fantastic clear weather. Supposedly there is a 3 week window more towards end of September with less fog and clear sunny days. Food: We buy fresh fish at the "Bandon Fish Market", take it back and cook it yourself, superb.
Low tide- close to Face Rock, Bandon, Oregon
After a few days in Bandon Oregon, we drove back south and hiked more in Prairie Creek Redwoods SP.
HERE IS A LINK TO A COLLECTION OF
Rick's 360 COASTAL REDWOODS PICTURES
:
https://kuula.co/explore/collection/7fyTK