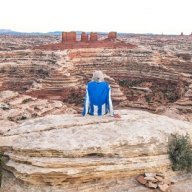 Joined

May 18, 2012
Messages

295
This trip report is based on the second half of a trip to the Moab area (the 1st half being in The Maze), with the theme being an enjoyable few days spent with Backcountrypost member glasterpiece. The connection between us strangers began when I posted looking for Halls Creek hiking partners, and glasterpiece - a former avid hiker who now enjoys watching nature's fantastic combinations of Utah scenic viewpoints and dramatic weather systems - kindly said he would drive us in his 4WD on unpaved road to the trailhead, saving our tiny rental Spark - even though he wasn't able to hike because of injury. A very kind offer considering he's from SLC.
The plan for a rendezvous in Green River didn't quite go to plan when a plane to get us from Hite to Moab didn't turn up, but we managed to phone Glasterpiece about the delay.
Fortunately one of those quirky coincidences meant his evening wasn't wasted. Our Maze guide was dropping off some of our belongings at the Green River motel when the 2 of them got talking and realised one of them had just parted ways with the same 2 English guys as the other one was due to meet for the first time.
"They'll be here in a minute", said guide Kevin. "No they won't " informed glasterpiece.
The pair hit it off and by all accounts spent an enjoyable night at Joe's burger bar before the 2 English matchmakers rolled in 3 hours late!
Anyway after all the partner invites the 2 day Halls Creek hike had to be dropped as storms were forecast for 2 and 3 days time. Instead after an enjoyable breakfast getting to know glasterpiece (he knew the san rafael/canyonlands area very well) we took advantage of the one nice day to do the Little Wildhorse/Bell loop, with time for a sunset over Goblin Valley.
With the campsite full, we camped in the middle of nowhere. The next morning we headed to Goblin's Lair, the most impressive cave I've ever seen,
There were some nice views over the valley too.
before we spent a good three hours exploring the maze of dead end alleys and washes in the distant side ravines of Goblin Valley. We must have covered far more miles than we realised.
One formation was clearly a duck
I argued this one looks a bit like Homer Simpson, but perhaps it's more like a lizard with it's tongue out.
Some brave photographer in the centre here shows the scale of some of the Goblins up against the cliff in one of the far valleys.
Scrambling up a mound in the centre gave a different perspective
No nice sunset on night 2, but stormy clouds.
That night we'd secured a nice flat-looking pitch in Goblin's campsite which looked like it would even take a peg. Luckily glasterpiece realised the raised perimeters of the pitch would create a pool when the rain came. We moved -and the morning after the storms had passed proved him so right and saved us from a waterbed.
Before leaving I made a quick hike to a great viewpoint of the valley
That morning we drove to Needles Outpost after completing various things in Moab. What should have been a quick camping meal turned into a lengthy one as lightning kept sending us diving into the car with the half cooked meal placed under it to save it from flooding. So a late night before embarking on a 17 mile loop hike with the highlight being the amazing Druid Arch.
The day produced some stunning views.
And maybe my favourite
Glasterpiece had secured 2 great camping spots at Squaw Flat but sadly after 4 days thoroughly enjoying his company we left that night while he stayed because we'd been offered a free scenic sunrise flight to make up for the one that didn't turn up. And it didn't disappoint.
Later that day we hiked near Kane Creek, getting great views of the Behind The Rocks area.
The next day we went up Pritchett Canyon with the aim being to get up into the Behind The Rocks area's fins and domes through a side canyon route I'd read about but we either reached dead ends or the attempts were slow and tricky with bushwacking and no certainty whether continuing would lead anywhere so we turned round after a downpour produced some good waterfalls.
In the afternoon we went up Hunters canyon but it was slow going as parts of the trail were overgrown or the trail pinched out requiring river crossings.
For our final day we'd been recommended the Hunter Canyon Rim trail for BTR views. But having reached the rim the only view was down into Hunters. In the end we decided to head on to Pritchett Arch for a 5 hour hike, and that was impressive with better scenery nearer to the arch including the snowcapped La Sals.
And I thought having seen great arches in the past they wouldn't continue to impress...but I was wrong
It was hard to say goodbye to the Colorado for London, so one final view.


A great week and hopefully we will share Glasterpiece's company some time in the future.
Featured image for home page: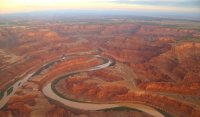 Last edited: