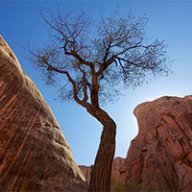 Joined

Aug 9, 2007
Messages

12,927
This is Day 2 and the second trip report from our 4-day backpacking trip through The Maze over Memorial Weekend 2012.
Check out the other trip reports from this trip:
Part 1:
Spanish Bottom to Water Canyon
Part 2:
Shot Canyon to Pictograph Fork
(the report you're looking at)
Part 3:
The Maze Overlook and Jasper Ridge
And here is the map with my GPS tracks for the entire route.
[parsehtml]
<iframe src="http://www.mappingsupport.com/p/gmap4.php?q=mymap,214533597045798101523.0004c14d0de1fd28c23be&t=t1" frameborder="0" marginwidth="0" marginheight="0" scrolling="no" width="800" height="800"></iframe><br>
<small>View <a href="http://www.mappingsupport.com/p/gmap4.php?q=mymap,214533597045798101523.0004c14d0de1fd28c23be&t=t1" target="_blank">The Maze Super Loop</a> full sized in a new window.</small><br><br>
[/parsehtml]This is the part where you'll start understanding why I had to break this one up into several trip reports. The first day was awesome but didn't yield all that many photos. Day 2 on the other hand was epic. Crazy good light ascending Shot Canyon followed by a walk through The Land of Standing Rocks, a descent down a very cool route into The Maze and on down through Pictograph Fork with a stop at The Harvest Scene before finding camp near the big spring below the Maze Overlook.
That first night was not the most comfortable I've ever had. We were in a heavy bug zone for one reason. A few seconds with your head lamp on and you'd be swarmed. Second, the wind gusts kept coming and when they would, we would get showered with a fine rain of sand. See all that sand on my tarp? I slept in that all night long. Didn't even pull my sleeping bag onto me until 3 or 4 in the morning.
But we dusted off and got packed up and started our way towards Shot Canyon. We didn't know yet which route into The Maze we would take but we had until Chimney Rock to figure that out.
The narrow exit canyon from Water into Shot.
Amazing view and amazing light once we got onto the pass.
Shot Canyon
We had some awesome light and clouds hiking up through Shot. Here are few shots along the trail.
Cairns. They're all over the desert but they're so much more amazing in The Maze. The routes don't see the amount of people that other places do. I swear there must be thousands of these out there.
Starting up the exit from Shot Canyon. At first it's just a steep rocky slope, then some ledge walking followed by an awesome chute with stone steps.
Notice Tim on the ledge to the left for scale.
Looking back down into the canyon from the bottom of the chute.
Whitney taking the stairs.
A few more ledges to scramble over before the top.
Looking back down into Shot Canyon
We stopped for lunch near the top of Jasper Canyon and before we got to Chimney Rock. We needed to figure out where to go from here. The options are plentiful to enter into The Maze canyons. The Jasper Ridge, Pictograph Fork, The Plug, and South Fork Horse Canyon are just a few. We were feeling pretty good still so we decided to take a longer route up through The Land of Standing Rocks and down into The Maze at The Plug.
Chimney Rock
Our first view down into The Maze from Chimney Rock
The next mile and a half was easy road walking. Easy except for the occasional 60 mph wind gusts of course.
The constantly changing light was surreal. It felt totally apocalyptic at times.
Standing Rock on the right, The Plug on the left.
Whitney taking a break once we arrived at our turn beyond The Plug.
The view as we started our descent. None of us knew anything about this descent other than it was good enough to be listed on the National Geograph Trails Illustrated Map.
Looking for the next cairn. This was getting interesting already.
The canyon we're dropping into isn't the one that we actually end up at the bottom of. It just skirts this side for a while on various ledges before crossing over a pass to the main canyon.
The last narrow ledge we had to walk before arriving at the pass.
Once over the pass, it was pretty easy going, just picking our way down through ledges and steep slickrock.
Eventually we found ourselves at the bottom of the canyon. Still quite narrow as far as Maze canyons go.
We decided to hike until we reached a spring in the upper section of Pictograph Fork.
But sadly, the spring was in bad shape. Some decent pumpable water but nothing we could get wet in. And by that I mean some dripping water to soak the head of course, I would never dream of swimming in Canyonlands.
We still stopped for a good break at that spring though. Our first since the top of Shot Canyon and it was needed. We still had a good 6+ miles to go in our 14 mile day and most of it would be through deep, soft sand and extraordinarily strong winds. Once nice thing about the sand though, every step we took looked like we were the first people to ever set foot there.
We hit this lush green area after a while. I expected with so much foliage there must be a bit of running water amongst it but all we found was this tiny waterhole. There were animal prints everywhere around it. A bit further down we stopped at a larger one and pumped a few liters of fresh, cold water and I soaked my head and shirt to cool down.
Here's a shot for some scale. See those little specs in the wash? That's the other 3 of our group.
Finally we reached the Harvest Scene. It was in the shade, perfect for getting all the detail out of it. I've shot this before but it was in sun so I went kind of crazy this time.
This guy has to be one of my favorite pieces of rock art of all time. He looks like something out of some post-apocalypse movie but really he's been here painted on this wall for the last 2,000-4,000 years.
We took a nice long break at The Harvest Scene before moving on to find camp for the night.
I dragged them out of the way just to see what's left of the crappy spring at the Pictograph Fork confluence. Not happy campers!
Just past the route up to The Maze Overlook is this fine spring that runs for a couple hundred yards. Great place to fill up. We ended up camping on a sand bench a few hundred yards down canyon.
Now that's a spider!
neiloro
showing off the monstrous daddy long legs spider that wanted to crawl on him while he pumped water.
The wind finally calmed down that evening and we had a great night in our sandy campsite in the wash. The night was beautiful with the partial moonlight but I wasn't motivated to take any photos. It had been a long, 14-mile day up and down through so many amazing places. Time to get some sleep.
Check out the other trip reports from this trip:
Part 1:
Spanish Bottom to Water Canyon
Part 2:
Shot Canyon to Pictograph Fork
(the report you're looking at)
Part 3:
The Maze Overlook and Jasper Ridge
Featured image for home page: