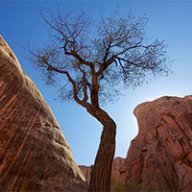 Joined

Aug 9, 2007
Messages

12,940
My first trip to
The Maze was in 2011
. We took two Tacomas on the 4WD route through Teapot Canyon and spent several nights in The Land of Standing Rocks, including a night backpacking in the canyons. The following year I took a jet boat in from Moab and spent 4 days and 38 miles backpacking from
Spanish Bottom to The Maze Overlook
.
It really is a special place, and I've wanted to go back, particularly to spend a night at the Maze Overlook, but up until this fall I didn't really see it happening anytime soon. But then I got an assignment to write up a bunch of great mountain biking routes and all of the sudden a great excuse to go back. A lot of people don't think of The Maze when they think of mountain biking, but it's actually a spectacular place to ride with vehicle support on a multi-day trip. It's definitely a step up in adventure from the more popular White Rim. So in mid October, we set out from Green River with an extremely ambitious schedule. The first night would be spent outside the park in the lower San Rafael Desert. Night 2 at The Maze Overlook, then night 3 at The Wall in the Land of Standing Rocks. That's a whole lot of 'windshield time' as the ranger at Hans Flat accurately said. But between the four adults on the trip, we had four mountain bikes, so it would be a good mix of riding and driving and taking in amazing scenery.
We met up the first night at one of my favorite campsites on the planet. No pictures until the following morning when we walked down to say hello to the Green River.
After breaking camp, we headed out to Hans Flat and checked in at the ranger station before heading into The Maze. We had some unique challenges on this trip and the ranger on duty was quick to point them out to us. First of all, I was in my 2015 Ford F150. It's a 4-door Lariat model with running boards and a short bed. A whole different story from the Tacoma I drove out here five and a half years earlier. And to add to the excitement, my friend Jason was driving a shiny new 4Runner with a 3-inch lift...
and towing a Turtleback off road trailer
.
She warned us about the switchbacks on the Flint Trail and told us we may have to detach the trailer at various points along the way. All things we were already keenly aware of. And then off we went. About a mile past the ranger station we deployed the mountain bikes and took our time on the drive to the top of the Flint Trail where the interesting driving began. We sent Jason down with the trailer first so that we could tie the trailer to my truck in the event we needed to detach on one of the hairpin bends. That first 100 yards of the Flint Trail was a shocking reminder of how rough that road is. Lots of big, loose rocks that I didn't remember at all from my first trip.
The first tight bend was a piece of cake and on we went. It was nice having half of the crew on bikes to help spot through things on the fly.
The second tight switchback wasn't a problem either.
Even the F150 got through it with ease.
We were relieved to get to the bottom of the Flint Trail without issue. Now it was just 12 miles to the Maze Overlook on unknown roads.
There were a few rough spots getting out to the Maze Overlook, but as an astute passerby said to us, it's like a super highway compared to Teapot Canyon. Said passerby also said there was no way we would get the trailer through Teapot. We'll see about that.
Passing by a fork of Horse Canyon as we approach the Maze Overlook.
There was only one thing that I was hell bent on doing this day, and that was spending golden hour at the Maze Overlook oggling the Chocolate Drops and the surrounding landscape in the late evening light.
We made it just in time.
Jason and Andrea deployed the kitchen on the Turtleback and went to work preparing an awesome dinner.
The Turtleback is a really awesome trailer. It has a sweet kitchen, tons of storage and an awesome rooftop tent. If I had a kid, I'd probably be ordering one after this trip, but since I usually only have to worry about myself, I'm pretty happy with the back of my truck and a can of sardines.
And so I took my camp chair and a cocktail to the edge of our campsite and watched the scene unfold.
Name your standing rocks! The next night we'll be camping near the rocks on the far right.
The Nuts and Bolts.
The sun eventually went down, but the show didn't stop. Here comes the earth shadow!
The next morning we had an awesome breakfast thanks to Jason and Andrea again. They actually provided all the meals on this trip and it was absolutely fantastic. Great food out of a really cool trailer/kitchen and my truck was practically empty. On the way back up to the junction below the Flint Trail, Jason decided to ride. It was mostly uphill so I was thinking he would need to give up the bike and ride in the trucks but it never happened. The only time we saw him close up was when he stopped to spot us through the hairy spots. I wish I had pictures of my face watching him hammer up the really steep/rough stuff on a bike.
Once back to the Flint Trail junction, we continued south toward Waterhole Flat where we would turn toward Teapot Canyon. I forgot how amazing the road was along this stretch.
With the short October days, it was already getting late by the time we hit the rough stuff in Teapot Canyon. And to be honest, I had forgotten just how rough it was. It didn't take long for me to do damage to my F150. A the tight hairpin turn I abandoned my spotter and just went for it and ended up crunching the panel behind my right rear wheel and bending the tail pipe forward and partially pinching it off. Whoopsy!
Here's a video of Jason going through the crux of Teapot Canyon.
I skipped a lot of photos through all of this. This is one of the last really rough spots before it eases up.
Once again we made it to our campsite with just enough time to take in the beautiful late evening light. That's The Wall straight ahead, although it turns out the campsite is about a half mile west of it.
After dinner that night we started talking about how ridiculously fast we were moving through this magnificent place. It didn't take long before we were talking about skipping work on Monday to spend another night in the Land of Standing Rocks. It looked almost possible for minute but then the reality of work obligations sunk in and we knew we'd have to get going the next day.
I slept in the back of the truck like I usually do. I woke up for a moment during sunrise and snapped this with my cell phone. it would have been a good morning to be a more dedicated photographer.
And off we go, back through Teapot Canyon.
I had some trouble coming back through the crux. The geometry was just a little different on the return and my chrome front end started taking some damage. No big deal at first. Jen and Jason were out spotting me and they asked me to backup so that they could stack more rocks in. But as I hit the gas in reverse, I didn't go backwards, I went sideways towards the f*%king abyss to my left. Yeah yeah, I know, it's only like a 20 foot drop. Hardly an abyss. But when you're in the driver's seat on an edge like this and reverse makes everything go left, you may be prone to shitting yourself.
After a bit of work and a bit of an anxiety attack, they stacked up enough rocks and I got through without incident. Well, not quite. I did mess up my chrome bumper a bit, but that's just cosmetic. Next, Jason and the Turtleback.
Working our way through the rough stuff in Teapot Canyon.
This was the hardest part for the trailer. Just a really, really tight turn with some big ledges. No big deal.
After getting through Teapot Canyon, it was just 30 some odd miles to get to the pavement at Hite. That would put us traveling on over 190 miles of dirt 'road' since leaving Green River! It was relatively smooth sailing, but once again, the short days and long miles meant we didn't get out until late in the afternoon/evening.
Victory stop at the Hite Overlook.
We said goodbye to Jason, Andrea and Josie and started north toward home. We zipped past Hanksville without stopping. This trip made me really appreciate the 37 gallon gas tank in my truck! But then as we passed by Goblin Valley, an explosion and loss of control pushed us to the side of the road. My front left tire had exploded, taking the fender liner with it. Wires were laying right down on the blown out tire when I pulled over!
We got it changed out and a passerby stopped and gave us their only two zip ties to fix the wires up.
The next day I looked closer at my tires and realized why the blowout occurred. There were many places in Teapot Canyon where there were rocks pinching the truck in on both sides. It's just not a good place for a wide vehicle. When I bought my truck, I debated changing the tires out to my old faithful BFG All Terrains, but the Goodyear Wrangler Kevlar tires had good rating and were also all terrain, so I left them on. But the rocks in The Maze literally gouged the rubber out of the sides of them. My remaining 4 tires had sections where the rubber was gouged out at least 1/8" deep! You could see the white structural layer under the rubber. And the tire that blew out failed right on one of these gouges! I have never had an issue like that with a BFG All Terrain. In fact, the only tire issues I've ever had is when I failed to immediately replace my tires with BFG AT's when I bought a new vehicle. Never again. All in, it cost me nearly $1500 to replace my tires, fix my tail pipe and replace my fender liner after this trip. Worth it? Of course. Would I do it in an F150 again? Sure, if it's yours.
Last edited by a moderator: