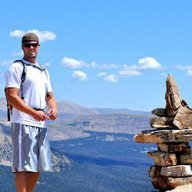 Joined

Aug 7, 2012
Messages

12
OK, this is my first trip report on here (or ever for that matter) and I apologize upfront for the picture quality… no photographic skills whatsoever. Still, I promised myself that if I ever did this hike, I would be sure to share the experience and some pictures with you all.
The idea to do the entire High line Trail in the High Uinta Wilderness came last year just after finishing our last trip of the season to the Granddaddies. My good bud Steve and I had always thought it would be cool to one day to a "50-miler" and decided early this year that the High line trail was the way to go. As we started preparing it became apparent that in order to do this hike right, we were going to start from the East end at Leidy Peak and finish at the High line trail head off the Mirror Lake Highway on the west end. As many of you know, this means doing closer to 80 miles which was more than either of us had ever imagined. Considering that this would be our first backpacking trip of the season due to my wife having a baby in June, I was feeling a little anxious.
I met my wife at her work in Salt Lake on Thursday and had her follow me up to the to the trailhead to drop my truck off. A big hail storm must have gone through just before us as there where areas where it looked like it has just snowed, although it was still in the 60's. There were only two other cars at the north end which kinda of surprise me as we were going into the holiday weekend.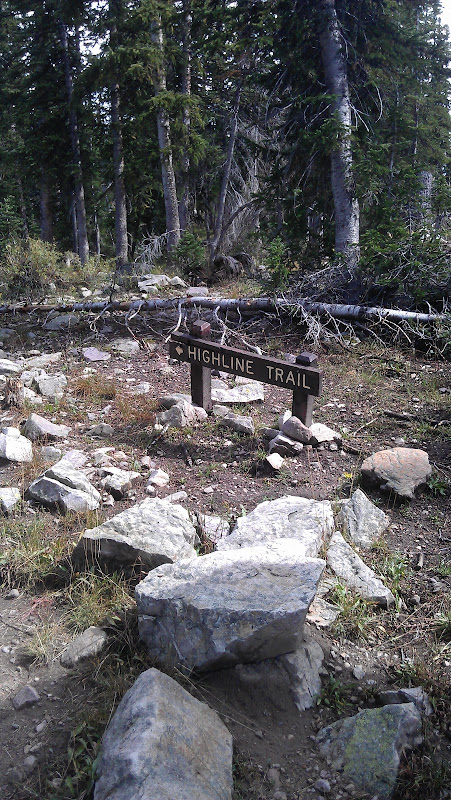 Steve drove up from St. George and met us at our house around 6. WE had some last minute items to buy at REI, and picked up a satellite phone that we rented for the week. I know, extra wight, but our wife's permission to do this was contingent on being able to check-in when needed, plus I figured it was pretty cheap insurance should things not go our way
Friday morning, Shawn, my up-for-any-adventure mother agreed to drive us 5 hours to the east end of the range and drop us off. I had heard the road wasn't back north of Vernal, but I was surprised to see how easy riding it was. Cars would have no problem. We took the Taylor Mountain road/Red Cloud Loop just over 30 miles north to the Leidy Peak Trailhead above hacking lake.
The forecast for the weekend wasn't great, but arriving just after 1:30 pm, the trail was still dry and only one other car was in the parking lot. Depending on the weather, our goal was to make it to at least Deadman Lake on Friday, but the skies were gathering quick, and we knew we had to get over Gabro Pass. Note: We packed too heavy for this trip, me at 48 pounds and Steve pushing close to 50! I had packed a little too much food, thinking about the weather report and the possibility of getting holed up for a while. In hindsight, 40 lbs or less would have made a HUGE difference.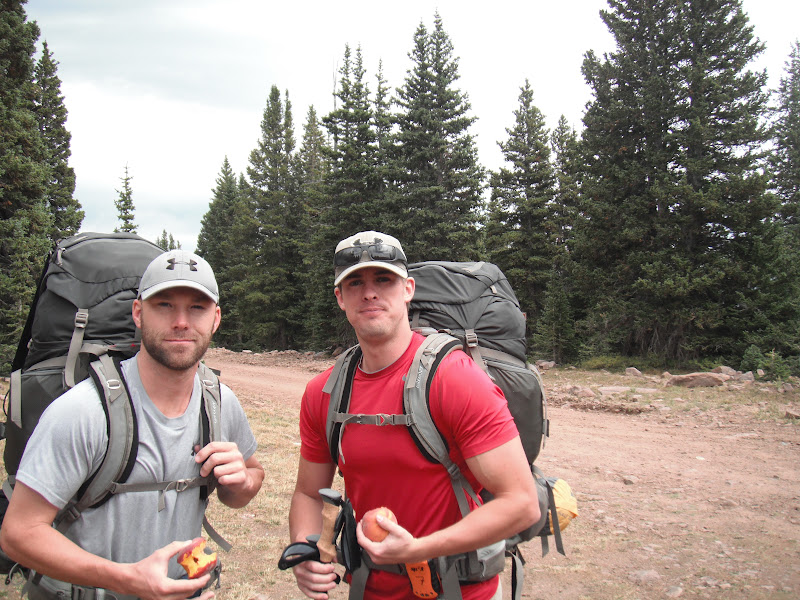 We decided to take the route south around Leidy Peak which was well marked with rock cairns. It wasn't long before you start heading north west up the ridge. We were going as fast as we could as the storm was coming in from the south. Here you can see the route as it approaches the ridge, Gabbro pass is in the background.
Our luck ran out by time we descended to Lake Wilde. We quickly threw on our rain gear and started the trek up Gabbro since there was no lightning, just rain. The trail was slippery and steep but short on the east side. Once we reached the top, it was raining pretty good, so we wasted no time coming down the much more gentle, but longer west side. Finally, coming down out of the clouds, we could see our objective for the day, Deadman Lake
We did just a little over 7 miles that first day, and camped on the south side of the lake. There is a great site there right next to the outlet. It rained off/on through the night but nothing terrible. The next morning we started our trek up up an unnamed pass. Looking back about 1/2 way up
Then at the top...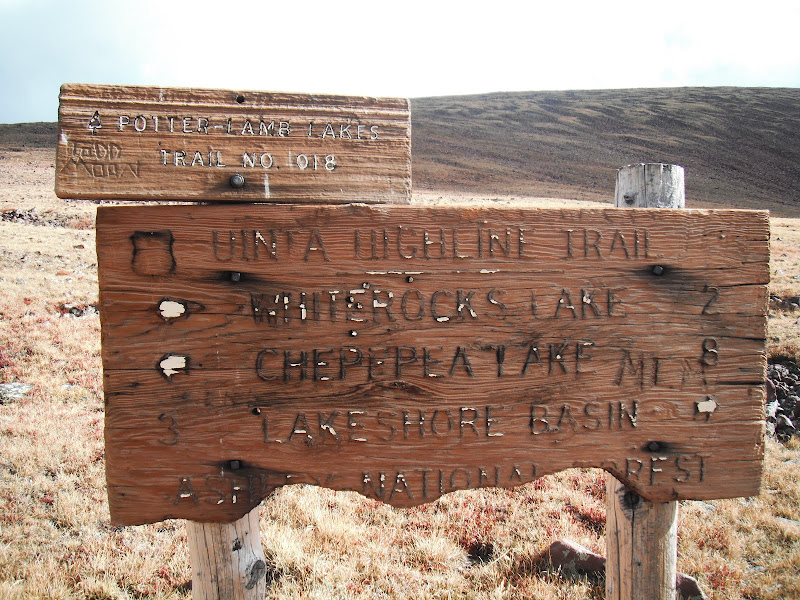 As others mentioned, Whiterocks was drawn down to almost nothing. But the trail is this area was nice and easy to follow through pines and meadows. About half way to Chepeta, we got nailed with a thunderstorm that brought the lightning right down on us. We took shelter for about 30 minutes and got quite the show. Steve brought his GoPro camera...Ill post some videos later as we got closer to the road leading to Chepeta the skies cleared. From the bridge we decided to head north up the road and cross the damn. Chepeta was more of a pond at this point as you can see
From here you start climbing on the way up to the Reader Lakes basin. We could hear thunder again in the distance so we thought we would make camp at the first lake. Just so happens that when we got there, we met a father and son who were making the same trip. This was their second time and they were planning on getting out the following Saturday. We had a nice chat and decided to head to the second lake, which I believe is called Horseshoe Lake and is reached by heading north 1/2 mile from a marker post at a large meadow. The lake is very shallow and we didn't see any signs of fish. We got there just in time to take a quick dip, and eat a meal before the nastiest thunderstorm I had ever seen came rolling in. We got in our tents just as the lighting and hail started. It was all over us...until 3 am. In the morning the sun was out and the vapor was rising from the lake as it started to warm. So we quickly dried out our gear and started to head back to the trail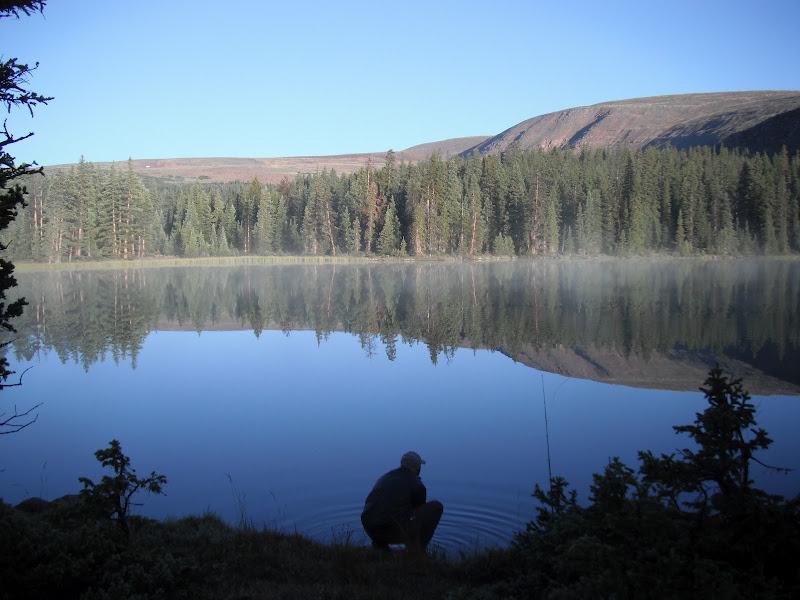 So it's now Sunday, and our goal is the get to the Kidney Lakes, just over 10 miles. But before, we would go up and over North Pole pass. This is a two part part that levels out and traverses North about half way up. Looking back east towards the Reader Lakes and Chepeta
Once half way up the view to the south is Taylor Lake and in the background, Queant Lake.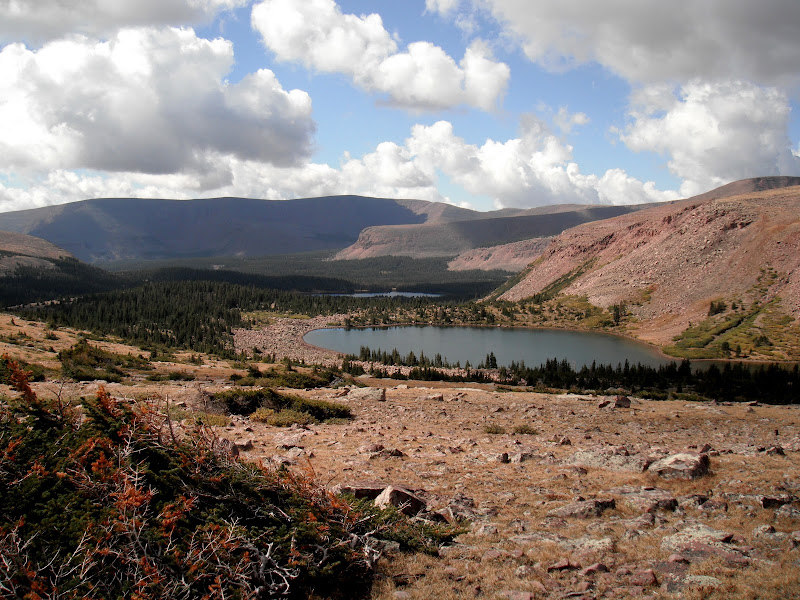 North Pole pass takes you up over 12,200 feet and would be rough it there was lightning around.
A top the pass looking west you get your first view of Kings Peak and Anderson pass in the background.
But before we would get there, there is the Uinta River Drainage we would have to cross. Fox Lake and Crescent lake are below.
The weight of our packs was starting to take its toll after reaching the base of North Pole. By now we were both feeling pretty sore and Steve had some nasty blisters, but we still had miles to go, having done just over 20. We pushed on past Fox Lake, where there were several large groups camped, who had brought all their gear in by horse. You then cross a large meadow where there is a junction where the High Line continues west, while the Uinta River trail heads south. The meanders a few miles then you climb, climb, climb the last 2 miles to Kidney Lakes. For some reason my right knee was starting to feel sore so I was glad to find a great campsite at the East Lake.
The next morning(Monday) we got a late start. We decided to try the fishing and it was fast and furious for Brook trout. Some were larger than most I had caught in the Uintas. They seemed to prefer a mini jakes(gold) or an olive scud. Unfortunately, I left my camera back at camp.

Due to the fishing, we didn't break camp until almost 11am. The trail descends through steep rocky forest as you make your way to the Uinta River. I was relieved when we reached the water as my knee was really causing me pain and we both relished the opportunity to soak our feet and pump some water.
The trail from here, ascents through rock...forever. Eventually you pass the the Gilbert creek basin with Gilbert Peak on your right as you continue to make you way up this...
Then as the trail starts to curve to the North, we found ourselves out of the trees and heading into the Painter Basin
Kings Peak and Anderson Pass in the center left. With Gunsight pass on the right
We only 7 or 8 miles this day but the were tough miles as we got closer and closer to the base of Anderson where we would shack up for the night.
Our camp at the base of Anderson was perfect and the weather finally started to improve. I was able to soak my knee in the ice cold stream and rinse out some threads for the next day. The next day(Tuesday) was going to be a HUGE day for us as we planned on getting up early, climbing up Anderson Pass, Kings Peak, and the up and over Tungsten Pass finally camping at North Star Lake.
We woke up around 6 am, broke camp and followed the rising sun up the pass. I was feeling OK and this point and we were making good time...Kings Peak!
At the top of Anderson, we dropped our packs and started the almost 1 mile rocky scramble to the summit of Kings. It takes longer that you may think. About two hours round trip for us.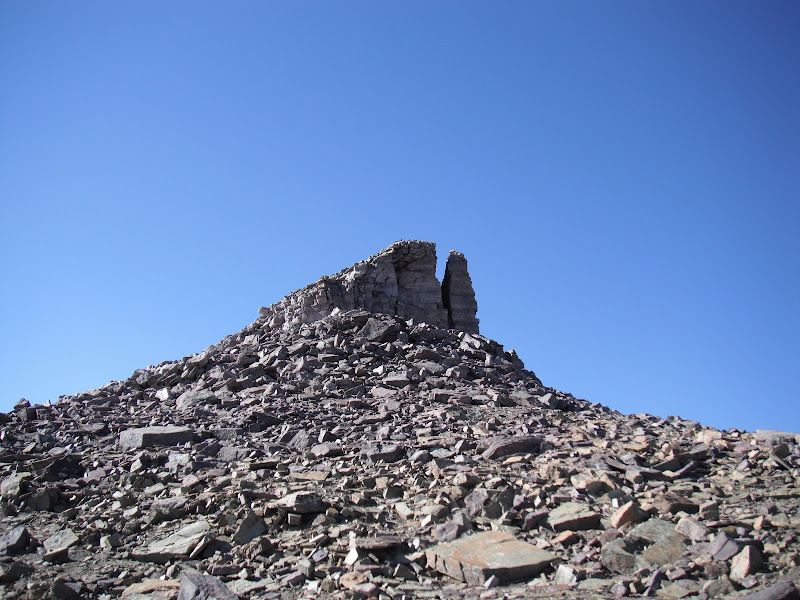 Kings Peak, 13,528 ft. Tuesday, September 4th.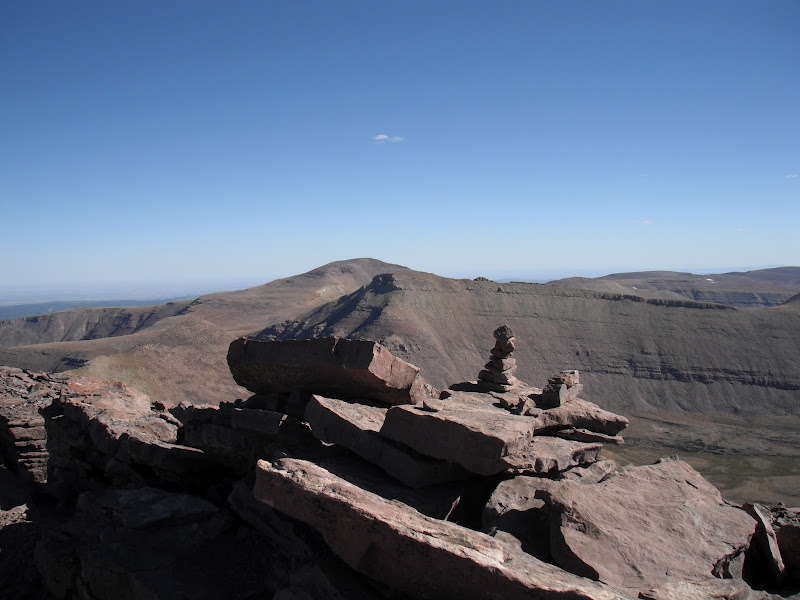 Looking south towards Lake Atwood and George Beard..truly a perfect weather day. Could not have been nicer.
View to the west with Tungsten pass and the upper Garfield Basin.
This was the high point for me (no pun intended) but the scramble back down the pass had my knee fired up again. Because we didn't pump water that morning we had just a little bit left, so we decided to descend Anderson and find water. Now, the west side of Anderson pass is nothing like the east side. Steep and narrow, and generally a no fall zone. It's also very long as it cuts down the mountain. So by time we reached the bottom, I could barely walk. To add to my frustrations, I was dehydrated and not feeling well. Steve was a little better off, although he had some altitude issues at the summit. But we both agreed we need water and fast. We finally found a small stream off the trail a bit and took a LONG break. This was the low point for me. For the first time I started have doubts about being able to complete the trip which at this point, was only about half way over at 40 miles. Luckily, I had brought a bottle of Ibuprofen and a narcotic painkiller. I drank about 3 ltrs of water, downed the pills and decided to move on. The alternative being to call for help and either get a helicopter ride out $$$$, or have someone come pick me up on a horse. Neither idea appealed to me. So we picked it up headed to the Yellowstone river a few miles away. There we ran into an older gentleman, named Jim. He was doing the High line from Chepeta and was alone with his dog Molly. He had done the High Line trail 7 times in the last 5 years and had 3 stints in his heart. What a winner! He also happened to be a EMT in his day and had with him a wrap that he offered me for my knee. I took this as a sign to continue on and see what I was made of. So from here, we thanked Jim and headed up hill towards Tungsten pass, the most mellow of the passes in my opinion.
Unnamed lake just below the pass.
Top of the pass looking North with Tungsten Lake and Porcupine Pass in the background
We decided to camp at North Start Lake and as it turned out, so did Jim. We shared the site as there is literally on one spot at the south end.
After a cold and windy night, we got up early, around 5:30, broke camp and headed for Porcupine pass. We began with what would become a every 4 hour ritual of wrapping my knee, and downing the pills. With the help of trekking poles and Steve carrying my tent, we made it to the top of Porcupine...and boy was it worth it. Looking west towards Lake fork
Looking back east
Porcupine was sketchy coming down the west side much like Anderson but it seemed short. Looking back at where we just came down...hard to imagine there is a trail. Pass is in the center shadow
From here we trekked west over towards Lambert meadows. We passed several small lakes and streams along the way. This is big country, and we had a lot of ground to cover if we had any shot at making it out on Friday
Looking south as we drop elevation on our way down to the Lake Fork River
I had hoped to spend the night at Crater Lake but, but better judgment told us to continue up Lake fork and get as close to Red Knob as possible. Maybe next year on Crater... Explorer peak with Crater Lake hidden in the cirque
Mt. Lovenia to the East.
Finally got to our camp shortly before dark. We camped a few hundred feet from an unnamed lake as the base of Red Knob. I couldn't tell if there was fish as we were to busy soaking our feet/knee but it was incredible!
We again woke up at 5:30, did the medical routine and made our way to Red Knob. My favorite pass. The more jagged, dramatic peaks of the western Uintas come into view and just as the sun was cresting to the East.
Mt Beulah to the North
The Cathedral to the west.. Rain was moving in so we didn't stay to long as we got ready to descend into the North Slope of the range for the first and only time.
We took a brief break at Dead Horse Lake as some rain passed by. We tested the fishing for only the second time on this trip and had fast action for small tiger trout. It was a blast...those little suckers are feisty
As we got a break in the weather, we made for Dead Horse Pass. Accurately named as is definitely gives you that pucker factor as you ascend a very steep, rocky and narrow trail up.
Dead Horse Pass + Thunderclouds + Bad Knee + Lortab = DICEY situaiton! But incredible views of Dead Horse Lake
Looking south down the Rock Creek Drainage
The trail down goes back east along the ridge a bit then switchbacks down. We made our way to Ledge lake for a snack and the the rains came....and came. Rather than take the loop trail up by Lightning Lake, we stayed on the High Line and made our way down to Rock Creek, dropping tons of elevation. The its back up the steep rocky trail to the junction were we decide to break North 1/2 or so and camp at the Brinkley Lakes. The rain stopped just long enough for us to set up camp, get our first fire in 4 days going and even fish a little. We happily ate fish that night(Thursday night) an just as we finished, the rain started again. We camped between the two lakes and fished the deeper south lake. Great place to spend our last night.
Up at 5:30 for the last time! We packed up and headed up Rocky Sea Pass. Short but well....rocky! From the top, looking west, are familiar peaks that with a little more luck, would lead us back to my truck that I had dropped off a week prior.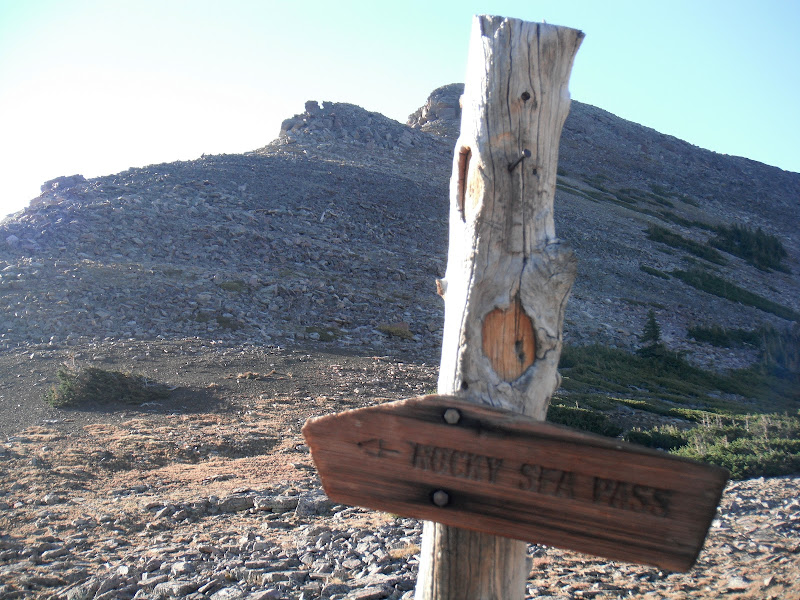 On this trip, we had seen deer, elk, and now on the west face of Rocky Sea...Mountain Goats
From here the trail gradually ascend towards the trail head, where we passed several people along the way doing day trips or overnighters. There was one group of guys that were going the whole distance, and at that very moment, I didn't envy them as I limped my way to towards the finish line.
We arrived at the truck at almost exactly 1:30 pm. We had done just under 83 miles. What an incredible journey, what that either of us will ever forget. I will mention that this was the first trip I had ever taken trekking poles on and I honestly could not have done it without them. In fact, huge props and thanks to all who went before us, for the rock cairns, advice, support etc. It damned near killed us but worth every step.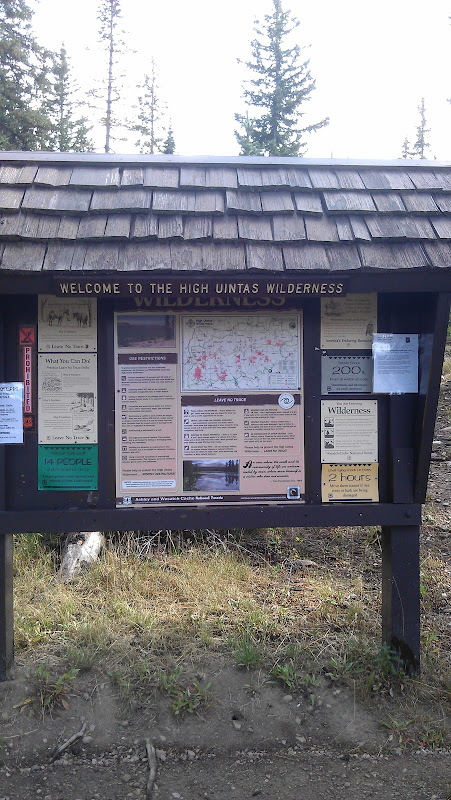 And sorry for the LONG TR, but it was a long trip.