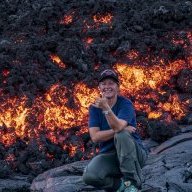 Joined

Jan 19, 2012
Messages

4,070
Well, after hiking almost every day this year and venturing deep into some backcountry areas in my 1,500 miles so far this year, I had my first real outdoor accident.
Since I hiked the Subway and was in the park I work for, I didn't even think about pulling the trigger for a rescue because I would have ended up in the Situation report the next morning.
My backpack got entangled in a few snags while I was downclimbing a boulder. I tried to detangle the snags but they snapped before I could secure my position on that boulder.
Well, it didn't end nice and I feel down several feet and landed hard on some river rocks.
I guess, I yelled and did swear so loud that I scared all the wildlife away within a few miles. Just to mention, I was the only person hiking the Subway the entire day. I didn't see a single soul.
My knee was swelling immediately to a balloon but I decided to hike out myself instead of pulling the trigger on my Emergency beacon.
Took me a while to get back to the car but luckily adrenaline kicked in fast and I was able to hike out on my own, even with a lot of scrambling and boulder hopping.
I went right away to the Instacare. I'm grounded for now and on crutches with a monster-size knee brace.
Nothing was broken but I have to see a specialist in a few days to see if I damaged my meniscus or one of the ligaments.
I'm totally pissed because I had several backcountry permits for some overnight backpacks in Zion throughout the month of October
before: back at the car with a knee twice the normal size
After