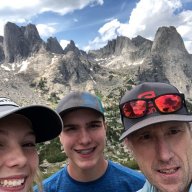 Joined

Dec 27, 2012
Messages

572
I was hoping to get some specific information about Texas Pass. I plan to take my son and daughter through the Cirque of Towers from the Big Sandy trail head the second week of August. We will of course turn around and go out the way we came if I don't feel comfortable for any reason. I have read several reports and blogs on the subject but still don't feel settled on the issue so I thought I would as for some advice. If I overlooked a post with the following information I apologize in advance.

My kids are teenagers and I would rate them as intermediate level backpackers.
-Should we travel clockwise or counter clockwise through the Texas and Jackass Pass loop?
-Should I avoid Texas Pass all together?
-Fishing suggestions on lakes and lures/flies?
-How brutal is the road to the Big Sandy trail head?
-Does 3 days and 2 nights sound reasonable?
-Camp site suggestions?