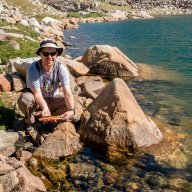 Joined

Jan 19, 2012
Messages

1,199
Last August some friends and I did our first ever backpacking trip in the Tetons. It was such a fun trip! I had been wanting to do the TCT for many years!
Because of work schedules and vacations days we were only able to do a 3 day trip. We cheated and took the tram at Teton Village and hiked to Fox Creek Pass the first day. There was a lot more up and down than I expected in between the top of the tram and the pass. It was a little over 8 miles to our campsite on the pass. There was still a lot of patches of snow left from the heavy snowfall they got that winter! The wildflowers were spectacular! I'm ready to go back!!!
Leaving the tram
Descending Rendevous Mountain from the tram. You can see the trail below climbing the ridge in the middle.
South Fork of Granite Creek
Marion Lake
Marion Lake was beautiful! Would have been great to camp here. We took a small lake and one member of our party took a quick dip in the lake. On the climb out of the lake to Fox Creek Pass I was regretting I didn't jump in too.
Swimming in Marion Lake
Marion Lake
Marion Lake
Most everyone was pretty tired by the time we made it to the top of the pass. The pass is over 1.5 miles across with the only water being on the far side. I was in a hurry to get there and find a campsite and kept having to stop and let everyone catch up.
On Fox Creek Pass
Fossil Mountain
Grand Teton from Fox Creek Pass
After finally getting to the far end of the pass, we dropped our packs and scouted for a campsite. We found quite a few and pick one and quickly had camp setup. We ended up with a campsite with great views just outside of it!
Grand Teton and Death Canyon
Spearhead Peak on Fox Creek Pass
Death Canyon
Day2:
This day we would hike across Death Canyon Shelf! I had been wanting to hike the shelf ever since I learned of the TCT. I must have built it up too much in my head because I didn't think it was spectacular, but the air was more smokey this day from the forest fires in the North West States. It was still great though!
Heading across the Death Canyon Shelf
Death Canyon Shelf
Death Canyon Shelf
After the small climb up to Mount Meek Pass we soon got our first glimpse of Alaska Basin.
First views of Alaska Basin - Sheep Steps Section
After hitting the trail that goes up to Buck Mountain Pass in Alaska Basin, we hunted around and found a campsite. The place we camped ended up being one of my favorite campsites! It was on a nice flat shelf with a nice stream on one side that had a nice 8' or so waterfall below and a small pond on the other side and good views down Teton Canyon. It could have used a few more trees for shade, but other than that it was great!
After setting up camp it was only around 2pm, so we all headed over to one of the bigger lakes (none are very big) where we found of others jumping off of a large rock into the lake. Some of our group started jumping in too and enjoying the refreshing mountain lake. One person in our party got a small leach on his toe while swimming in the lake and had to remove it. I missed getting a picture of it. There are a lot of these small lakes in Alaska Basin with cascading streams connecting them.
Rock jumping/swimming in Alaska Basin
After everyone was done swimming we continued to explore Alaska Basin. Most everyone dropped down to another of the bigger lakes in the basin, while a friend and I decided to hike up to Buck Mountain Pass.
Alaska Basin - Buck Mountain is the prominent peak near the right side
Buck Mountain
There was a huge snow drift/cornice on the other side of the pass. We wanted to hike over to where we could look down into Death Canyon, but wasn't sure we could get back up the snow cornice as it was quite steep. While we were hanging out at the pass a solo backpacker came up from Death Canyon. We waited in case he needed help getting up the cornice. The backpacker had an ice ax and had to use it to chop steps up the cornice. He slipped at one point and I thought He was going to slide all the way back down, but he caught himself. When he was close enough I had my friend hold onto me and extended my trekking pole out to him and pulled him up the last 5'. After watching him we decided we wouldn't try it.
If you look really close in the photo below, you can see the backpacker coming up the cornice. It was a lot higher and steeper than it looked.
Buck Mountain Pass
After getting back to camp the light started to get really nice and I wondered around taking photos!
Beautiful waterfall just below our campsite
Just above camp
Meadow below camp
Waterfall and our campsite
Alaska Basin ended up exceeding all my expectations and was by far the highlight of the trip for all of us! I would love to go back and explore it more!
Day3:
The next morning we packed up and head out. The trail down Teton Canyon really drops a lot, especially the first half.
Waterfall through the trees
Eventually we made it to the trailhead and the car that we had left for us the night before we began our hike. When we got there some guy had pulled off to park and had driven off a steep ledge right next to where a small stream crosses the road just as you enter the parking lot. His rear tire was in the air and we all thought he was lucky he didn't roll it. The tall grass and weeds had hid the steep drop from him. Unfortunately I didn't think to take a picture of it. After a big truck pulled him back on we headed off to shower, eat, and then back over to Teton Village to retrieve the other car, and then headed home.