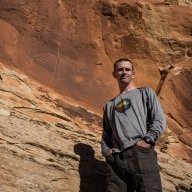 Wildness is a necessity- John Muir
Joined

Jan 4, 2014
Messages

1,099
After a month of patrolling my time finally came to venture to the northern end of the Cloud Peak Wilderness. While technically a part of other ranger districts, because the CPW is managed as a whole unit we wilderness rangers get to patrol up there. With only a few trailheads, most accessed by bad roads, the north end receives much less visitation and thus is much more "wilderness" than the southern end.
Day 1
One issue with patrolling the northern end is the time needed to get there. A three hour drive plus time in the office saw me at the Coffeen Park trailhead at noon. After lunch I had half a day left to patrol. My camping plans weren't solid at the time because I wasn't sure how many people I'd meet, miles I'd walk, and where nice camping would be. So I headed out on the trail to Geneva Pass, figuring I'd find something somewhere and fill my day from there. It turned out I could make it past Geneva Lake to Crystal Lake and fill the hour or so left of my day by going back and checking out the conditions by Geneva Lake.
Gorgeous country. Geneva Lake is long and narrow and Crystal above it is nestled back perfectly by a cliff.
East Fork of Big Goose Creek
Lake Geneva
Fishing for Brook Trout was pretty good along the shore. Lots of tree cover though which was a pain with the fly rod.
Heading up the Geneva trail
Geneva Lake below. Lots of elevation gained quick.
Day 2
On my second day out I patrolled over Geneva Pass and around the Sheepherder Basin. With Geneva Pass sitting around 10,500ft and the Sheepherder Basin just below that, it was an awesome day of trekking around at treeline. There weren't many people either, making my job and wilderness experience all the better.
Crystal Lake in the morn
Geneva Pass
Geneva Pass Pano
Awesome smooth granite slopes above Geneva Pass. It reminded me of the sandstone country I venture through in Utah.
Robin Lake
Blacktooth Mountain and the cirques around it
Sheepherder Basin
Sheepherder Basin Pano (Lakes Elsa, Eunice and Sheepherder visible)
Rainbow Lake
Lake Elsa (gorgeous, clear water [could see down 15' easily], and full of voracious brook trout)
Cliff Lake
Afternoon light at the mountains. Blacktooth and Cloud Peak visible from Geneva Pass ish
Camp at Crystal Lake
Day 3
My tour had the added complication of needing to get a water sample at Emerald Lake. I could hike down the Geneva trail and back up the Edelman Trail to Emerald, or hike over Spear Peak. Guess which one I did?
Going up and over Spear was a hoot. Big views abounded and the routefinding/boulder hopping minor.
Reaching Emerald Lake at mid day I wasn't 100% sure what to do. Fewer people around and less use makes a wilderness ranger's job interesting, as the answers of how to validate your job are a bit cloudier. I decided to hike down the Lakes of the Rough trail to Shell Lake and back, maybe run into people, more likely just check trail conditions.
Emerald Lake and its basin of lakes
The Lakes of the Rough
Elk on the Lakes of the Rough Trail
Scenery around Shell Lake
Back at the uppermost Lake of the Rough with sweet afternoon light
And back at Emerald Lake and my camp
It turned out going down that trail was worth the time. I found out how bad a trail it is and how outfitters in the area were doing things against how they should. I also walked right into an elk herd.
Day 4
My last day was all about getting the water sample at Emerald and getting out. Getting all sciency with for the water sample was kinda neat: triple gloves (including those awesome up to your shoulder gloves), weather observations, rinsing, etc. Then I flew down the Edelman Trail, which is another rough trail. It pretty much goes straight up/down the mountain, and is in the trees, and is buggy, the whole way. But soon I found myself back at the office paperworking it up and getting psyched for another lazy weekend full of eating.
Down the Edelman Trail the pictures go!
The north end is awesome btw. While it is harder to get to, the ability to see hardly anyone and instead see only shear wilderness beauty is beyond great. The Geneva trail is way better than the Edelman Trail but Emerald Lake is among my favorites so far this summer so I can't say either trail is more worth a visit. It'll be nice to see the area again whenever I next get up there.
Featured image for home page: