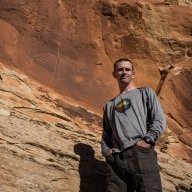 Wildness is a necessity- John Muir
Joined

Jan 4, 2014
Messages

1,099
After our failed attempt to tackle the snowstorm of early September, we wilderness rangers of the Cloud Peak headed north again, hoping another week of seventy degree temperatures would have melted off all the snow.
The first day of this project tour included a trip to Stull and Coney Lakes to place some signs reminding people not to camp too close to the lakes and to not have fires against regs. I'd never been to this trail and its not high on my list of trails to return to. Very boring walk in the woods except at the lakes.
Coney Lake
The next day we bumped over to the Adelaide Creek/Old Mail Trail area to post a trail junction sign. Despite the snow, the aspens held on for some nice colors.
The primary reason to go north was to get the final water sample of the season at Emerald Lake. Hiking from the south was a bit nicer than the way I went last time I was in the area.
After patrolling the area a bit and collecting some trash that was left up there, Brian and I collected the water sample and performed a fish survey. Emerald Lake had recently been stocked and had a great population of 8' cutties with a spattering of larger fish. The lake above Emerald had larger fish that were pretty wise to me. After I hooked a few that lake died. Brian told me the lake below Emerald had a bunch of picky but huge fish so I finished up there and hooked into a real football of a fish.
After going to Emerald, our week included a lot of odd project work to fill our final week. Riding atv's to remote trailheads, checking boundaries, posting signs and carsonites. Below is a spattering of that week.
Maybelle Lake
Meadowlark Reservoir
And Willow Lake
And now its all over! Summer is over and funding is gone. So I'm back in Utah, wondering what to do after some down time. It was a nice drive back, visiting Flaming Gorge, The Wedge, and Bryce along the way.
Featured image for home page: