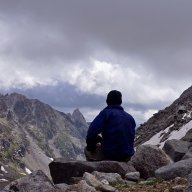 Joined

Jun 14, 2016
Messages

275
Mt Zirkel Wilderness 2012 July 10-13
I will be starting my backpacking for the season in mid/late June and am getting excited. Spending much time looking over past hikes, which I always enjoy. This trip was my first of the year after the long (2400 miles in 3 days) drive from my base in the North East.
leaving Maine
somewhere near Chicago
the Mississippi
Iowa
Nebraska
end of the asphalt
A former backpacking buddy, lost to rafting and sloth, introduced me to the small Mt Zirkel Wilderness along the Continental Divide in Colorado just south of Wyoming in 2003. I like using this area to warm up and acclimate after not hiking seriously since the last fall and coming from about 350'. I started out midday after sleeping near the trailhead and sorting my food and gear.
Near here I met a local couple out on a day hike. We walked and chatted together on the way up to Mica Lake. They invited me back to thier home after my hike for a shower and bed. The start of a nice friendship, they receive all my food mailings and let me sort the summers consumables at their home to this day.
Leaving the trail I headed over a saddle that looked good on the topo to a spot that had been hit hard by blowdown and then fire a few years back. Of course the whole region has been devastated by the beetle kill.
The map showed a trail but it has been obliterated. Travel was easy enough in the open. I dropped down into some live forest then crossing a fork of the Elk River, skirted some private inholdings, regained a trail and reentered the Wilderness.
The trail turned north and I continued along the river on a fading use trail. It was a mix of open wet boggy and heavy blowdown.
I headed up a pass and then jumped a ridge to the side entering a hanging basin new to me for the second night.
I went back over the ridge and up the remainder of the pass, avoiding the talus in favor of the snow.
The last night I spent on a rise with a nice open feel and then out.
After a pleasant and relaxed visit with my new friends I drove on up to my favorite range for more.
Last edited: