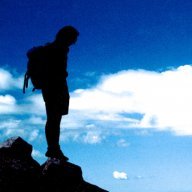 Joined

Jun 25, 2012
Messages

4,381
Right, and you thereby also know it fizzes in vinegar. That's pretty important knowledge if you're a cook or cleaning person (or a geologist).

Actually, vinegar is a dilute acetic acid that reacts with calcite or aragonite, so if it fizzes, you know it's either one of those or the critter eats rocks (assuming it's from a critter).

I think your theory from your trip report is probably right on.
OK, test results:
1) Density - the size and shape of a small, water-rounded stream pebble but a little too-perfect. It is lighter than a stone methinks.
2) Applied vinegar - no fizzle, so not strongly basic nor calcite nor aragonite.
Next?
3) Cross Section?
Next?
4) Anybody got a GCMS (gas chromatograph/mass spectrometer)?
Last edited: