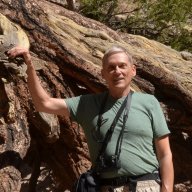 Joined

Jan 17, 2012
Messages

217
Weird stuff happens.
Here's a report from a houseboat trip we took in 2008. We put in at Hite and traveled west on Lake Powell at the relaxing (mind-numbing?) sppe of four to eight mph, depending on the wind. We got as far as Willow gulch on the Escalante before turning around to go back to Hite. We got our entertainment by feeding Fritos to the fish.
On the way back we stopped at Rainbow Arch, sometimes Rainbow Natural Bridge. These days, with the lake level down, the water stops about half a mile short of the arch. As we were tying up the dinghy, I noticed a crew of men and women unloading several large black boxes filled with video equipment.They proceeded down the path in front of us, but we soon passed them.
Here's a shot of the arch before we got there, with Navajo Mountain in the background.
After we got to the end of the path, I looked back and saw the film crew coming. I could have sworn that those young ladies were wearing jeans when I last saw them.
the young ladies continued to disrobe.
When they arrived they set up shop and began interviewing a local official.
Meantimes, the young ladies started doing what they were there for: posing in front of the bridge.
Eventually we left them, wondering what else might come off after they had the place to themselves, snd returned to our cruise.
Featured image for slideshow: