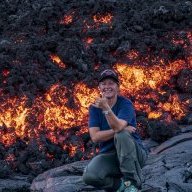 Joined

Jan 19, 2012
Messages

4,057
Stormy afternoon in Snow Canyon
This trip actually was one of the ones that shouldn't happen in the first place. First of all, I had an exam the next day and desperately needed to study.
Secondly, the weather didn't look very promising for most of the morning. It was stormy, raining and cold.
After I took a break of my studies and walked to my balcony to get some fresh air, I saw a wonderful rainbow and even more interesting, there were wonderful dramatic looking clouds.
This was so tempting.
I didn't hesitate very long, grabbed my camera gear and headed into Snow Canyon just a few minutes away from my place. I parked at the Petrified Dunes parking lot and headed toward the dunes.
I know that from there I would have a wonderful overall view and hopefully could catch a few nice shots.
Another storm front was rolling in from the west and I barely reached the highest point of the dune, when it started to thunder and rain.
Not the best spot to be during a thunderstorm, but somehow I wanted to stay. Thunder rolled and it rained like hell. Within minutes I was totally soaked, the only dry place was underneath my rain jacket where my camera was. It was really crazy to wait out this storm but I hoped for a rainbow after it passed.
Instead of a rainbow I got something more exciting. All of a sudden the water was running down the sandstone. At first it was more like a trickle, then there was a small stream which grew bigger and bigger. Very soon I had little waterfalls coming down from all places. How cool!!!
The rain stopped and it eventually cleared again. But unfortunately no rainbow in sight. What a dispappointment!!
But the next storm was rolling in and very soon the thunder rolled again. This storm was even more powerful than the first one with hail and rain and really gusty winds. Again I was completely soaked.
And again the water rushed down the sandstone in cascades, this was really nice to see.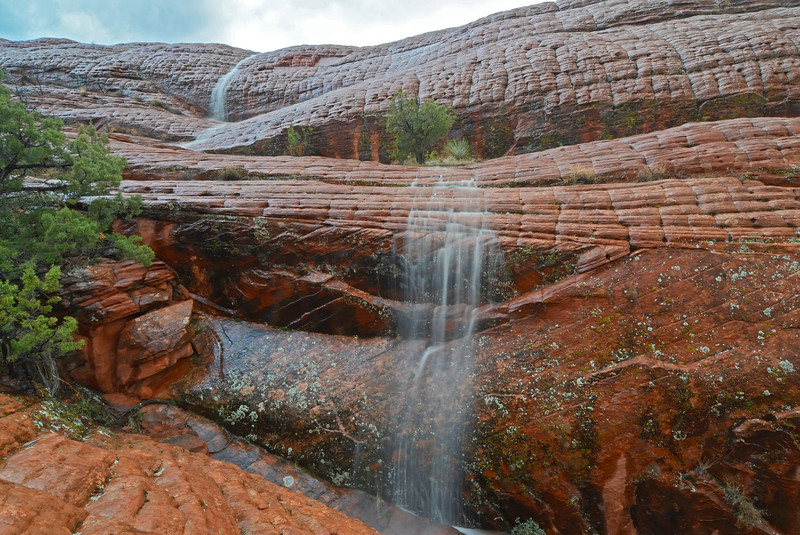 Eventually the storm cleared out and the sun came out again.
And here it was - my pot of gold!!!

I saw a wonderful double rainbow over a big part of Snow Canyon and took my shots I was waiting for.
It was definitely worth to get wet for it. On my way back home I saw another rainbow near Johnson Canyon and stopped on a pullout to capture it.
Definitely a turbulent afternoon and I was glad I couldn't resist the temptations of shooting some storm shots.
Featured image for home page: