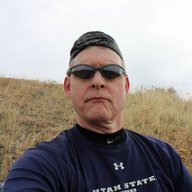 Joined

Dec 23, 2013
Messages

2,622
Well, I was back with the Wasatch Mountain club today to knock off a peak I hadn't climbed before named Storm Mountain. Our approach was via Ferguson Canyon, and instead of the traditional route to the top from the southeast once at the top of the canyon, we approached the summit from the west for some nice scrambling opportunities along with a touch of exposure. It took us four hours to reach the top where we ate lunch. While up top, storm clouds began to gather so we made our way down the traditional route and ended up getting rained on.
View to the south in the lower portion of Ferguson Canyon
Another view along the south ridge
More of the south ridge
Glacier Lilly in bloom
Look back down Ferguson Canyon to the Salt Lake Valley
Bad sun angle, but we could now see Storm Mountain ahead of us.
Ridge line to the south
Wildcat Ridge to the north
Storm Mountain
Beginning to scramble
Mount Olympus to the north
Slowly making our way
Ridge to the south
Pretty much straight up at this point
Peak 10,350
More vertical
Making our way around a little ledge
Still a steep ascent
Scatman closing in on the top
A dead pine along the western ridge
Lichen
And more lichen
Views from the top. Broadsfork Twin Peaks can be seen through the saddle
Close up of Broadsfork Twin Peaks starting to become cloud covered
View from the top - looking up Big Cottonwood Canyon
Wasatch Mountain Club members plus Jr. on top
Scat and Scat Jr. on top
Moving along the knife's edge on our way down
Starting to down climb
Alex is surfing down the scree on a flat stone
Small waterfall on Ferguson Creek
Some rock climbers practicing their trade towards the bottom of the canyon