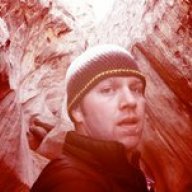 ^^^^^^^^^^^^^^^^^^^^^^^^^^^^^^^^^^^^
Joined

Jan 18, 2012
Messages

464
I visit St George every few months for work and on my most recent trip I decided to bring my Downhill bike along and do some exploring around some of the marked trails. It's so funny when you drive around the area you have no idea how close you are to some awesome trails, often times right off the road.
I referenced
utahmountainbiking.com
for all my trail information. No downside to that website as they provide as much information as you could possibly need, but I think like any situation, you still don't know what it's like until you're there.
Day 1 we rode the Church Rocks to Prospector trail, which was right across the freeway from my hotel. This was my first time riding slickrock areas and I had a blast. We left our hotel and rode through a residential area, then on up near a large water tower, through a huge culvert that runs under the freeway, then made our way over to the Church Rocks area where the slickrock started.
My bike is heavy, so at times I had to jump off and start pushing a bit, which I have no shame doing. Once up on top of the small rim, it was rock and roll from there on out, then a nice downhill section. Church Rocks can be done as a loop, but I knew that the Prospector trail can also get us back to our hotel, just at a different location. As we rode prospector it started to get darker and I wasn't quite sure where our crossing point was going to be for the freeway, so we opted to take a shortcut through another wash/culvert, over a wire fence, through piles of tumbleweeds, then up a steep hill to the frontage road that would lead us back to our hotel. I can't wait to get back and ride both Church Rocks and more of Prospector.
Day 2 we went over to the Green Valley gap/Bloomington area of St George. On my last visit I rode the Bloomington area and had fun there too. On this ride I wanted to explore more of the area and get a ride out to the far end which is called Stucki Spring. I did my best to study a map, but not close enough because with all the trails criss-crossing it got really confusing. Despite it all, I still had a blast and the next time I'm down there I'll know certain spots where I should have turned, etc.