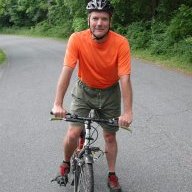 Joined

Dec 21, 2012
Messages

324
I am finally writing my Spring Fling trip report. First, this trip was postponed until October, it is now the Utah Oktoberfest trip. I flew into SLC on Friday Oct 11th. Immediately I grabbed my rental, a Ford SUV AWD. Clearance was fair but no Toyo truck. I headed out of town through SLCs Friday traffic jam as reported on the radio. I was delayed only 12.5 seconds…come east if you want to see a real traffic jam
Nick gave me the location of the BEST shopping center in all of Utah. It has a real liquor store where I loaded up on lots of real Utahan beer and a wee bit of Irish whiskey, a large grocery store for camping foods and munchies AND finally an REI for a little bit of missing gear especially the Wag Bags(hate them suckers, gotta be a better way). I then headed south to little Wild Horse. I loved seeing the white capped Wasatch Range behind SLC as I drove out of town. I remember them well as a youth.
I arrived in the dark to an expected "campground full" sign, so turned to go up Little Wild Horse Canyon rd. Seeing campfires along the base of many buttes I figured I could find my own butte and settled in for the night. I was testing out some new gear, an Enlightened Equipment Revelation 20F Down quilt. Never used one before and it was damn chilly, below 30F for sure. Slept toasty except for an occasional tiny cold draft. Eventually I got wise and attached the quilts straps to seal off the drafts. I only figured this out on day 8 of the trip. Duh!
Saturday 12th
Woke to a frost covered bivy, a spectacular view of red rock everywhere and a beautiful sunrise.
I enjoyed the view then headed to Bell and Little Wild Horse canyon. I wanted to beat the crowds. Signs were prominent describing the closure of the slots due to the Gov shutdown. Ignoring them I hike up Bell.
I had the entire canyon to myself. I turned a corner in the slot and suddenly came upon a woman hiking the other way. We were both so mesmerized by the slot that we startled each other. Exiting Bell I headed over to LWH, still alone and taking in the vastness of the area.
LWH was even more spectacular than Bell. I hiked half way through the slot before I met the hoards…… Utahans have huge families!!! The final mile of the canyon was side stepping the families… sometimes it was just a single family of 8 or 9
I returned to the parking lot where I once had the lone car. I now saw a sea of vehicles…time to bug out. Heading to the solitude of Goblin Valley
I have been to Utah many times but never have set foot in GV. I had to see this place. Even though there were many people I enjoyed the fascinating hoodoos with their strange shapes, sizes and colors.
Mixed emotions while I walked among the unusual rocks. The park allows people to traipse all over the hoodoos. Sometimes I felt they should preserve them but seeing the kids enjoy the area I figure they gotta play in some natural areas. The kids had a blast. I hiked for hours all over the place and actually left most of the people behind.
Finally exhausted I left and headed to the North Wash for a tiny sample of some skinny slots.
Not many campsites left so grabbed a site in a sage brash meadow full of burrs. I decided to use my tent so I could save my bivy bottom. I removed many goatheads from my tent bottom…I forgot my footprint. Wonder how
the bottom will fair next rain:0
Sunday 13th
I talked to a few folks trying to figure out where Leprechaun canyon exit was located.
Found it!
Easy to find and spent the morning hiking up the slot which include a very cold wading pool. I was told it was deep and needed swimming. I decided to strip naked and get through the pool quickly so I wouldn't have to climb in wet clothes. Well me in my birthday suit pushed through, unfortunately the pool was only knee deep. So got dressed and continued only to find the "real" pool ahead. Back to the birthday suit and a swim in friggin' cold water. Shrinkage factor to the max. Got through, got dress and carried on. Then I got to the skinny slot but with dry clothes. They ain't kiddin', it is not for big folks, hard to turn your head and feet, somewhat claustrophobic. I finally reached the bottom of the rap section. In the book they said one could chimney up this area. Getting started was really hard, drew some blood with a hand jam and my shorts started to fall off when I was wedging myself in the crack. Showing my crack in a crack
Well I finally reach the top, kinda sketchy w/out a rope. I did not pull the final move as it seemed difficult. I do not recommend this part for most folks. Apparently there is a lot more than what I did but felt it was time to move on, plus climbing up slots is a lot harder than going down. Returned without issue, swam the pool with my shorts on as climbing was over.
Drove to and through Glen Canyon.
Wonderful views with a hilarious view of a marina w/out water. Let me guess, Army Corps of Engineers. I then headed for Road Canyon. It was starting to get late but I felt I had one more hike in me so I headed to Fallen Roof Ruin.
It was an easy, short hike, lost it a few times but eventually found the ruin. Obvious tower nearby is a good point of reference.
Again I was all alone and just sat at the ruin looking down into the canyon as the sun was setting.
Before the sun gave up all light I quickly hiked out and looked for camping. Found a great spot near the Citadel hike. Great views!!! Started to snow, so I had to break out a wee bit of Irish.
Monday 14th
The Citadel: I have been drooling over this place for quite awhile. The hike out was really fun as I was looking for ruins along the canyon walls below. I carried military issued binocs, huge but powerful. I found Seven kivas and 2 or 3 more ruins along the walls.
The hike was scenic with views in all directions ending with a breathtaking approach to the Citadel.
It has to be one of the most enjoyable moments of the trip to sit at the Citadel and look over Cedar Mesa.
My dad loved Utah, moved us there in the early 60's for 6 years. He passed a few years ago so I took his cap of his alma mater Fordham, along with me.
He would have enjoyed the view. I lingered here for a long time .
I returned for a beer, lunch and views of the canyon before heading to Moonhouse ruins. I was told if you see 1 ruin this IS THE one to see. What the guy failed to tell me is that you needed serious 4X4 to get there. I almost made it too the trailhead but was stopped short due to a big drop. There was rubber left all over the drop telling me that some previous vehicles had issues. I decided better to head to Sheiks Canyon. Stopped by the "CLOSED" ranger office(Gov. Shutdown) to fill up on water. I am fine about closing the place but leave the water open, sheesh. They removed the spigot handles. I determined that I had enough water for the next day and I HAD to see the Green Mask. So I drove to trailhead and camped. Just missed the best site but found a better one with sunset views. I hiked down to the Yellow House ruin and returned for the sunset.
Tuesday 15th:
The search for the Green Mask. Sheik Canyon was one of my favorite trails for the trail finding skills, rock scrambles and typical Cedar Mesa Views. Plus it was a search for an interesting area. Cairns were crucial when leaving the creek bed and traversing one of the sides. Staying on the trail was harder than finding the artwork. This is a very surreal feeling when visiting this site and artwork dwarfed by huge red rock cliffs. The Indians really found a special for their art.
Dropped into grand Gulch for a bit and was overwhelmed with the size and beauty. Places like this make me feel tiny, which is a good feeling.
After returning from the hike I headed towards Canyonlands. While driving a strong storm blew through dropping significant rain and even snow in the Henrys.
Once the storm passed I arrived at BLM land just outside Canyonlands passing Newspaper rock.
Another spectacular campsite on a small ridgeline at the base of huge cliff(climbing area for sure) with views for miles and miles in all directions.
Wednesday 16th:
I decided to do a long hike through the Needles area instead of a 2 day backpack trip originally planned. It was too difficult to coordinate due to the Gov Shutdown. I walk through Chesler park/Devils Kitchen trail, down the joint trail, over to Elephant Canyon(very difficult section) and back to Squaw Flats. Long day hiking but spectacular scenery ALL day long. Never an ugly view.
Wish I had camped among the needles but save it for next time. Time for a little civilization…Moab Brewpub. It was nice sitting in a pub, looking at people, eating good food and drinking a few beers. I was surprised to find out that the pub only sold 3.2 draft beers. One had to order a can of beer to get the real deal. The can beer was vastly different than the draft beer. It had lots of hops and flavor, not to mention alcohol. I even settled for a hotel and shower. I was to originally going to ride a mnt bike on slick-rock the next day but the legs were dead from the huge Needles hike and the beer flowing. I hiked Arches with the masses instead. I had lots of humans as the parks were back in business. Some great arches everywhere. I had not been to Arches since a cross country trip in '76. Lots more folks but still beautiful. I am starting to look a little gruff and furry.
A few arches were void of humans so lingered at these longer.
After this picture my little camera passed away. I guess all of my scrambling over red rock damaged the shutter and it would no longer open. I drove and hiked all over Arches this day using my photographic memory as my only camera. I returned to Moab for more beers and food before hooking up with the boys from BCP. I finally got cell phone reception and was able to text Nate/Nick. We hooked up easily along some tiny dirt road on the way to Ruby Ranch and our float on the Green River through Labyrinth Canyon. It is always strange meeting internet friends. You never really know who you are going to meet. Well I was happy to see that Nick and Nate were better in person. We had a great evening that went well into the night bullshit session. It went way pass my bedtime. Thankfully Nick was the alarm bell and got us started at 7. I guess anticipation of our float got us all moving quickly. Nick and I ran shuttle on a crazy switch back road that held serious consequences if you missed a turn. Old model smashed cars were scattered along the road. We also navigated mnt bikers along the way always hoping no other car would be coming up the road. Not a lot of spare room. We returned to Ruby Ranch and Nate. Greg, our 4th float member also showed up, which was good as I was to ride in his canoe. We got a long splendidly which is important when sharing a 2 man canoe. While not always going straight we enjoyed each other's company immensely. Eventually our paddling stokes effeciency equaled our revelry. Here are their post and pictures of our trips.
@
Nick
http://backcountrypost.com/forum/threads/labyrinth-canyon.2569/
@
gnwatts
http://backcountrypost.com/forum/threads/floating-through-labyrinth-canyon.2540/
I have no pictures due my cameras premature passing. Plus these guys take really great pictures and my images would have been inferior. I will only add this to their reports. After hiking, scrambling, route finding, photographing and trekking all over Utah for the previous 7 or 8 days this was an excellent way to wrap up my trip. I could just sit back and breathe it in all. I just enjoyed the panoramic views, spirited comradery, smooth glassy Green river, blue skies, warming sun. It truly is the best way to enjoy nature. I have floated many rivers in my life and this is one of the best trips for all the aforementioned reasons. I especially want to thank my 3 comrades on the trip for the canoe seat, the shuttle, the poop tube, beers, food, and friendship.
After 4 days we all went different ways. Greg to Colorado, Nick and Nate to SLC and me to linger a bit longer in the Green River area. I was going to do an afternoon hike but decided against it. I wanted to end the trip after our float. It couldn't get any better than that.
So my trip to Utah was over, time to head back to Baltimore. Lots of great memories, pictures and wonderful new friends. I want to thank the BCP community for all of the advice I was given, I used lots of it for re-supplying, route finding, scenic points, maps, beers etc!!! I will always be grateful for all you offered.
Ciao, Charlie
(PS: I hope I did this report right, if not sorry Nick)
Featured image for home page: