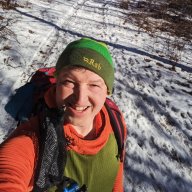 Joined

Aug 14, 2012
Messages

21
In 2013 I attempted to hike in the Cirque of the Towers area, but had to pull out on the 2nd day because one member had a bad sinus infection, and another got AMS. The rest of us salvaged the trip by spending 4 days in the Tetons.

I'm headed back in 2015, but have to go about 2 weeks earlier due to work vacation scheduling.

Should I expect a problem crossing over Texas Pass on August 11th? I realize conditions may depend on the amount of snow this year, etc. But is it generally a dangerous pass if there's some snow up there?

Would anyone recommend taking microspikes as a precaution? Ice axes?

I read Andrew Skurka's 2014 blog about attempting a Wind River Range high route. he had to turn back from Bonney Pass up near Titcomb Basin because the pass was icy and they didn't bring microspikes or crampons. I'd hate to find myself in a similar situation. He was in the Winds on the 1st week of August.

However, he did write about Texas Pass:

the consensus southern entrance/exit over Texas Pass near Big Sandy is underwhelming, lacking technical challenge, novelty, or a climatic view that offers inspiration to northbounders or a sense of accomplishment for southbounders.