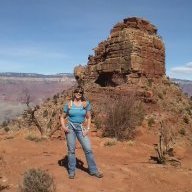 Joined

Oct 1, 2012
Messages

961
This probably doesn't belong here since there is nothing backcountry-ish about it, but I thought it might be a welcome post at the end of winter, since most of you are probably still in snow. After almost 11 years together, Stan and I ran off to the Cook Islands in the South Pacific and eloped on the beach. We decided on the Cook Islands after I read an article that said if you want to feel like a castaway on a tropical paradise, this is where you can do it. The Cook Islands, specifically Aitutaki, where we stayed, is the sleepiest place I've ever been. Work ends at three. No big resorts or development, just a lot of local places with local hospitality. Not much to do except relax. Everyone gets around on scooters, going about 25 miles an hour (no reason to go faster than that). And yes, it really does look like this-no saturation to the pictures. I'll just let the pictures do the talking from here:
Getting on the plane from Rarotonga to Aitutaki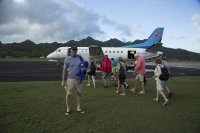 Aitutaki from the plane, rated by Lonely Planet as the most beautiful island approach in the world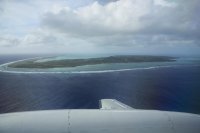 First thing to do is get on island time!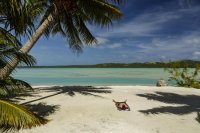 Aitutaki is the largest of a ring of islands around a bay, surrounded by a protective reef. We took a day cruise to the uninhabited outer islands, which were beautiful beyond belief: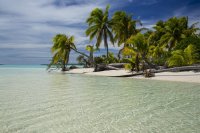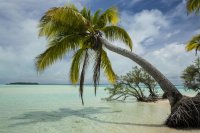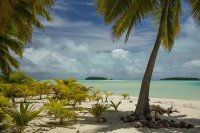 You have to be on the Cook Islands for three days before you can get married, and on the fourth day, we got hitched: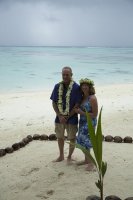 The next day, our "honeymoon", we took a Honeymoon Cruise. They took us to an uninhabited island and dropped us off with a table and chairs, picnic lunch and champagne (and beer, water, and soft drinks) and left us there for three hours. We felt like Adam and Eve (that's my swimsuit hanging from the palms).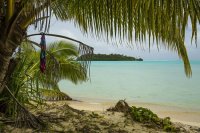 "Castaway" on Honeymoon Island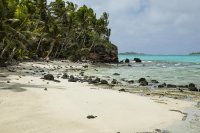 Leaving honeymoon island
Island scenes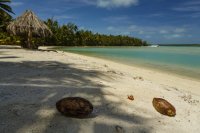 We loved this place so much that we didn't bother to exchange our New Zealand dollars when we got home, we just put them in an envelope for when we return, hopefully next year. I could post more, but I don't want to be one of those people that bore with endless wedding photos. Just one more:
We're really married!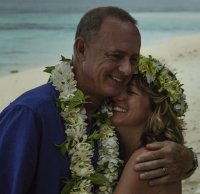 Last edited: