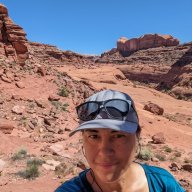 Joined

Jan 11, 2018
Messages

753
This is a few years old, but I got some decent photos and had near perfect riding conditions, so I thought I would share. I need to do this on my MTB next time.

Logistics
Starting point: Moab near the rec center
Direction: clockwise
Distance: ~145 miles
Permit: online day permit (available up to 24 hr hours in advance)
Bike: WR250R (modified with a 4.7 gallon desert tank)

Map



Photos
Starting out from Moab on Potash Road near the Wall Street climbing area.



Colorado River as you ascend up Shafer Grade



On the White Rim proper



Washer Woman and Monster Towers



Views from one of the many precipitous overlooks



the precipitous bit



Looking across the eroded landscape back to the Colorado River.



Somewhere around Hardscrabble Hill



More Colorado River views



Mineral Bottom area



On the switchbacks leaving Mineral Bottom.