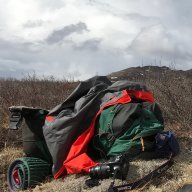 Joined

Dec 11, 2015
Messages

2,019
This is actually from November 2019, Thanksgiving weekend. We were in the midst of a warm spell so I decided to go visit an easily accessible ice cave in the Alaska Range with my son. All the pics were taken with my phone so I'll apologize now for any pixelated images.
The ice cave is a little over a mile from the road; in summer it's a fairly straight shot up the floodplain along a trail/old road. In winter, there's a bit more meandering. The ice cave actually sits in what appears to be one of the terminal moraines of the glacier. The active front edge of the glacier is another few miles upstream.
There was a couple that tried to hike to the glacier earlier than us but without snowshoes. Some of their post holes were 3-4 feet deep and apparently took some digging to extricate themselves. We caught up to them at the vehicles. They had a fun day but were whipped; they ended up turning back about 300 yards from the entrance.
There were a couple spots along the creek where running water was exposed, the snow depths there were about 4 feet. The creek was, as expected, running low and was only a foot deep or so.
Riley at the outset.
Our mutt Willow enjoying the fun.
Riley working on his snowshoeing skills.
Nearing the ice cave.
Riley and Willow on final approach.
About to enter the gaping maw.
At the entrance. Riley wants to go running in he's so excited.
We thought the bands of rock and dirt were interesting.
Looking out. The trails on the right side are willow ptarmigan.
We are about 80 yards in, I think we went as deep as 100 yards in but was having too much fun checking things out to keep tracks of my paces.
A better view of the inside.
I'm not sure why there are all these bubbles in the ice but it was pretty cool to see.
We're heading back out the way we came. Some glaciers/moraines have tunnels to walk through and out, but this one is just a cave, that we know of. I've never heard of anyone talk about walking through this to a back opening though. We were turned around by a channel of flowing water. The cave was still large enough to keep walking but the water was deeper than we were prepared for.
At this point on our way in, there was a loud crack which sent me lurching for the exit. Riley thought it was cool but didn't seem to respond. Not sure what caused it as we were standing still at the time, unless Willow stepped on a weak spot.
We spend about a half hour in the cave, which gave us plenty of time to explore it. I may take my hip waders next time to see how far back we can go.
I put this one in for
@scatman
I'm not real big on photos of myself.
Riley making an exit.
Some scenes from the way out to the highway.
Moose tracks through the snow.
Riley grabbing some water. The temps were almost too warm, right around 32 F. I was down to my shell and a thin layer underneath and was sweating mightily.
Happy girl. Hanging with her peeps.