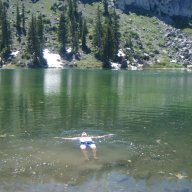 Joined

Apr 27, 2016
Messages

475
I thought I would hit up the group for advice on some snowshoes I've been looking at. I have some atlas 930's that are the 30 inch length. I used to weigh a bit more and with the weight and gear this seemed to be a good size. I have liked the snowshoe, but have thought of getting something smaller since I have lost weight.

With that in mind I have been looking at the various MSR offerings. I have heard some of them can make quite a bit of noise from the decking material and if possible I would like to avoid that. At the moment I have been primarily interested in the Lightning Ascents, although I do have to admit the price seems a bit steep.

Would love feedback from owners of MSR snowshoes and also suggestions on which size to get. I weigh 160, but that is without clothing, shoes, gear etc. The 22" shoes say they are rated to 180lbs and I could add the tails if I needed additional floatation. I have come across contradictory information regarding MSR snowshoes, some say go with the bigger size when in doubt and others say that MSR tends to be overly conservative with their ratings. Would love to hear some first hand knowledge.