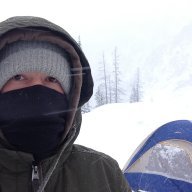 Joined

Sep 12, 2014
Messages

1,844
On sunday we went out to the Snake River at Swan Falls Dam. We walked across the dam and then down the river for three and a half miles to Wees Bar where i had read there were some good petroglyphs. We only saw a couple other people on the side of the river we were walking on, but on the other side there is a gravel road that is well used for access to the river.
Some big fish below the dam.
Small rapid on the Snake.
Giant gravel left by the Bonneville Flood.
An other giant gravel bar down canyon.
Brittinei said she saw a tail indicating this was a beaver.
Looks like an old oven at the Priest Ranch site.
And an old foundation.
An other rapid.
Remnants of an orchard. From the other side the trees are in rows.
There's a big pipe coming down from the canyon rim to the river.
The rounded boulders left from the Bonneville Flood is referred to as 'melon gravel'. This is the start of it at Wees Bar.
I wasn't certain that i'd even find any petroglyphs here. I'd never been before, i didn't know what to expect. But i found them. This one looks like a chinese character.
Once i found it though, i could barely turn around with out finding an other rock covered. All of the glyphs were on southern faces in the rocks that the sun keeps from being covered by lichen.
All abstract shapes. No sheep or anthropomorphs here. Suns were identifiable. Lots of dots, geometrics, and squiggles.
In the distance you can see the Owyhee Mountains.
Closest thing i found to anthropomorphic.
This rock was probably my favorite.
Different rock than the one above. Just similarly shaped.
You can't really tell, but this is probably the biggest lizard i've ever seen in Idaho.
And then we walked back. I probably was only out there for about a half hour, but we got a late start, about five, and we barely made it back before it was actually dark.
Dinner.
We turned around at just the right time.
Swan Falls Dam at night.
Featured image for home page: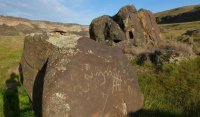 Last edited: