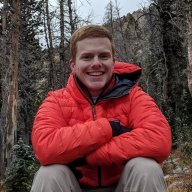 Joined

May 31, 2015
Messages

2,399
I've got permits for 2 nights in Slickhorn Canyon in mid May, and my planned overall route is to go in at Slickhorn 1 and come out Trail Canyon (which is access 6 on the
BLM map
, I believe) with plenty of poking around for ruins, etc. Can anyone speak as to how difficult the descent into the canyon from TH 1 is? Sources I've read give varying perspectives. If I were going alone, I'd probably go headlong into it, but the group I'll be with only has a little bit of experience in Colorado Plateau hiking, scrambling, etc., so I'm willing to go in through a different tributary if needed.
And lastly, should I expect to find much water during mid May? I've read there's something resembling a permanent stream in at least one of the tributaries. However, looking at historical imagery on Google Earth, it appears that Slickhorn and its tributaries have been pretty dry in May before. I understand Google Earth isn't a definitive source for water reliability though. Haha.
Anyway, thanks for any help.