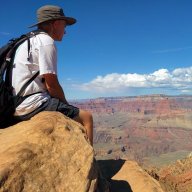 Joined

Dec 2, 2019
Messages

115
Hi,

I have decided that it's finally time to splash the cash on a quality sleeping bag from Western Mountaineering. The only problem is I can't quite decide between the Apache MF and the Versalite.

The Versalite is the more expensive, having a 10F temperature rating, as opposed to 15F for the Apache MF. It is also (despite the WM website stating equal weights) about 2oz heavier than the Apache, anecdotally.

The Apache MF uses a slightly heavier and more durable shell fabric, and is slightly narrower with a 59" shoulder girth, as opposed to the 62" for the Versalite. I think that the commonly used Ultralite bag (20F rating) also has the 59" girth.

I generally tend to prefer the slightly 'cosier' feel of a narrower bag, so the Apache is just inching ahead in my consideration, at the moment.

I realise that I probably can't go far wrong with any WM bag, but I was wondering if anyone had any advice on my decision ?

Thanks.