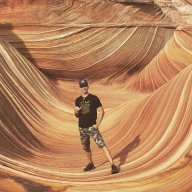 Joined

Aug 20, 2016
Messages

49
Six Days. 65+ miles. Two mountain passes. Two bears in camp. Lots of weather. Lots of solitude. Some pain. Some triumph. We beat the mosquitoes and the crowds at the cost of more snow. My brother Eric and I got to create new friendships with
@Mountain Wanderer
and
@Joey
along this backpacking trip. It is safe to say, the Bob Marshall Wilderness did not disappoint.
Our Route:
Click here to view on CalTopo
Day One: ~11 miles in starting from the Benchmark trailhead, up to near the Indian Point ranger cabin. A nice little oasis camp spot of live trees completely surrounded by 20 year old burn. We also stayed here on the fifth night on our way out.
Day Two: Up and over White River Pass. Here is where our two big questions marks of the trip were: Could we wade across the west fork of the Sun River? How much Snow would be atop the pass? Both ended up being totally manageable, the river crossing was about mid-thigh height but not raging. Getting close to the top of the pass, a monstrous thunderstorm developed and made us hustle quickly to get out of the exposure. Shortly after the pass, we got heavy rainfall all the way down to camp, an outfitters' established little meadow with flat tent spots, a bear hang pole, and already cut firewood! We tried out best to dry things out that night. Little did we know we would have visitors in camp the next morning...
View looking West from atop White River Pass. That is the east side of the Swan Range in the distance.
Looking back at the Flathead Alps to the south of the pass.
Day Three: We wake up to blue skies, get breakfast going, and prepare ourselves for the longest mileage day of the trip at ~13 miles. Shortly before we start breaking down camp, Travis notices two brown masses wander from the treeline into the corral used for horses. Seemingly eating old grain/hay, the pair of what we suspect to be mating cinnamon black bears, paid no attention to us for a good five minutes. One finally lifts its head, we all make eye contact, and it immediately takes off in the opposite direction of us. His buddy, realizing that the other went running, decide to run as well. Only directly towards us. First time in my life I took the safety off my bear spray with intent to use it. Joey had brought an airhorn with him, used it, and the bear skidded to a halt. Then realizing there was four of us, he panicked again and shot down the hill and past our tents into the forest. We could see his outline in the shadow as he circled at a wide berth around us, and back to the opposite side where they came from. With all that excitement, we saw countless grizzly tracks and scat as well as Wolf, while heading north up the White River drainage, into areas that don't get frequent traffic. We could tell we were the first in that far for the season. The whole northern section felt so wild, so remote, as the Bob Marshall Wilderness should. We eventually found out that we were heading into an area that recently burned last year, making camp sites difficult to find. We ended up taking our trail junction to the left for a short distance to luckily find a small little spot close to Juliet creek, that had somehow again been saved from the fire.
The White River
Needle Falls
Getting into the northern section of the white river drainage, shortly past the Pagoda mountain trail junction. Only spot where we had any issues with mosquitoes.
Our little spot we found to stay for night number three.
Day Four: What we came in here for; to walk along the entire 6.5 mile section below the Chinese Wall from North to South. The day began with us making the immediate climb up to Larch Hill Pass. Here we encountered heavy tree downfall to navigate over and around. The views began to become truly spectacular.
Looking west towards Lone Butte.
Looking North towards Silvertip Mountain and in the far distance Glacier National Park. This is from atop Larch Hill Pass.
And finally, looking south along the Chinese Wall.
A little more snow here than we had anticipated.
Then looking South from the base of Cliff mountain, back towards the West Fork Sun River drainage.
And a final look at the Wall from the South.
My feet were what got hit the hardest this trip. Once my boots got wet, it was damn near impossible to dry out. My river crossing sandals also ended up rubbing my feet wrong after enough miles in them. Legs held up great, but it always felt good to stick my toes by the fire each night to dry them out and harden my soles back up.
Our camp for night number four. About a mile below the wall, there are camping restrictions not allowing you to camp anywhere underneath it. Only place during the trip where we encountered ticks.
Day Five: A much needed low mileage, downhill trek back to our original campsite. We had gorgeous weather this day, and aside from the six creek crossing taking a further toll on my feet, an overall pleasant day.
Red Butte
Joey making some sort of backcountry pasta concoction with his mystery neon orange cheese powder.
Day Six: Get the hell out of here. Overnight you could feel a significant drop in temps, and we woke up to the snowlike dropping to maybe a thousand feet above us. Temps in the upper 30s. And we could see bad weather was on the way. We got rained on practically the entire 11 miles back out. We only ran into a couple people on horses out for the day on day one. A single person named "Adventure Tim" on his way down from white river pass day two. No one on days three through five. And on this final day, we encountered numerous horse pack trains for both outfitters as well as forest service, heading in to prepare for the start of the season.
Once back to the car, we headed into Augusta for a much earned burger and beer! We all had a great time throughout the trip, and are looking forward to planning a similar length trip going back into the Bob from the west next year!!
Thanks for reading!
Edit:
Here is the link to Joey's video of the trip:
Last edited: