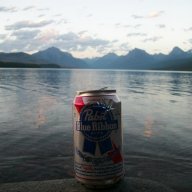 Joined

Apr 1, 2014
Messages

878
This is a 4 day backpacking trip I did a few days ago with
@Bob
. We started at the Silver Falls trailhead, hiked down to the Escalante River, then up Choprock Canyon and around to the truck. Here is a trip video:
Here is our route:
Click here to view on CalTopo
We drove down Thursday night, and camped at the Silver Falls trailhead. We set out down Silver Falls Creek early the next morning.
Lots of petrified wood. Bob tried to put this piece in his pack:
After the north fork junction, the canyon starts to narrow up a little.
The Hobbs inscription, which is near a beautiful undercut:
We found a neat mudroglyph dating back to approximately 2014AD. Bob says its a skin walker.
We continued on down the canyon.
We reached the Escalante River in the early afternoon. We followed it down to where Harris Wash dumps in.
We set up camp near the river, took a short nap, and then hiked up Harris Wash a short ways.
Back at camp, we went to bed before dark.
Day 2 we headed down the Escalante River. We got a late start, maybe around 11am.
At the mouth of Choprock Canyon, we took a short break. Then we dropped our packs, and headed down to Neon Canyon.
We headed up Neon.
We reached the Golden Cathedral. I was surprised that nobody was there on a Saturday evening. Maybe because of the lighting? Anyways, it was cool to be there alone.
After a while, we headed back down the canyon.
We surprised a turkey when we reached the river.
We checked out the petroglyph panel near the mouth of Neon Canyon.
The sun was going down, and the river drainage was beautiful.
It was dark by the time we made it back to our packs. We set up camp in the moonlight. Camped in a Cottonwood forest that was blooming, my allergies kicked in bad. I struggled with them the rest of the trip.
Day 3, 2 people with pack rafts came down from Choprock Canyon, and put in the river. These were the only people we saw on our trip.
A good shot of Bob at camp.
Me crossing the river.
Heading up Choprock Canyon.
We dropped our packs and headed up the South Fork of Choprock. You can walk it a short distance before reaching a dryfall. Its a beautiful canyon, and above is a popular technical route.
We went back to get our packs, and headed up the main fork of Choprock. There is a really nice section of narrows here.
Soon the canyon opens a little bit, but its still beautiful. There are a few good campsites in here.
We reached the junction with the North Fork (poison ivy fork). We hiked up a short distance, where we reached a very large and beautiful alcove.
We briefly attempted to continue up canyon, but it was pretty thick with vegetation so we decided to stop. We took a break for a few hours, to let the sun go down a bit. The rest of Choprock is pretty open, dry, and hot. We started hiking again around 5pm.
Bob:
Our camp night 3:
Day 4 we started a little earlier, trying to beat the heat. That only lasted a short while.
Looking back at the beginning of Choprock:
From here we followed the old mining road around the Silver Falls Bench, back to the truck.
The end.
Featured image for home page: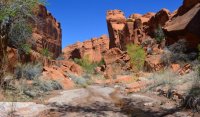 Last edited: