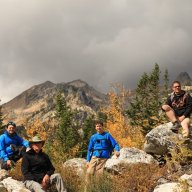 Joined

Aug 21, 2018
Messages

316
You forgot those heavy circus peanuts.
I have to hold some of those back. Sometimes when Hugh gets into mosey mode I have to shake the peanut bag a little and he comes darting up the trail at a brisk pace.
@kwc
claims that he refuses to be tempted by the scrumptious banana like flavor of the nut but I've learned his weakness may be chocolate. I'll have to raid the pantry to see what trail worthy snacks I have to bribe him with that will not turn to goo when we get too close to the Pelican Valley Mud Volcano.
You're forgetting about that big marsh on upper Pelican Creek.

I may have to pack a couple of additional meals to make that long 16!

The Hayden/Beach Lake/West Thumb will be a cakewalk! Light pack, adrenaline from grizzlies, headwaters of Alum Creek - Epic!
But we have September on our side. Hopefully the rain holds off and the ground remains solid under our feet.
I agree Hayden Valley will be epic. I'm looking forward to our grand picnic lunch on the distant banks of Alum Creek.