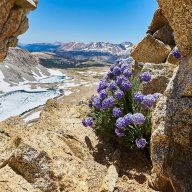 Joined

May 16, 2016
Messages

1,107
Warning: tons of photos, probably too many
Sequoia National Park
7/28 - 8/5/21 (8 nights)
Shepherd Pass Stock Trailhead (Inyo NF)
Total distance ~70 miles and 20,000' elevation
Day 1: Stock Trailhead to Anvil Camp
(CalTopo miles) - distance:
9.08mi
range: 5681' to 10245'gross: +5541' -1026'
Day 2: Anvil Camp to Wright Creek on JMT
- distance:
8.55mi
range: 10204' to 12056'gross: +2532' -1837'
Day 3: Wright Creek to Gallats Lake
- distance:
10.32mi
range: 8074' to 10902'gross: +2489' -3340'
Day 4: Gallats Lake to Pickett Lake (plus a little exploring)
- distance:
2.38mi
range: 9700' to 10714'gross: +1132' -554'
Day 5: day hike to Kaweah Basin
-distance:
4.79mi
range: 10599' to 10910'gross: +1111' -1095'
Day 6: Pickett Lake to Upper Kern
- distance:
9.16mi
range: 8074' to 10682'gross: +3057' -3016'
Day 7: Shift campsite and day hike in Thunder Basin
- distance:
4.36mi
range: 10669' to 11587'gross: +1198' -865'
Day 8: Upper Kern to Anvil Camp
- distance:
11.8mi
range: 10216' to 12056'gross: +2727' -3499'
Day 9: Anvil Camp to trailhead
- distance:
9.09mi
range: 5679' to 10245'gross: +1028' -5568'
Day 0: Fly to Vegas, drive to Onion Valley
Next morning, up early before it gets too hot. I parked at the stock trailhead because the road was in really bad shape for a low-clearance rental car. I had visions of opening up the oil pan or something and ruining the whole trip. So, I decided that a little extra walking was in order. When I got out of the car it was 72 degrees at 6:45.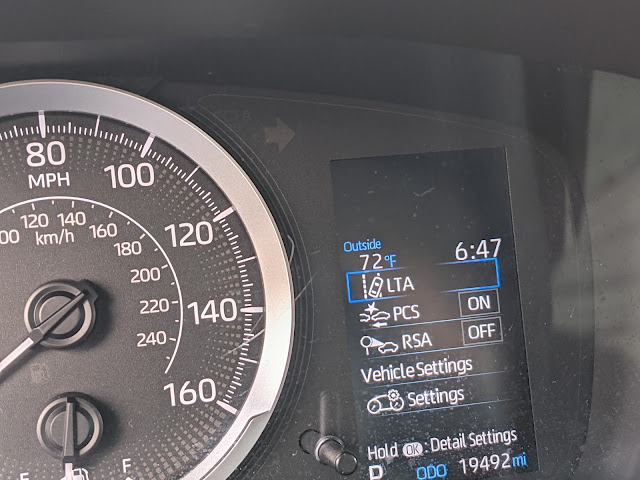 It did not take long to enter the wilderness.
Interesting cloud over the Sierra Crest
Blazing Star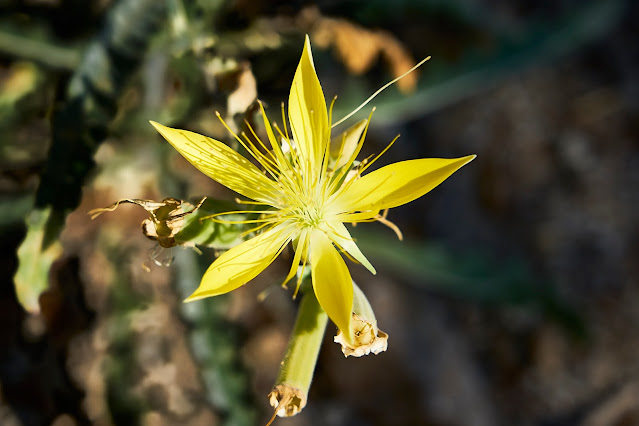 Looking West towards Shepherd Pass
Looking East towards Owens Valley
Prickly Poppy?
Polychrome Peak has lots of interesting colors, very pretty. It also got the Paul Simon song "Kodachrome" stuck in my head for the next week.
There were some light sprinkles as I got near Mahogany Flat, I filtered a little water and took a break under a tree. I got to Anvil Camp about an hour later and got setup for the night. There was a group of three hikers set up near by but no one else. A group of four guys came in after bedtime but were very quiet. I think the climb plus their skunk weed (that I could smell in my tent) knocked them out pretty fast.
Anvil Camp
Day 2: Next morning, grey, cloudy skies in both directions.
The four guys were breaking camp as I left and they soon caught up and passed me. I talked to a couple people who were heading out after a week, they said bugs were bad along the Kern which concerned me since that was my plan for night 2.
Shepherd Pass straight ahead
You can see a couple of the guys making their way towards the Pass. The most obvious one is below the large rock in the middle of the pass. This climb was not fun, steep, lots of loose rocks and switchbacks, not terrible, just not fun.
But I made it to the top and saw lots of dark clouds. It started to sprinkle as I filtered water and the wind picked up enough that my hands were very cold/numb.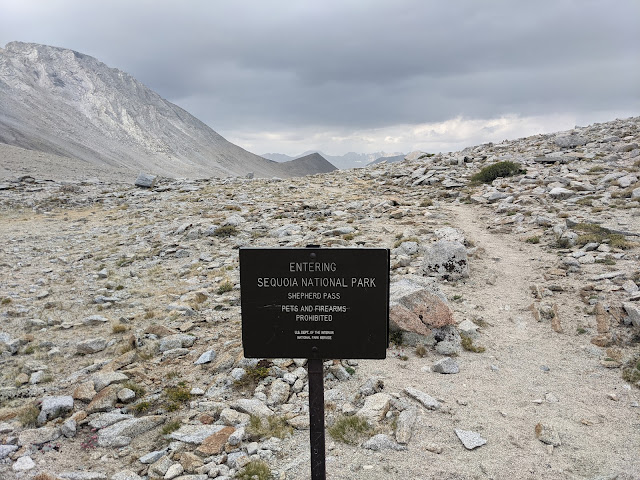 I assume these signs used to be at the respective peaks and some idiots carried then down as souvenirs. They were just lying on the ground, I propped them up where hopefully climbers would see them and take them back to the top.
Weather doesn't look good to the west
Trail down from Shepherd Pass and the Great Western Divide in the distance.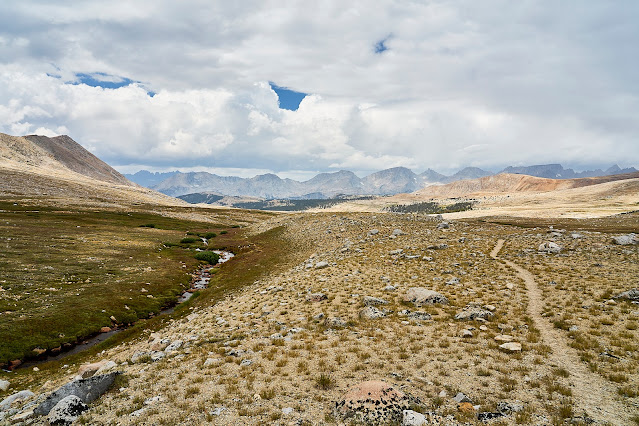 I got down to the JMT and it started to pour. I was happy to be a little lower and very happy that there was no lightning. I relaxed under a tree for a bit and the rain blew over.
Puddles on the JMT
Pano of the Great Western Divide

It started to rain and then hail and then thunder as I crossed the Bighorn Plateau. I was disappointed since I was looking forward to the great views. I stuffed my camera away in my pack, took a couple cell phone pics and moved down the trail.
As I got near Wright Creek, the sky just completely opened up for a little bit and then faded. It was bad enough that I decided to find a place to setup before the next blast came through. There was a solo guy who had setup at the edge of the treeline and two other guys who had made the same decision nearby. I managed to find a flatish spot that looked like it would drain ok, I was soaking wet and the temperature was dropping, so I put on my sleep clothes and crawled into my quilt to warm up. The next wave of rain lasted a long time and water was sheeting down the side of the hill, most of it went around my tent, but there was a moment when I thought the bathtub floor of my tent wasn't going to hold. Thankfully, it did not last too much longer and even better, the sun eventually came out.
I cooked dinner and then went exploring in the meadow nearby and talked to the other half-drowned rats/backpackers while we all enjoyed the light show. Everyone else was doing the JMT (a couple southbound and a couple northbound). It was interesting talking to the other hikers, none of them were aware of anything off of the JMT. I mentioned that I was heading down to the Kern River and I'm not sure they even knew it existed. Regardless, I always enjoy talking to other hikers and hearing their plans and we all enjoyed the sunset after the downpour.
Day 3: I woke up to a dry morning but it was very overcast, looked like rain was coming. I spread my stuff out in the sun to dry out a bit and had breakfast on the edge of the meadow. While I was talking to one of the nearby people and cooking my breakfast of cheese grits, I got distracted and added denatured alcohol instead of water to the pot full of grits. I could smell it immediately so I did not even think about eating it, but now I had to carry my ruined breakfast for the next 50 miles
I eventually got packed up and then down the trail to Wallace Creek. There were a ton of people slowly getting moving at the intersection of the JMT and the High Sierra Trail. I headed down the HST towards the Kern River. The trail drops quite a bit and has lots of great views. Not far from the top of the HST, I ran into a couple on their way up, I was happy to be heading in the other direction where gravity was working in my favor. They had stayed at Junction Meadow (my original goal for the previous night) and said the bugs weren't bad and it had not rained a bit. Weird how different the weather can be only 5 miles away and 3000 feet lower in elevation. It turned out these would be the last people I would see for the next 5 days.
Kern River down below and the Kawaehs in the distance.
Indian Paintbrush
Fireweed
A little bit of history on the side of a tree..
Looking across the Kern to the Kern-Kawaeh and the Colby Pass Trail. I had to go all the way down (about another 1000 feet down and then back up again) to climb back up there.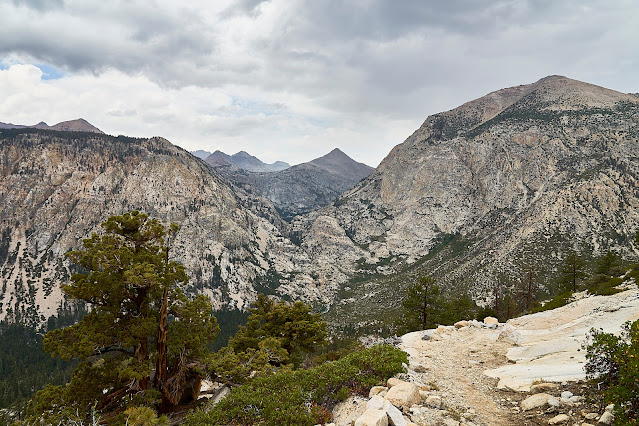 The Kern Trench looking south. It is interesting to think that this was once filled with a huge glacier slowly working its way down the valley.
Finally down to the bottom and Junction Meadow near the Kern River.
Very big trees, my hiking poles provide a little perspective.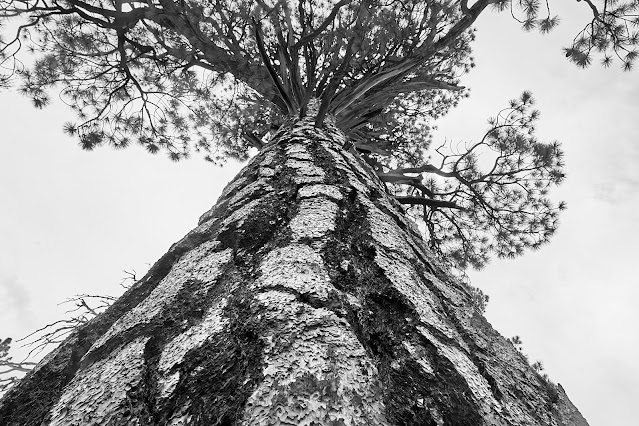 The river was very low, so crossing was no problem, but it started to rain as I climbed away from the Kern, so no photos. Thankfully, the rain did not last long. I wasn't sure where I was going to camp, but I had Gallats Lake as a possibility. I saw a couple possibilities along the way, but kept climbing to Gallats Lake where I found a great camp site on glacier polished granite.
It didn't rain anymore, but the sun never really appeared. I would have liked a better sunset, but it was nice watching the clouds and just enjoying the view.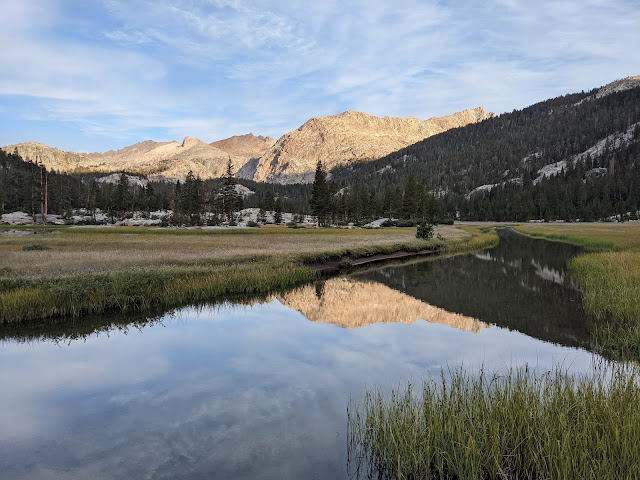 Chatter Marks left by a glacier a long time ago
Day 4: I woke up to a beautiful morning and thoroughly enjoyed the reflections while I had breakfast and packed up.
I was going to be doing some scrambling to get to my next location so I packed my camera inside my pack. So only a couple cell phone pics along the way.
Interesting looking rock from a geology point of view
Looking down the Kern-Kaweah valley towards the Kern River
Looking up the Kern-Kawaeh towards Gallats Lake and Colby Pass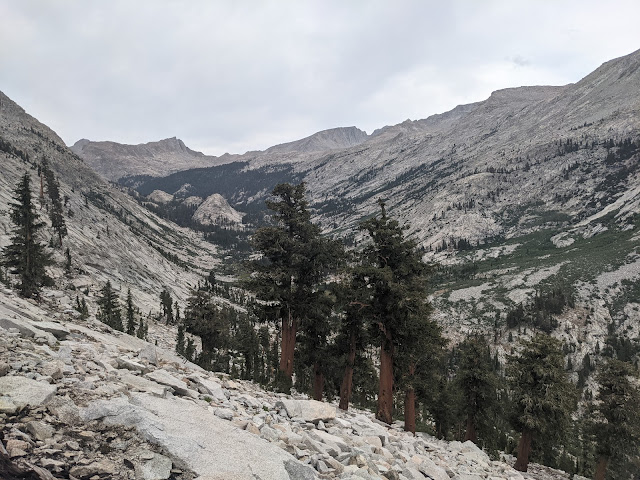 I found the obvious campsite at Pickett Lake and got set up and then went to explore the basin for a little bit.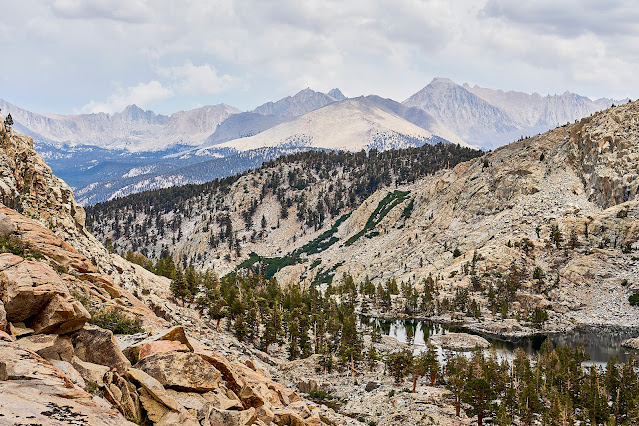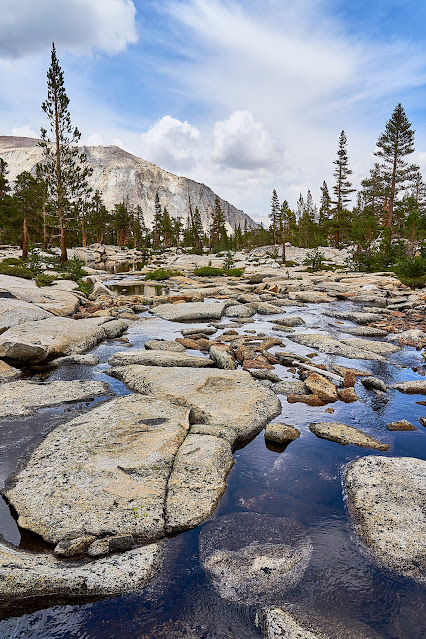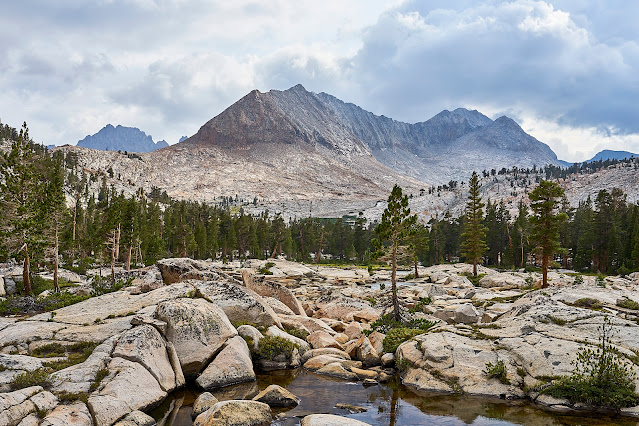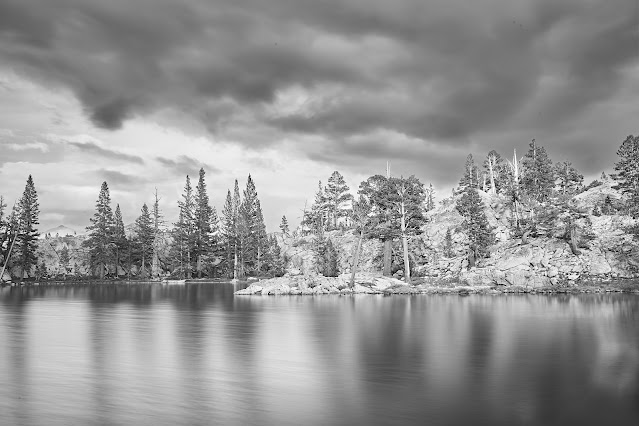 Day 5: Another beautiful day, time for some exploration without a pack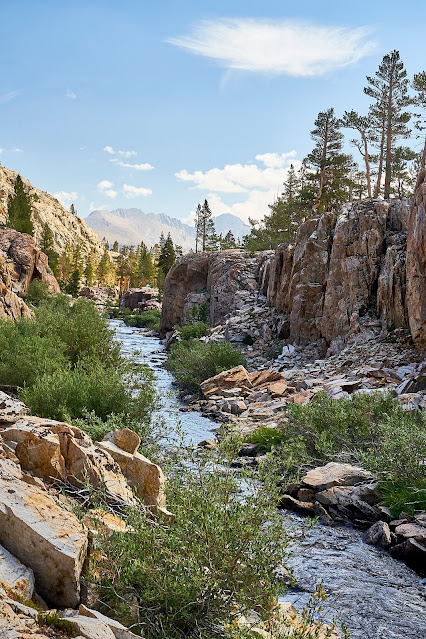 Kawaeh Basin is amazing
Pano of the Kawaehs
I see you
Different angle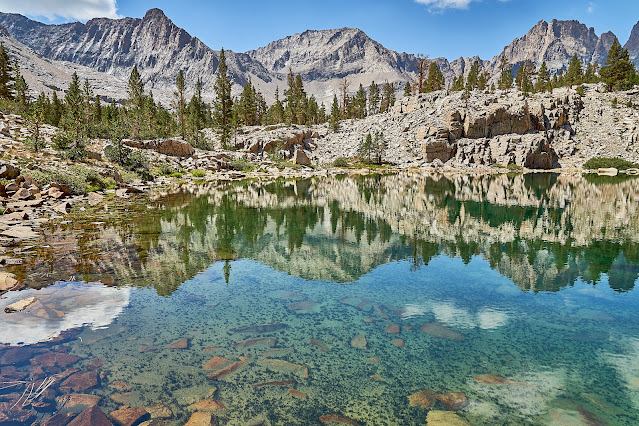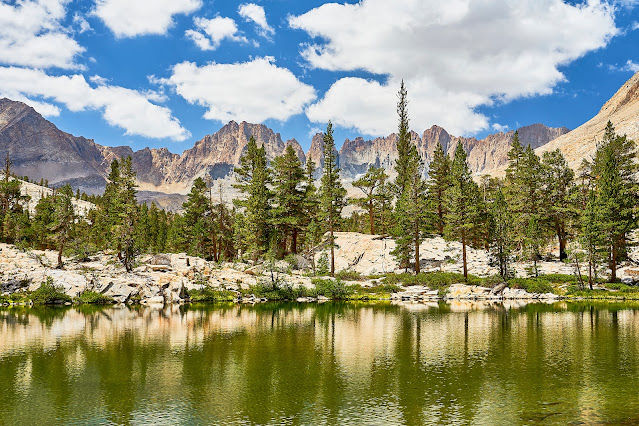 Lower in the basin is a very pretty lake
Fireweed
Back to camp for dinner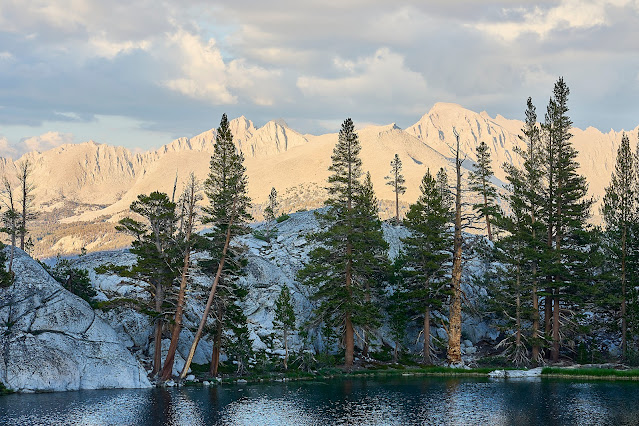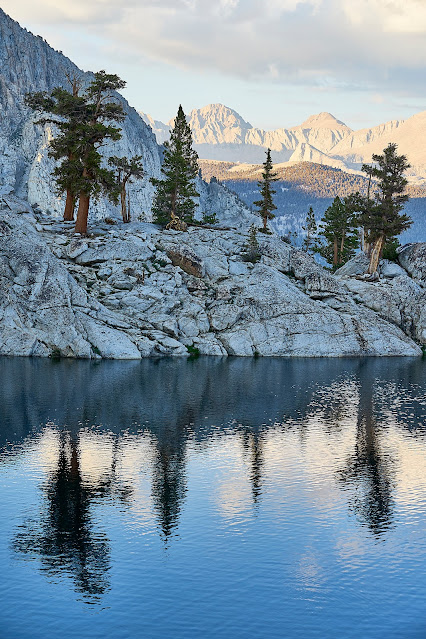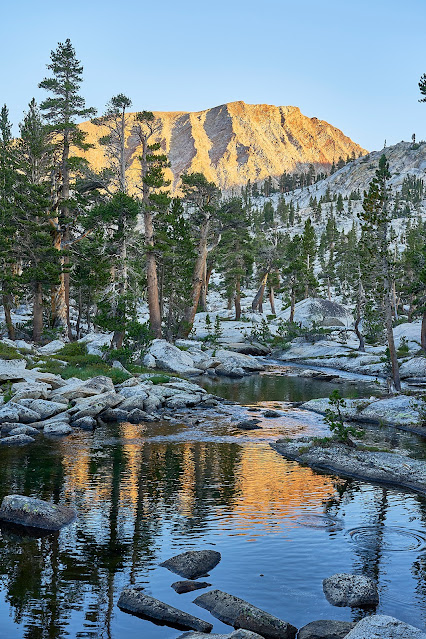 The stars finally came out
Looking northeast, pretty sure the smudge on the lower horizon is the Andromeda Galaxy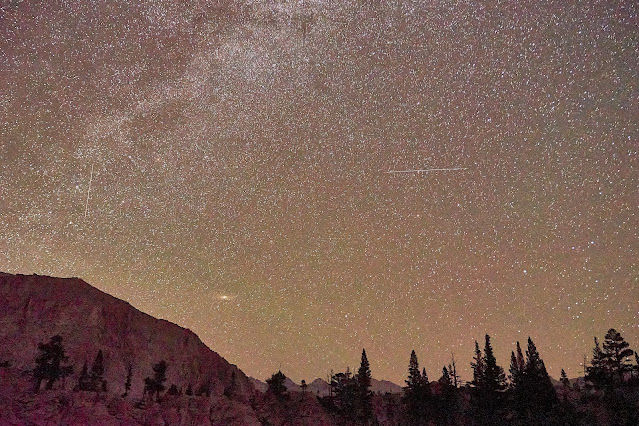 Day 6: Time to pack up and head down to the Kern again. Camera packed away for the scramble down to the river. This is looking up the slope as I got back down towards the Kern-Kawaeh River.
Back in the Kern Trench again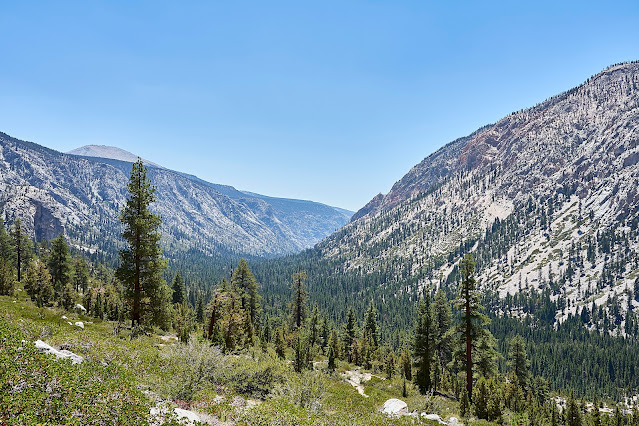 I got down to Junction Meadow and headed north along the Kern.
Old cabin near the Kern River
Along the Kern River, it was hot and dry along here.
Waterfall along the Kern. I was tempted to climb down for a better photo, but was really dragging at this point. I had skipped filtering water from an earlier trickle so I was getting dehydrated. I marked it on the map and thought that maybe I'll return for a better photo some day.
The last hour or so was really hard. But I finally made to near where I had planned on camping. I had passed by here a couple years ago and thought it would make a great camp. For this trip I had hoped to make it further north on the Kern, but was just too tired. When I got here, I called it home for the night.
I enjoyed the view, watched the stars come out and crawled into bed.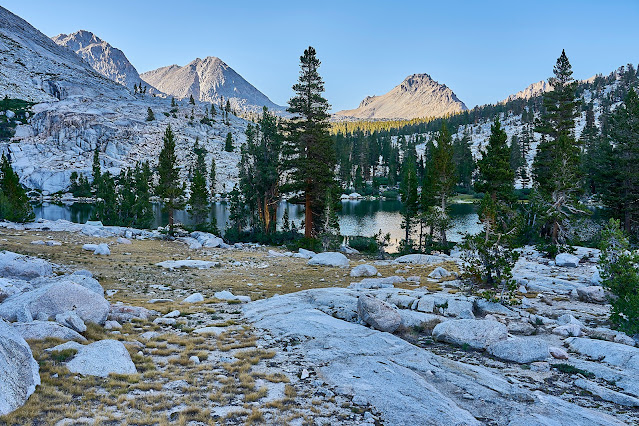 Day 7: Surprise, another beautiful day and an easy day after yesterday. I'm only planning on shifting camp a couple more miles up the Kern. After yesterday being mostly on official trails, it is time to go off trail again
Near the headwaters of the Kern. This is an outflow from one of the small lakes.
I got to my destination and found a campsite and then went exploring up the basin a bit before wandering back to camp for dinner and a little relaxation and sunset/stars.
Mt Whitney in the distance, my campsite is near the peninsula in the lake.
Great Western Divide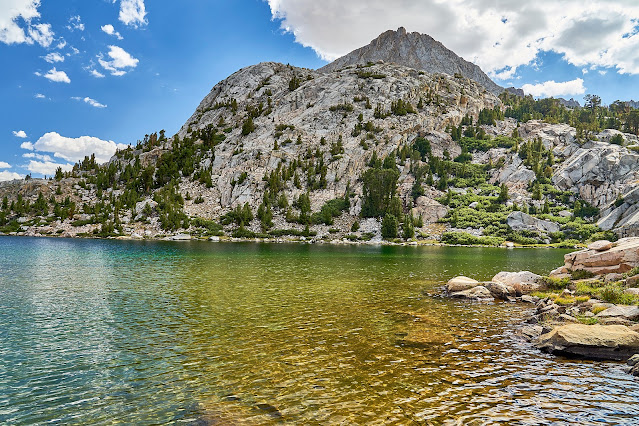 Day 8: Time to pack up and head back towards the trailhead
View from camp, awesome site, hope to see it again sometime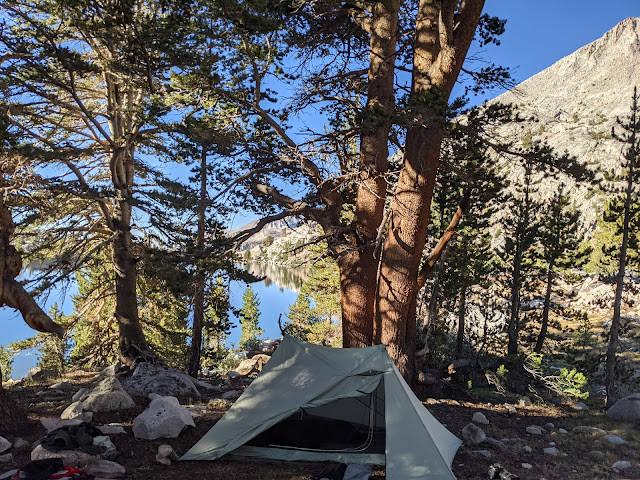 I took an indirect route through the Upper Kern Basin on my way back towards the trail
After an hour or so of wandering, I popped out on the Lake South America Trail and immediately ran into a couple who were having a snack. First people I had seen since the HST on day 3. We talked a little about the High Sierra, I showed them where I had been on their map and then we wished each other "happy hiking" and I moved down the trail.
I made a left towards the JMT and Shepherd Pass. It was nice easy hiking with perfect weather. I wasn't in a hurry since I did not have a lot of miles to go (not much elevation change either), so I mostly enjoyed the views. (I just looked at the miles/elevation from Caltopo and this day was actually longer than the day from Pickett Lake and almost as much elevation, but felt much easier. I suspect being out of the Kern Trench made a big difference.)
Foxtail Pine near the JMT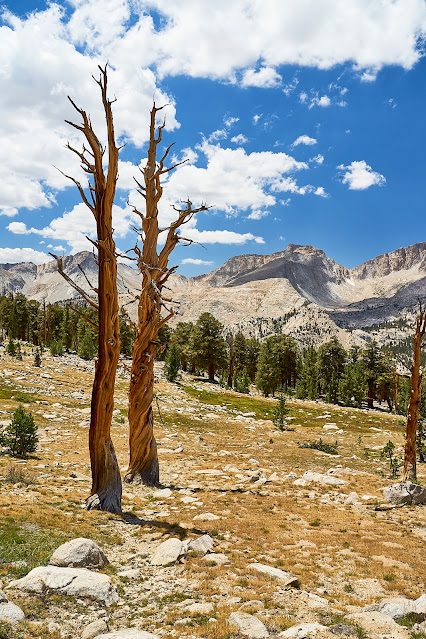 I got to the JMT and Tyndall Creek where I had a long snack break in the shade and watched the JMT hikers go by. It was kind of weird seeing so many people in such a short time. Then up the trail towards Shepherd Pass.
Trail to Shepherd Pass
I dropped down from Shepherd Pass and made my way to Anvil Camp (same location as night 1) for the night.
Day 9: Back to the car, I took my time heading back to the trailhead since my knees don't really like going downhill. It was about 5000 feet down and very hot. I got to the car at 1:45 in the afternoon and 97 degrees, not terrible since there was very little humidity, but still hot. I was ready for a shower and a beer.
I got gas station tacos and a beer in Independence, then a shower at the Whitney Hostel and then drive through Death Valley and back to Vegas and then home.
Death Valley clouds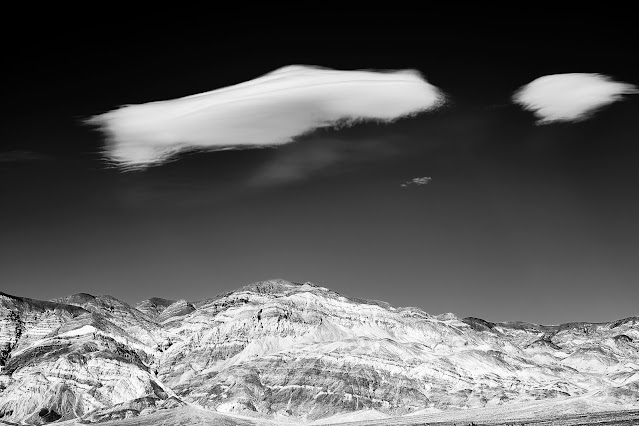 There are a couple time lapse sequences on my blog (no ads) if you are interested.
https://backpackandbeer.blogspot.com/2022/03/seki-2021.html