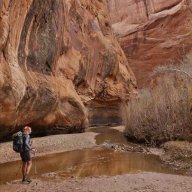 Joined

Jan 4, 2015
Messages

2,699
I used to use the tablets, but at some point the taste started to really bother me so I switched to the filter. An added benefit to the filter is that you get the clean water instantly instead of waiting, so from a weight perspective it is actually a little lighter. But I agree that the simplicity of the tablets is awesome.

I know you've done a lot of desert hiking; do you ever have issues with silty water since you just use tablets? Maybe I'm overly paranoid about the murky water thing. I did one trip in Grand Gulch a few years back where the water was the color of chocolate milk, and I was very worried that my filter would instantly clog and that I basically wouldn't be able to drink that water (or that it would mess with my digestive system a lot), even though I had the tablets with me as well. It turned out to be fine---the sawyer did surprisingly well with some backflushing---but I'm always worried that I'll encounter a situation like that in the desert where all I have is super-silty water that I can't filter. This worries me more if I have my son with me (like he was on that trip).
I've had filters clog in exactly that situation before, which is one of the biggest reasons why I prefer drops to filters. I've never had issues with chocolate milk messing with my gut. Alkaline water may be a different story though. Coffee filter or two, plus letting the water settle overnight, can really help. Some folks also bring alum, which I've never tried but seems interesting.